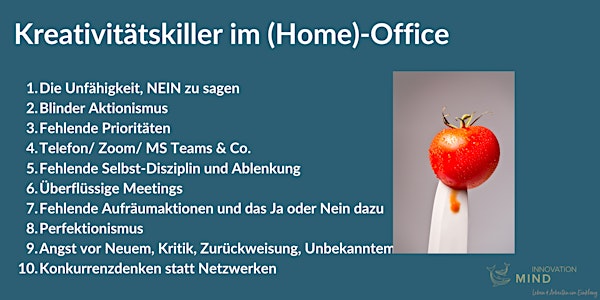 10 Ideen gegen Kreativitätskiller im (Home)-Office
Webinar Kreativitätskiller - Video mit Arbeitsmappe
Refund Policy
Contact the organizer to request a refund.
About this event
Gerade jetzt, da Corona unsere Welt durcheinander gebracht hat, wird dir umso mehr auffallen, mit was du eigentlich gerne deine Zeit verbringst und mit was nicht. Vielleicht fällt dir auch auf, dass du abends irgendwie unausgeglichen oder unzufrieden bist. Das hängt möglicherweise daran, dass die Kreativitätskiller im (Home)-Office dich fest im Griff haben. Statt dir Freude, Energie und Zeit zu geben, tun diese alles, um deine innere Kreativität zu stoppen. Höchste Zeit, auf diese Kreativitätskiller zu achten und sie zu verbannen!
Dieses Webinar besteht aus 5 kleinen Videos (Gesamtdauer 15 Minuten) und einem Arbeitsblatt exklusiv für dich. Jedes Mal, wenn ich die Zahlen von 1-10 zu den 10 Kreativitätskillern im (Home)-Office erklärt habe, STOPPE BITTE DAS VIDEO und widme dich deiner Arbeitsmappe zu der entsprechenden Nummer 1-10. Sobald du fertig mit deinen Gedanken bist, starte wieder das Video.
Im Video erkläre ich auch den Zusammenhang zwischen der Digitalisierung und der Kreativität.
Nach der Buchung erhältst du direkt zum Download die Video-Serie mit der Arbeitsmappe.
Als Termin kannst du egal welchen anklicken, da du die Instruktionen zum Download direkt bei Buchung erhältst.
Viel Spaß!
Deine Isa
Meine Angebote hier:
https://www.li-mindset.com/Life-Design-Workshops