About this Event
What to expect On October 7th
A relaxed day of reflection, education and personal growth.
Proven methods to make health simple
lifestyle v diet workshop
Values and goals exploration
Yoga session with Gecko Yoga
Refreshments and Lunch provided
Q&A with coaches.
10 Habits for lasting health
Why Habitual
"I know what to do but…" After these familiar comments, Habitual was launched in 2015 working with a small cohort of individual clients. The results were outstanding leading to the creation of Habitual coaching programs.
Based on the application of knowledge, incremental progression and evidenced backed science, Habitual works around the 'but' in helping busy people get from knowledge to results.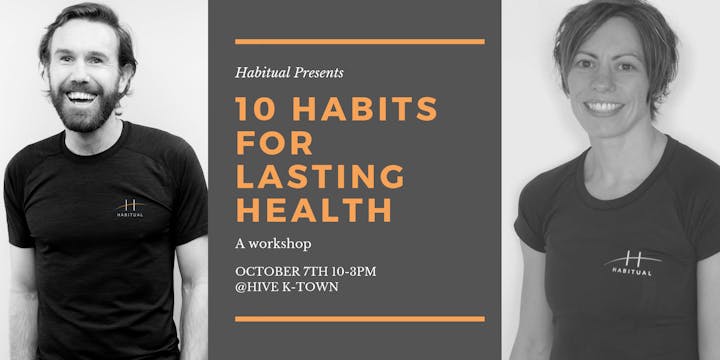 On October 7th Join Chris the founder of Habitual and Tanya, leading Habitual Coach.
After graduating with a degree in sports science and education from Loughborough University, England's premiere sports institution, he taught for 11 years.
Chris left teaching to study Applied Psychology and set up Habitual bringing together exercise, nutrition and mental wellbeing to a handful of clients before expanding the program to support a broader population.
With a background in teaching and high-performance sport, he gets the difficulties of maintaining a level of personal health and wellbeing as life goes on. In his last two years of teaching, Chris completed an Ironman alongside coaching International rugby, starting his Masters and maintained a loving relationship with Adrienne his wife - it can be done.
Now into his 8th year in Hong Kong Chris is working to support the "busy" lifestyles in learning how to eat better,move better and feel better.