Description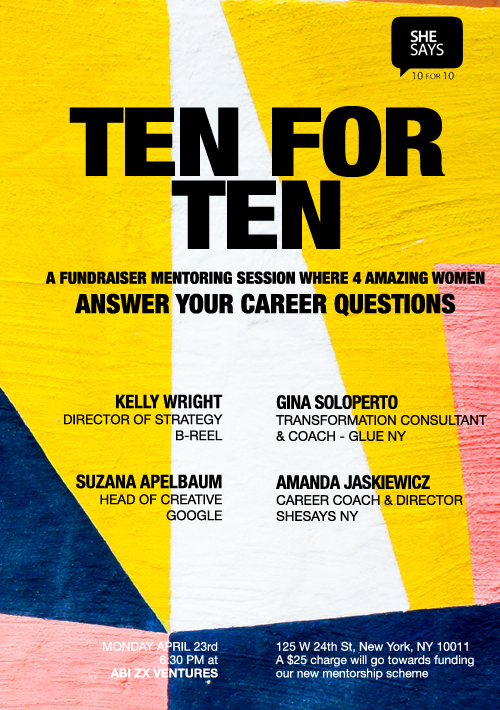 In April we'll have a party to celebrate the end of our 10 for 10 donation drive - with you.
No talks, no panels, this will be an intimate live mentoring session with acccomplished women who will help boost your career. Each one represents a discipline and done incredible things.
Please bring current career challenges you're facing or something you'd like to discuss with a smaller group.
There will be some ice-breakers, food and drinks. But ultimately you will leave the evening with valuable, personalized advice from our experts on what to do next and meet other women that will help you along the way.
SPEAKERS:
Suzana Apelbaum, Head of Creative, Google
Kelly Wright Strategy Director, B-reel
Gina Soloperto, Transformation consultant and Coach, Glue NY
And of course our very own Amanda Jaskiewicz who has been a career advisor for SheSays for 8 years.
AGENDA
Welcome drinks / 6:00pm-6:30pm
Icebreaker and live mentoring / 6:30pm-7:15pm
More drinks and networking / 7:15pm-8:00pm
AND A VERY IMPORTANT NOTE
In NY we've been doing FREE events for you for 10 years! And we're super happy about that. But for this specific event we're going to charge you as part of our #SheSays10for10 donation pledge. All the money raised will go towards revamping our mentorship scheme to ultimately benefit our global community - something we've been working hard on already and will launch in June.
MORE ABOUT THE MENTORS
Suzana Apelbaum
I'm the Head of Creative at Google Zoo in New York, where I work closely with brands and agencies to unleash the next generation of brand building, leveraging Google data, technologies and platforms.
With 23 years of experience in the advertising industry, I won more than 20 international awards and worked with iconic brands like Converse, Coca-Cola, Fiat, Barbie, P&G, among others.
I also served as a juror at top advertising shows such as the Cannes Lions, One Show, Webby Awards, ANDY and D&AD. As a side project, I'm part of an international collective of storytellers called Asas that creates and produces original content for culture and entertainment.
Ask me about: Effectivelly selling creative work to clients, hiring, creative leadership, fostering passion projects or anything else when it comes to the creative discipline.
Kelly Wright
I'm the Director of Strategy at international creative agency B-Reel. Prior to B-Reel, I worked on a range of businesses -- from zit cream to babies to beer -- at shops like Mother, Wieden + Kennedy and 72andSunny. I was a strategist on Target, Heineken, Activision, Sonos, Kraft and Reckitt-Benckiser.
Beyond advertising, my interests are driven by my very southern, very rural upbringing. I'm obsessed with hardware stores, country music and reading books about cults.
Ask me about: Strategy Strategy Strategy!
Gina Soloperto
I help transform companies by building agile teams with a growth mindset. I'm a solution-based leader with a proven track record of building high performing teams.
Ask me about: Team Work, Project Management, Individual and Team Performance, Behavioral Strategy, or Performance Measurement.
Amanda Jaskiewicz
Since University, I've lived and breathed advertising. And having played various roles in the ad world/around the world, with amazing mentors (both men and women), I felt it was important for me to give back to an organization like SheSays and help to grow a community of future female leaders.

I am the Director of our New York City chapter working alongside an amazing team of volunteers to organize inspiring events and support our mentorship program by making productive matches.
Ask me about: Anything! It can be about how to move forward in your career, how to approach making a switch in careers, or getting out of a slump/rut. I'll tell it to you straight. You can even ask me your questions about client service as that was my prior life. :)
Hope to see you soon.
The SheSays team