1 PDH | ASCE Miami-Dade CI Trenchless Pipe Replacement Luncheon
Description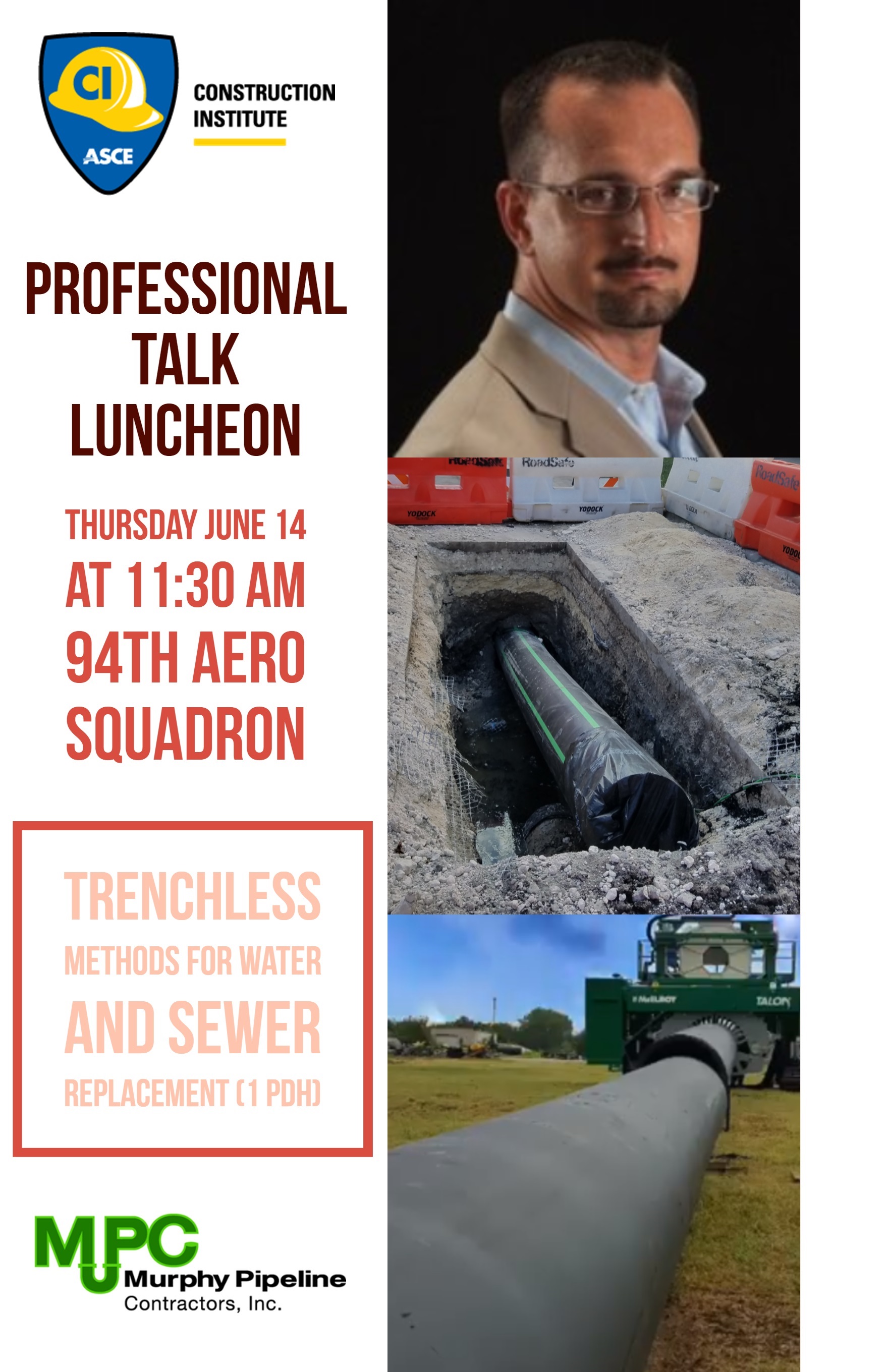 Summary:
As populations rise and communities become more centralized, City Right-of-ways are becoming a commodity. Upgrading or rehabilitating infrastructure lines historically carries a heavy burden to communities, having both a high social and financial impact. Thetraditional method utilized to address infrastructure needs is open-cut construction. Open-cut methods incur high restoration cost, extended construction time, adverse environmental impacts and negative impacts to communities and businesses during construction. In efforts to reduce the social, environmental and economic costs of water and sewer replacement, multiple trenchless methods will be discussed including pre-chlorination, static pipe bursting, Man Hole to Man Hole pipe bursting and Compression Fit HDPE pipe lining.
The technical presentation will focus on the history, design considerations and construction overview of each trenchless method. HDPE and module pipe will also be reviewed in depth including design, Plastic Pipe Institute Calculator, long term performance and connections methods. Case studies will be presented from communities in south Florida that have utilized these technologies including a $15M Design/Build emergency 30-inch force main replacement project with the City of Fort Lauderdale, pre-chlorinated pipe bursting projects with City of Sunrise, Wilton Manors, Boynton Beach and more.
Speakers: Richard Crow
Richard Crow is the Regional Manager for Murphy Pipeline Contractors, Inc and has been instrumental in educating and implementing trenchless technology strategies within municipalities in South Florida. He specializes in design-builds and bringing an innovative approach to all utility projects. Richard holds a Bachelor of Science in Civil Engineering from Florida Atlantic University and has over 15 years of experience managing $400 million in utility infrastructure in South Florida.
Throughout his career he has worked as an engineering consultant for both government entities as well as private contractors, providing a unique opportunity to understand all parties involved and provide viable solutions. Richard is a former regional construction manager for a global water management company and was a critical component in delivering sustainable solutions to both government agencies and industrial clients. He has extensive experience in overseeing the design and construction of vital water and wastewater treatment facilities, and his expertise and leadership ensured both a cost-effective design and aggressive production goals being met.
*** Included: One PDH for Professional Engineers
*** Provided: Formal Three Course Meal and Coffee.
Organizer: This professional presentation is brought to you by Construction Institute Chapter of ASCE Miami-Dade. Registration price will cover the cost of lunch for attendees.
Construction Institute of ASCE Miami-Dade: ci@miamidade-asce.org (Daniel Giraldo)
We would like to thank Murphy Pipeline for being our sponsor for this luncheon. With their support, we're able to offer this lunch at a discounted rate. Thank you, Murphy Pipeline.