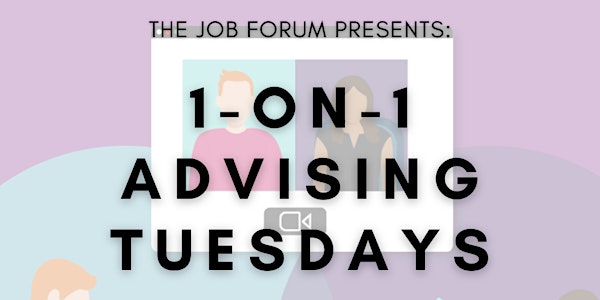 Multiple dates
1-On-1 Advising Tuesdays: Personal Career & Job Search Advice
The Job Forum Presents: "1-On-1 Advising," Personal Career & Job Search Advice with expert professionals.
By The Job Forum, sponsored by SF Chamber of Commerce
Date and time
Starts on Monday, October 18, 2021 · 9am PDT
Refund Policy
Contact the organizer to request a refund.
Eventbrite's fee is nonrefundable.
About this event
Whether you are actively job searching, considering a career change, returning to the workforce, or otherwise focusing on the next steps in your career, the process can feel a bit lonely at times.
That's why The Job Forum is here, we are offering "1-on-1 Advising" sessions. Our expert volunteer panelists who are Managers from a variety of Bay Area Companies, Seasoned Recruiters, and Career Coaches are here to provide you guidance and advice for your next steps in your career and job search.
You will work with an expert panelist to enhance and develop the skills and confidence you need to be successful in today's job market. Together, you will evaluate your short- and long-term career goals.
The Job Forum offers:
30 minute "1-On-1 Advising" Sessions with a Job Forum Professional Advisor. The cost is only fee a $20 for one session and $50 if you book three sessions, which is less than the average market rate.
"1-on-1 Advising" sessions appointments can be conducted via phone or zoom
Career Coaching appointments can cover a variety of topics, including:
Exploring Career Options
Resume and Cover letter Review
LinkedIn Consultation
Networking Techniques
Advice on Internship, Job Search & Volunteering
Practice Interview
Advice on Salary Negotiation
and more.
All our expert panelists have diverse backgrounds and personalities. Each of them offers a unique approach and perspective on career exploration, which allows for different insights on career exploration.
Please pay attention to the times and dates when you request a session, as they are subject to change!
OUR EXPERT ADVISORS:
ROGER BROOKS
Marketing Research Consultant & Strategist
Roger Brooks consults via his consultancy practice, Research and Marketing Strategies. He has over 25 years diverse marketing research experience, ranging from consulting to senior management positions with leading digital and social media, technology, marketing research, and startup organizations. Clients have included Google, Facebook, YouTube, Yahoo, Visa, HP, Ingram Micro, Pfizer, digital advertising agencies, and early stage and startup companies. Roger graduated with honors from the University of Wisconsin-Madison with BA & MBA degrees. He has hired new college graduates to seasoned professionals and has been a Job Forum volunteer for over 25 years.
Areas of Specialty: Building effective marketing research teams, with research expertise in digital, social, and cross media, path-to-purchase, new product launches, market segmentation, and customer satisfaction.
---
LAURA HAGGERTY
Business Leader Communications & Change Management
Laura Haggerty has worked with several high tech and consulting organizations including the Technology teams at Visa, Alcatel Lucent and Ernst & Young and worked in operations, product management, marketing and information technology organizations.
A creative technology leader with expertise in change management, program management, product portfolio planning, project management, and process improvement, Laura also brings international business experience that includes directing multidisciplinary, multinational teams working in development, planning for products, and systems transformation programs. Laura has a bachelor's degree from the NY State University at New Paltz and a Masters degree from UC Berkeley.
Areas of Specialty: Technology marketing, product management and program management, change management.
---
JEROME IMHOFF
Career Coach at The Résumé Shop, "INK."
Jerome Imhoff is a professional résumé writer and career coach with more than 15 years of experience in the "employment" industry. After moving to California from the Black Hills of South Dakota, where he worked as a music teacher, Jerome made is foray into the world of employment services as a vocational counselor and job developer for an adult vocational training school in Concord, California. He then spent 5 years working as a recruiter and headhunter for a national staffing agency before starting his own business, The Résumé Shop, "INK." As a career coach, Jerome helps job seekers and career changers to assess their career goals and acquire a strategic edge to navigate an ever-changing and highly competitive job market.
Jerome is a certified human resources professional (PHR) and a certified ARTbundance Life Coach and Practitioner. He holds a Bachelor of Science Degree in Education with majors in English and music as well as a Master of Arts degree in education with an emphasis on language arts. Jerome is the co-host of the podcast UpLevel Your Career with Judson & Jerome and the host of the podcast Manifesting Brilliance: Living Your Authentic Life.
Areas of Specialty: Life coaching, podcasting, resumes, career coaching
---
LAURA PARADISE
Career Coach at Paradise Coaching
Laura Paradise is a career coach who guides professionals through career transitions, workforce re-entry and leadership development. Her experience spans nonprofit management, politics and consulting. She has directed national and international environmental quality programs. Laura is known for helping clients get visible, get interviews and get hired! A former fundraiser, Laura specializes in interview and networking skills. Laura holds an MS in Organizational Management and is a certified life coach (trained at the Coaches Training Institute (CTI). Laura is based in Oakland California.
---
MARK SUGARMAN
1-On-1 Advising Specialist
Mark Sugarman is retired from a career as a successful Executive Recruiter where he actively sourced and recommended qualified job candidates to companies.
He specialized in recruiting sales, marketing, purchasing, operations, and finance candidates at all levels of small, medium, and large private and public US corporations.
Before starting his executive recruitment firm, Banks & Sugarman, Mark spent over thirty years in management positions with both public and private distribution companies.
Mark received his Bachelor of Science at the Wharton School University of Pennsylvania and an MBA in marketing at Columbia Business School.
Areas of Specialty: Talent acquisition, job search strategies, interview preparation, resume development, and networking strategies.
https://www.linkedin.com/in/marksugarman
---
REGISTER for only $20 for a 30-minute phone or Zoom call session.
You may register up to 24 hours in advance.
Your Advisor will contact you via email to set up the details of your session.
Sign up today!
---
You are welcome and encouraged to attend the Job Forum Group sessions on Wednesday and Thursday at 6:00 in order to easily add to your job search network by meeting helpful managers inside Bay Area companies who will advise you and can make referrals for you.
REGISTER for Wednesdays: https://thejobforumwednesdays.eventbrite.com
REGISTER for Thursdays: https://www.eventbrite.com/o/the-job-forum-sponsored-by-sf-chamber-of-commerce-3906848837
For more updates on how to sign up for "1-on-1 Advising" follow us on LinkedIn, Instagram, Facebook and The Job Forum website.
Note: We are Bay Area managers who volunteer to advise job hunters on conducting a modern job search here in the Bay Area. We may offer contacts from our professional networks when appropriate.
We do not offer jobs nor can we help job hunters with Visa challenges or work permits or other legal concerns.
About the organizer
The Job Forum aims to help people help themselves in their job search. Our approach is focused on intelligently planning and conducting the job finding campaign. We offer customized brainstorming and problem-solving to job seekers.