1 Million Changemakers: Changemaking from the Inside Out
Description
Is change possible in DFW when we're all stressed out?
More than 150,000 young people walk the hallways of Dallas public schools right now. How do we ensure that each young person feels empowered to make positive change in their lives and the lives of others? Over seven million people live in the DFW metroplex. What if every parent, teacher, school leader, policymaker, employer, and resident of DFW felt empowered and supported to make change along with them? What if there were one million changemakers throughout the Metroplex?
We see you as a key leader in this movement and invite you to join change leaders from across DFW in pursuit of a long-term vision of sustainable changemaking, from the inside out.
Co-Hosted by Ashoka: Innovators for the Public, pioneers in the field of social entrepreneurship, and The Emerging Teacher Institute at the University Texas North Dallas, this gathering will bring together builders and shapers of our communities to collaborate and align around a common vision: to integrate changemaking more deeply into our own lives and into the ecosystem of DFW.
We will come together at the Trinity River Audubon Center. This place of natural beauty and preservation, which was formally an illegal dump site, is a physical reminder of what is possible when we reclaim what is broken and dedicate ourselves to its improvement for all.
This 1 Million Changemakers (1MC) gathering will provide an opportunity to: (i) reflect on our individual and collective stress points; (ii) recognize the role identity plays in adding to stress and trauma for some, in necessitating the need for communities of healing and support, and in diverse coalition building for change. (iii) identify resources to meet that stress with skill and wisdom; (iv) share promising practices from multiple vantage points in order to more effectively overcome barriers to our individual and collective changemaking capacity; (v) support members of our expanding community in their well-being and individual changemaking efforts; and (vi) build the groundwork to sustainably integrate changemaking more deeply in the Metroplex ecosystem.
To JOIN US, please REGISTER HERE. Space is limited so please RSVP as soon as possible to ensure your participation. For any questions, please don't hesitate to reach out to John Gasko at john.gasko@untdallas.edu.
Warmest regards,
John W. Gasko, Ph.D.
Dean and Professor, School of Education
Founder, Emerging Teacher Institute
972.338.1654 (office)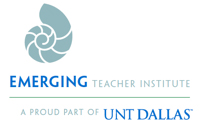 Paul M. Rogers Ph.D.
Ashoka: Innovators for the Public
Manager of Partnerships
(Skype) drprogers
(Twitter) @drprogers