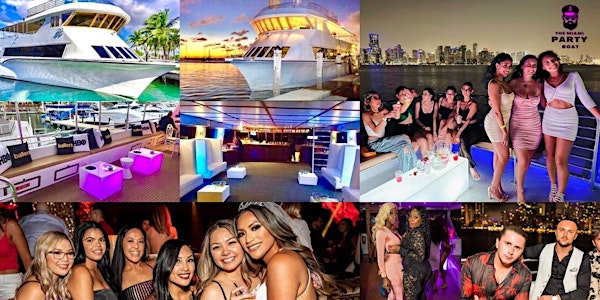 #1 Miami Booze Cruise | Booze Cruise Miami +  FREE DRINKS
PARTY BOAT - BOOZE CRUISE - YACHT PARTY - BOAT PARTY - NIGHTLIFE - SUNSET CRUISE - MIAMI PARTY - OCEAN NIGHTCLUB - MIAMI BEACH - SOUTH BEACH
When and where
Location
401 Biscayne Blvd 401 Biscayne Boulevard Miami, FL 33132
About this event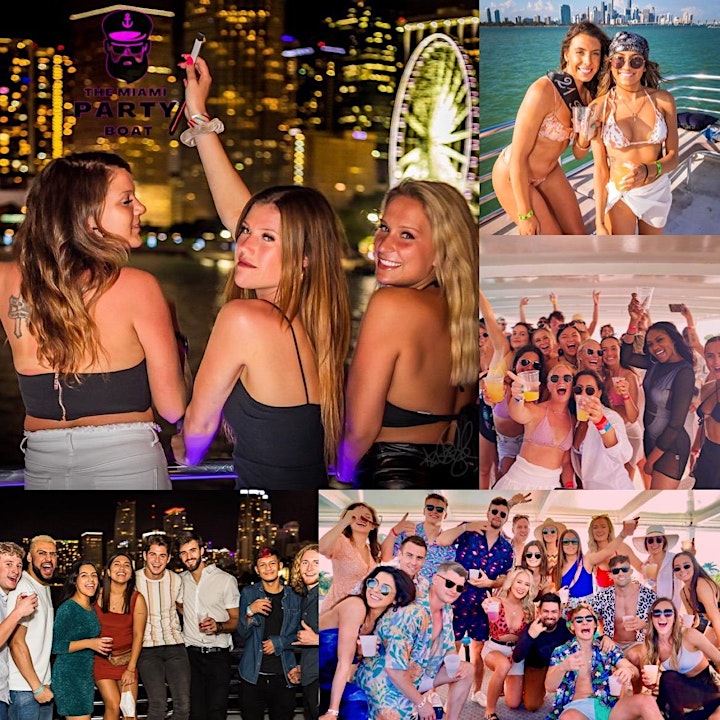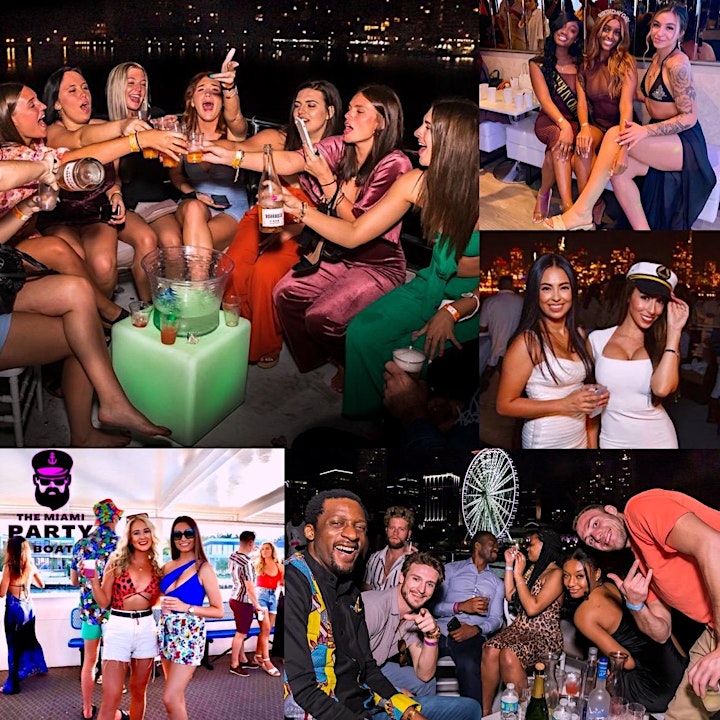 **HOW TO BOOK THE BOOZE CRUISE & YACHT PARTY EXPERIENCE **
Step 1: Pay your deposit $29 (each) here to reserve your spot
Step 2: Contact us to confirm your reservation at +1 (305)526-4420
(Text us: date & time, reservation name and how many guest book it)
Step 3: Attend check-in (1h prior to boarding) and pay the balance of $80 each at the door (only cash)
Step 4: Have fun!
VERY LIMITED SPACE ON OUR OCEAN NIGHTCLUB BOOZE CRUISE, DON'T WAIT TO BOOK!
💵 TICKETS ARE $109 (EACH) ALL-INCLUSIVE BOAT PARTY PACKAGE 🎊
WHAT'S INCLUDED:
⭐️Admission to the event
⭐️3 hrs of non-stop fun
⭐️Live DJ (best hip-hop, Latin & EDM)
⭐️OPEN BAR with unlimited free drinks (Rum, Vodka & Tequila)
⭐️Complementary light snacks (chips & pizza)
⭐️MC to get the party wild
⭐️Champagne showers
⭐️Twerking contest for the day party
⭐️Free premium bottle giveaway to 1 lucky winner
⭐️Millionaire's row tour
⭐️Extraordinary experience on the Ocean
🎊ALL-INCLUSIVE BOAT PARTY PACKAGE TICKETS ARE $109 (EACH) 💵
SCHEDULE:
YACHTS PARTY SCHEDULE 🌃
Available at Sunset time & Nighttime (ONLY)
Friday to Saturday: 7pm-10pm & 10pm-1am 🌃
BOOZE CRUISE SCHEDULE 🌅🌃
Available at Daytime & Nighttime
Friday to Saturday 3pm - 6pm 🌅 8pm-11pm 🌃
[YACHT PARTY ADDITIONAL SERVICE]
🍾 Yacht Party Sections and Bottle Service available for the nighttime. Contact for more info and quote. 🍾
⭐️PRE-BOOK YOUR NEXT VIP EXPERIENCE NOW. ⭐️
🌧 Rain or Shine Event ☀️
**KEEP IN MIND THE TIME OF YOUR CRUISE CAN BE CHANGED IF THE TIME THAT YOU BOOK IS ALREADY SOLD OUT! EVEN IF YOU PURCHASE TICKETS, IF THE TIME IS SOLD OUT, WE WILL MOVE YOU TO A DIFFERENT SCHEDULE.**
TERMS & CONDITIONS:
-Must be 21 & older to attend the event.
-A valid photo Government ID (Driver's License, Passport, etc) will be required.
-This ticket purchase is your deposit to book, the remaining balance will be due upon check-in.
-Balance will be due upon arrival, only in CASH.
-All attendees (s) are required to redeem their tickets at the check-in location within the specified time frame or you may be denied entry and risk losing their deposit.
-ALL SALES ARE FINAL, NO REFUNDS.
-The boat used for the event is subject to change depending on availability.
-Reserved times may change depending on availability, for which you will be previously notified.
-The company reserves the right of admission at its discretion.
-Any person arriving In possession of any drugs, weapons, or intoxicated in any way will be denied entry, no right to refund your deposit.
-It is prohibited to smoke in any area of the event.
-It is prohibited to bring alcoholic beverages and or food inside the boat.
-Failure to comply with the rules of conduct or safety before or during the event will result in the loss of rights and subsequent eviction from the event without refund.
-The duration of the event is approximate, either exceeding or limiting the specified time at the discretion of the organization.
-The location of the check or the place where the event is to be held may change a disposition of the company, for which you will be previously notified.
REFUNDS
All SALES ARE FINAL, NO REFUNDS
(Refunds are only issued under special circumstances at the discretion of our company. In case of bad weather (you would be notified), that we must cancel the event for any reason or in certain cases like emergencies with valid proof)
For any questions please text us to our customer services line: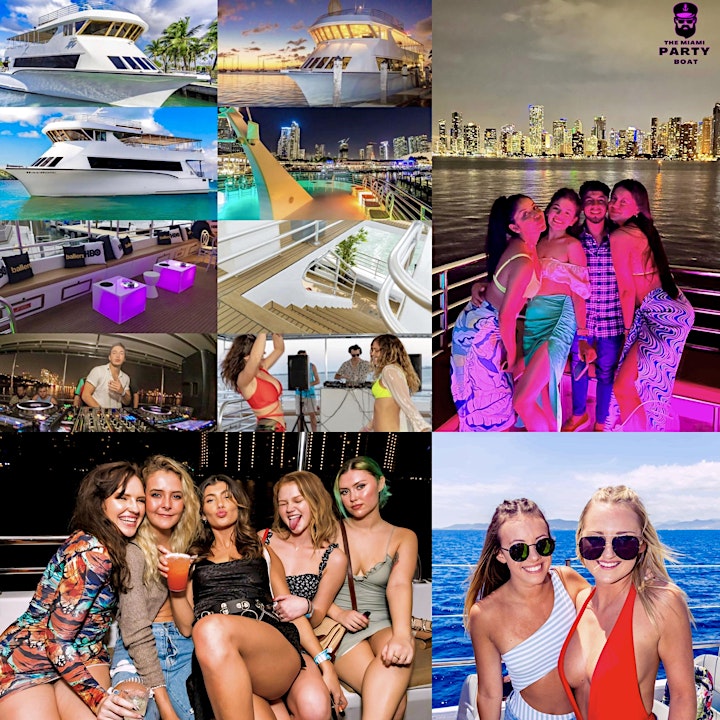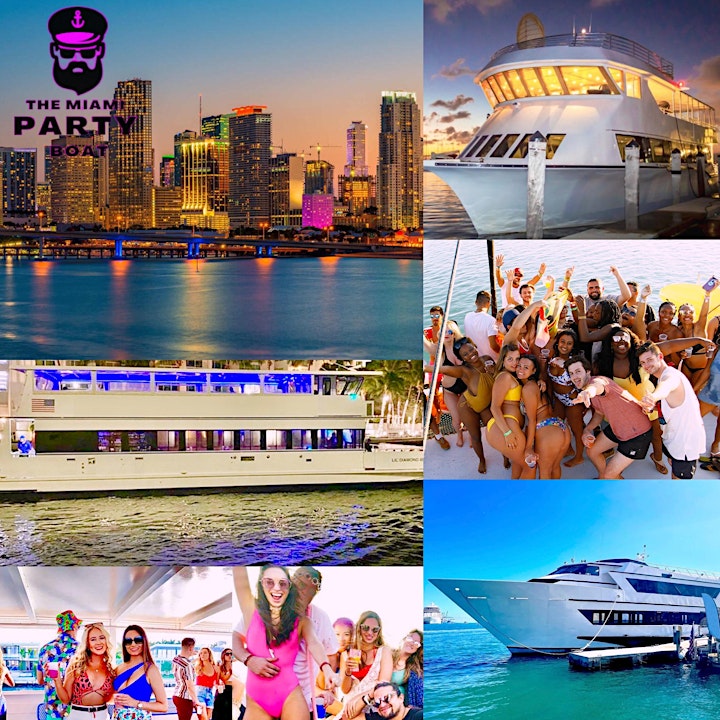 Booze Cruise Miami - Boat Party Miami - Party Boat Miami - South Beach Party Boat - South Beach Boat Party - South Beach Yacht Party - Miami Beach Party Boat - Miami Beach Booze Cruise - Miami Beach Boat Party - Party Boat in Miami - Boat Party in Miami - Booze Cruise in Miami - Yatch Party in Miami - # 1 Boat Party Miami + free drinks - Party Boat in Miami Beach - Boat Party in Miami Beach - Booze Cruise in Miami Beach - Yacht Party in Miami Beach - Hip Hop Booze Cruise Miami - Hip Hop Party Boat Miami - Hip Hop Boat Party Miami - Hip Hop Yacht Party - LIV Miami - Story Miami - Miami Promoter - Miami Beach Promoter - Miami Nightlife - Hip Hop Nightclubs - Things to do in Miami - Miami Parties - Fort Lauderdale Beaches - # 1 Boat Party Miami + free drinks - Fort Lauderdale Nightlife - Hollywood Nightlife - Daer Pool Party - Daer Nightclub - Las Olas Beach - Fort Lauderdale party - Parties Fort Lauderdale - Hollywood Beach - Hollywood Party - Fort Lauderdale Boat Party - Party in Miami - Barchelote Party Boat - Bachelorette Boat Party - South Beach Parties - Birthday Party - Birthday Boat Party