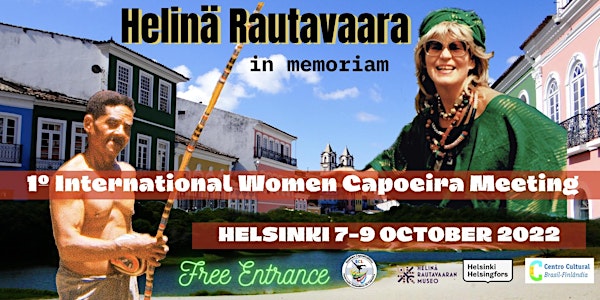 1° Internacional Capoeira Women Meeting ( Helinä Rautavaara in Memoriam)
Location
Helinä Rautavaara Ethnographic Museum
11 Siltakatu
02700 Espoo
Finland
Suomen Capoeiraliitto ry has the honor to present to you the 1st International Women Capoeira Meeting (Helinä Rautavaara in memoriam).
About this event
It all started more than 59 years ago, when researcher, adventurer, psychologist and journalist Helinä Rautavaara began her travels around the world.
To the sound of the berimbau, we ask permission to be inspired by the affinities between Finland and Brazilian traditions. The rhythms of capoeira, the clapping of hands and the dances of the orixás are indispensable invitations for all of us to celebrate this beautiful tribute to Helina Rautavaara.
It will be very gratifying for Mrs. Fatima Colombiano (Mestre Cigana), the first woman consecrated Master of Capoeira in the world, Tatiane Santana dos Santos (Master Tate) Vice-President of the Associação Cultura Raça Negra who lives in Fuerteventura, Spain. Mr. Jorge Satiro da Conceição (Mestre Jorge Satélite), President of the International Capoeira Group Mestre Paulo dos Anjos and founder of Clips Academia. Mr. Paulo Sales Neto (Master Paulão Ceará) who lives in Budapest and is one of the founders of the Capoeira Brasil group and he is also the President of the World Capoeira Federation. All guests are important and special, but Cláudio Lemos, our best friend Mestre Samara from Amsterdam who is the pioneer of Capoeira in Finland, has been teaching culture, art and philosophy of life in Finland over 30 years and he had direct contact with Helinä Rautavaara and he will tell us how it all happened.
Schedule:
7.10.22 - Pikku Huopalahden Nuorisotalo 00300 . Time: 9-16
* 9:00 Open ceremony
*9:30 Workshop with Mestre Jorge Satélite
*10:30 Mestre Paulão Ceará
*11:30 lunch
*12:00 Mestra Tate
*13:00 Mestre Samara
*14:00 Mestra Cigana
*15:00 Musicalidade
8.10.22 - Museum Etnographic Helinä Rautavaara 02700, Time: 12-18
* 12:00 Museu guided tour
* 13:00 Cultural presentations
* 14:00 Batizado and Open Roda
* 16:00 Certification
We will recognize with certification all Capoeirista in Finland of all genders.
* 17:00 Samba de Roda
* 18:00 Dinner
9.10.22 - Pikku Huopalahden Nuorisotalo 00300. Time: 10-14
*10:00 Cultural presentation
*11:00 Capoeira lectures with all Masters
*12:00 lunch
*12:30 Open Roda
*14:00 Closure
1- 3 days event open for all. ( Free Entrance )
1- Certificate
1- Flower
1- Dinner
1- Event T-shirt
Price: 50€
Op Bank account
Suomen Capoeiraliitto ry
FI14 5790 2620 2043 20
BIC: OKOYFIHH
Note:
After you confirmed the payment, please send for us your t-shirt size and details about specific meals such as ( vegan, vegetarian or food allergies).
E-mail: suomencapoeiraliitto@gmail.com
If you are a Capoeirista or non Capoerista and live in Finland, this is your event.
Welcome and Axé galera!