Description
Over the last couple of years, user experience has become a differentiating factor and a highly sought after skill for a growing number of companies, from startups, agencies and consultancies to in-house teams. This one day UX bootcamp will provide you with an introduction to what you need to know about UX as well as hands-on practice with key UX tools.

WHAT YOU'LL LEARN
In this one day UX bootcamp we'll go over a brief introduction to the field of UX design and why it matters. We'll look at what to consider as well as where UX sits in an organisation and project before focusing the majority of the day on providing hands-on practice with some of the key UX tools and methodologies that UX designers use on a daily basis.


After completing the one-day bootcamp you'll be able to:
clearly, explain what UX is and the value it adds
have an overview of the different disciplines that make up UX design, how they overlap but also how they differ
know how and when to incorporate UX design into your project process
know what the main UX tools (personas, experience maps, journeys, sitemaps, wireframes, prototypes etc.) are as well as when and how to use them
get hands-on practice with some of these UX tools
advice, at a high level, on aspects related to the UX approach of a project
have a clear understanding of what's expected of a great UX designer
WHO IT'S FOR
This one day UX bootcamp is suitable for anyone working with digital and physical experiences who wants to learn more about the basics of User Experience Design. It's particularly useful for anyone who's considering a shift into UX, or who's found themselves in a UX or product role without much prior experience. It is also relevant for those working as visual/ graphic designers, strategists, marketers, developers, product owners as well as startup founders.
WHAT'S INCLUDED
All the material used for this bootcamp will be sent to you after the session together with some additional notes for further reading. Everyone who attends will also get a copy of my upcoming Storytelling in Design book for O'Reilly.
A light morning and afternoon 'fika' (something to eat and drink) as well as lunch is included in the price. If you have any special dietary requirements, get in contact through the form below.


WHAT YOU NEED
Pens and papers are provided, but bring your laptop as you'll need it.
The bootcamp is based on a fictive case, but you're more than welcome to bring along a project you're working on. We'll send an email before the workshop with a bit more information.
THE VENUE
We're back at Timberyard Seven Dials whose coffees, teas, and cakes we've sampled many a time. We can tell you one thing, they don't disappoint and we're not alone in thinking so.
TY have been awarded the Best Independent Coffee Shop in Europe in 2014 and received the UK Independent Coffee Shop of the Year Gold Award in 2015. Their aim is to "provide an inspiring environment for people to work more effectively and provide a space for creative people to come together" and it's certainly one they deliver on.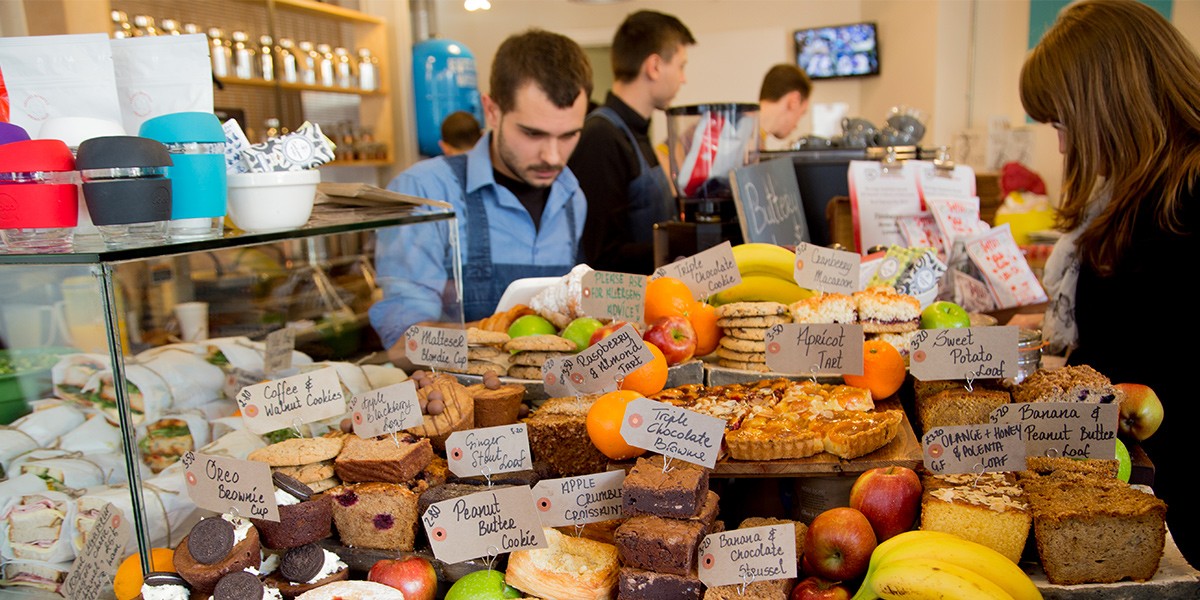 Image from the counter at Timberyard

WHO RUNS THIS BOOTCAMP
This bootcamp is run by Anna Dahlström, a UX designer, speaker, and coach with over 15 years experience working in-house, agency side and with startups, as well as helping teams and individuals to develop their UX skills and progress their careers.
Image by Juhan Sonin