| | |
| --- | --- |
| 1 DAY PARTY BUS SPECIAL - 2015 ESSENCE MUSIC FESTIVAL | |
Event Details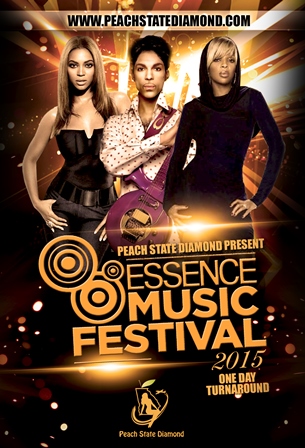 2015
Essence Music Festival
Party Bus

July 4, 2015
One Day Turnaround Party Bus

Essence Music Festival, known as the "party with a purpose", is an annual music festival which started in 1995 as a one time event to celebrate the 25th anniversary of Essence, a magazine aimed primarily towards African American women. It is the largest event celebrating African-American culture and music in the United States. Locally referred to as Essence Fest, it has been held in New Orleans every year in 1995 except 2006.  Join us on our one day party bus as we head to New Orleans to partake in the best the city has to offer, face to face encounters with your favorite celebrities, concerts and much more.  Reserve your space today!



Complete Travel Packages Include
Roundtrip transportation from Atlanta via motor coach
Mixed cocktails on motor coach
Movies and music on the motor coach
PSD Travel Staff will travel with you

This is a one day turnaround trip.
Hotel Accommodations ARE NOT included.

Package Price
$88 per person - DUE IMMEDIATELY

Pick Up Locations
Toys R Us Parking Lot
2918 Turner Hill Rd
Lithonia, GA

Camp Creek Marketplace
(Ross Dept. Store parking lot)
3604 Marketplace Blvd
Atlanta, GA

We strongly urge you to get dropped off/picked up at your designated pick up location.

Peach State Diamond Travel is not responsible for theft, damage or towing of any vehicles left at these locations.

Travel Itinerary
Saturday, July 4
Lithonia - 4:00 am EST
Atlanta - 4:30 am EST
Arrive in New Orleans - 12:30pm CST

Sunday, July 5
Depart New Orleans - 1:00 am CST
Atlanta - 9:00 am EST
Lithonia - 9:30 am EST

All times are estimates and subject to change.  

Please arrive at your pick up location BEFORE your scheduled pick up time.  We cannot sit and wait.

Items to Bring
- Small cooler with your favorite beverage.  Cooler must fit underneath your feet on the bus.


-Blanket and Pillow

-Small bag or backpack with personal items to freshen up at Louisiana Welcome Center

-Food and snacks

-Cameras

Policies, Payments & Fees 
-Due to contractual obligations with the motor coach provider, payments to Peach State Diamond are NON-REFUNDABLE & NON-TRANSFERABLE.

-Attendees under the age of 21 are not allowed due to the serving and consumption of liquor on the motor coach.

-Each participant will sign a Liability Waiver Form upon boarding the motor coach.

-Please register in the name shown on your government issued ID.

-A free, one time name change is allowed BEFORE June 20

-Name changes WILL NOT be accepted after June 20 (no exceptions). 

-If a payment made via check is returned, a return check fee of $35 will be imposed. Your replacement payment, including the $35 check fee must be paid within 24 hours via credit/debit card.

-Peach State Diamond is not responsible for theft, damage or towing of vehicles left at pick up locations.

-We strongly encourage to you to get dropped off/picked up at pick up locations.

-All correspondence regarding this trip is sent via email. Please provide an email address that is checked frequently.

-Peach State Diamond Travel reserves the right to use all client images or likeness in connection with still photography or recorded video.  Attendance at any Peach State Diamond event gives consent to be photographed for use in print or electronic publicity on social media sites.   

Payment Methods
Trip Website:
www.2015emfonedayspecial.eventbrite.com  
Credit/Debit Cards and Electronic Checks are acceptable forms of payment. There is an additional fee charged for making payments via the trip site. These fees ARE NOT deducted from the cost of your trip. 

Contact Us
Peach State Diamond Travel & Tours
info@peachstatediamond.com
(844)PEACH12
Where

New Orleans

New Orleans, LA


Organizer
PEACH STATE DIAMOND
Peach State Diamond Travel & Tours is a full service travel agency based out of Atlanta, Georgia that specializes in group, business and individual travel.
We realize that a great vacation is not just about booking airline tickets and making hotel reservations, but rather about creating cherished, unforgettable lifetime memories at affordable prices.
We are certified, licensed, and experienced travel consultants whose focus is on servicing your travel needs.

Business Hours
Monday - Friday, 4:30pm - 8:30pm
trips@peachstatediamond.com


1 DAY PARTY BUS SPECIAL - 2015 ESSENCE MUSIC FESTIVAL