The Vibes Are the Resort!
About this event
Receive specialized training and your very own Vibe Spa & Academy' microblading starter kit.
MANDATORY MASK WILL BE PROVIDED... THIS IS A SAFE AND DAILY SANITIZED FACILITY!
Take a step towards becoming a professional microblading artist or refresh your knowledge in this two-day program held on listed tour dates which occurs on 1 DAY of your choice either on a Monday, Tuesday or Wednesday ... please specify the day of the week and date in an email to vibebrow@gmail.com . The class is capped at only four students in order to encourage a more comprehensive learning environment of immersion. ***
NO Experience is needed...
This training is ideal for cosmetologists, estheticians, beauticians and body tattoo artists alike are welcome to join.
One microblading session can range from $300 all the way up to $1000 depending on location and experience of technician...
Microblading technicians with just 1 client a day , 5 days a week , can make up to $8,000 a month!
WHAT TO EXPECT...
ACCELERATED 1 DAY COURSE
Theory
 Overview of History of Microblading
 Sanitation & Cleanliness Standards
 Importance of the local Health Dept regulations BBP Test Completion and other requirements in your area
Practical Methods of Shading
 Depth, pressure & Methodology (synthetic skin)
 Practical Applications of shading
 Receive a Vibe Spa´ Microblading Certificate of Completion
You are welcome to bring a model age 18yrs+ (State ID and $200 fee mandatory)
REFRESHMENTS: Complimentary breakfast or lunch will be ordered. Water, beverages will be available as well.
The sooner the better, classes limited seating...
...you can pay by visiting our booking site via Google, Facebook, or IG @Vibespas then scroll and select VSA TRAINING OR request a SQUARE invoice both to bypass service fees!
      TUITION $1500
Reserve your spot for only $300** as deposit today. Includes microblading supply starter kit!
FORMS OF PAYMENT ACCEPTED- SQUARE CASH, CASHIER'S CHECK, CASH, CASHAPP, QUICKPAY FIRST DAY OF CLASS.
VIBE SPA & ACADEMY KIT
Microshading motor tool
Brow sticker rulers
10 Pigment rings
Face masks
Gloves
Tattoo skin
Eyebrow skins
Mapping string
10 S16 blades
10 A16 blades
Surgical marker
Alcohol wipes
Antibiotic ointment 
Custom pigments
Eyebrow caliper
Razor blade
China marker
Black/Gold zip case
*Blood Borne Pathogens Certification required prior to attending Day 1 training session. Courses can be found at Ice Institute or Red Cross.  **Remaining balance required on the first day before class starts. Only cash or credit cards accepted ***Must be 18 years of age or older to participate with valid ID.
Event email: vibespas@gmail.com
SHADING TRAINING FAQS
Can I make a payment without a service fee?
ACCEPTABLE FORMS OF PAYMENT- SQUARE INVOICE, CASHIER'S CHECK, CASH, CASHAPP, QUICKPAY, PAYPAL, ZELLE... due before the start of the FIRST DAY OF CLASS.
Is a payment plan an option?
Currently YES broken down into maximum of 4 intervals...due to high demand we're offering payment plans, the total must be paid before the course. Reach out by email with the schedule of payments you want to make and the date you're attending.
When Does Training Occur?
Currently, training occurs four times a month and are commonly the 2-day course is held on a weekend Saturday + Sunday and 1-day courses held one Monday, one Tuesday, one Wednesday of each month. To explore current available dates, please book the course date you are most interested in.
Where Is The Training Course Held?
The Microblading certification course is held on dates listed on the main event page, held at a public training space in Royal Oak. Once your specific date is booked an email in response will provide the exact details. ****All private one-on-one 1 HOUR additional courses are held exclusively with the instructor at their discretion after class or via video conferencing/messaging with associated fees required in addition to tuition.
How Big Is A Class?
We do our best to limit our 1-day & 2-day training courses to 3-4 students, which is why a deposit is required to ensure your spot is reserved. Individuals that book a private, one-on-one course reserve the instructor for a day and no other students are allowed to shadow or attend a private course training so you receive the maximum training catered to your questions and needs.
How Much Is Training?
The cost of tuition does vary by course. However, the tuition includes Master Level Instruction and,  apprenticeship referral letter upon request; courses come with a microblading starter kit as well as training manuals, client questionnaire documents, legality information, and a certificate upon completion.**** 
Models are welcome at the students request and will be charged $200 before any training service begins.
Why Do I Need To Pay A Deposit?
Due to the high demand of interest in our courses and apprenticeship referal, we request a deposit to ensure that serious applicants are able to reserve a spot without having to end up on a waiting list.
Does My Deposit Go Toward My Course Tuition?
Yes. The deposit you pay to reserve your seat goes toward the tuition cost of the course.
When Do I Pay The Remaining Balance Of Tuition For The Course?
The remaining balance is due on the first day of your training course prior to the start of the class. Vibe Spa' accepts cash, a cashier's check or credit card with proof of identification on the first day of a course.
Why Do I Have To Take A Blood Borne Pathogen Class Before?
Most State Health Department requires that all individuals that work with or near human blood be required to understand safety and sanitary precautions surrounding this work. In order to comply with the health department as well as receive your state certification(permit), this course must be taken prior to any microblading course and proof of completion is required on the first day of class.
Is The Course Refundable?
We do not offer refunds once a course has been purchased and or completed. All of our students are overwhelmed with the beneficial details and hands-on training that are given; therefore, we do not offer refunds.
What about apprenticeships?
We offer each student an apprenticeship referral letter at the students request only after completing either the 1-day or 2-day course, in addition to 5 faux skins of practice strokes (25 mock eyebrows). Apprenticeships are also recommended for your benefit to complete a minimum 100 hours, as a industry standard.
Will my deposit apply to another future date if for any reason I miss or don't attend the date I chose?
Yes. You can contact the email address to verify the date you will attend. ONE time to reschedule ONLY ONE. After you have confirmed a make up date and you miss that day as well you will have to pay another deposit.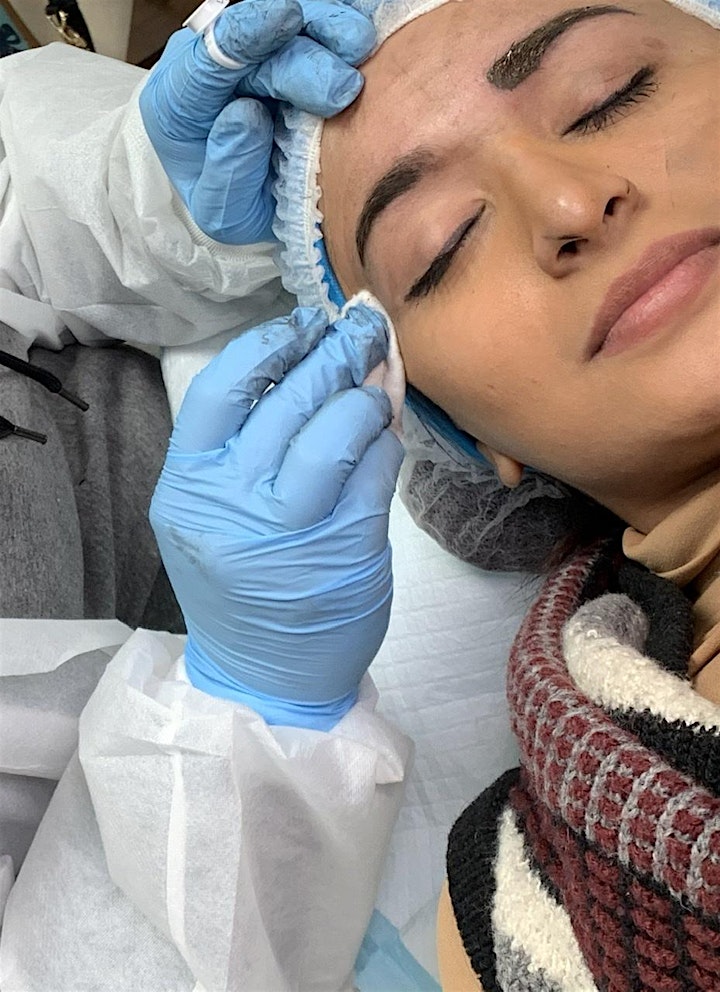 Organizer of 1-Day OMBRÉ SHADING TRAINING by Vibe Spa & Academy
Over 12 years of experience in the beauty field and a business owner for 7 years provides a basis, foundation for your microblading success. I look forward to helping you reach your goals with this courses potential to push you to new heights in your career. After receiving our extensive training certification in Spring Valley,NV I decided to share knowledge with eager students, quick learners, and even those who just want to refresh.
Thank you for considering a course as one you can and will benefit from in the near future.
Vibe Spa