1 Day "New Year New You" January 27, 2018
Description
"SEE Summit New Year, New You!" Annual 1-Day Event in Dallas, Texas
You deserve to know everything to build your business, let's SEE you there!!!
SUCCEED ~ EMPOWER ~ ENLIGHTEN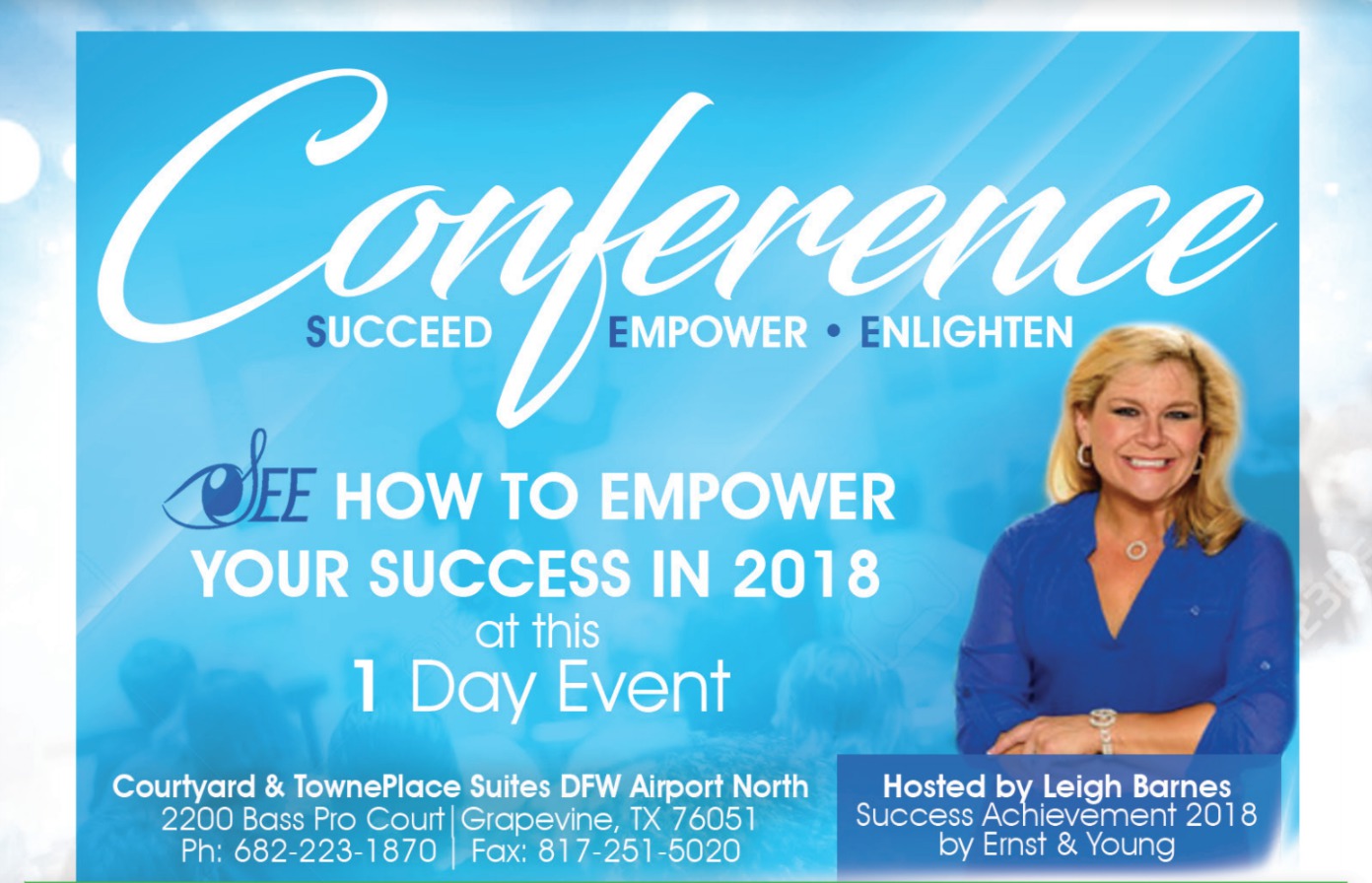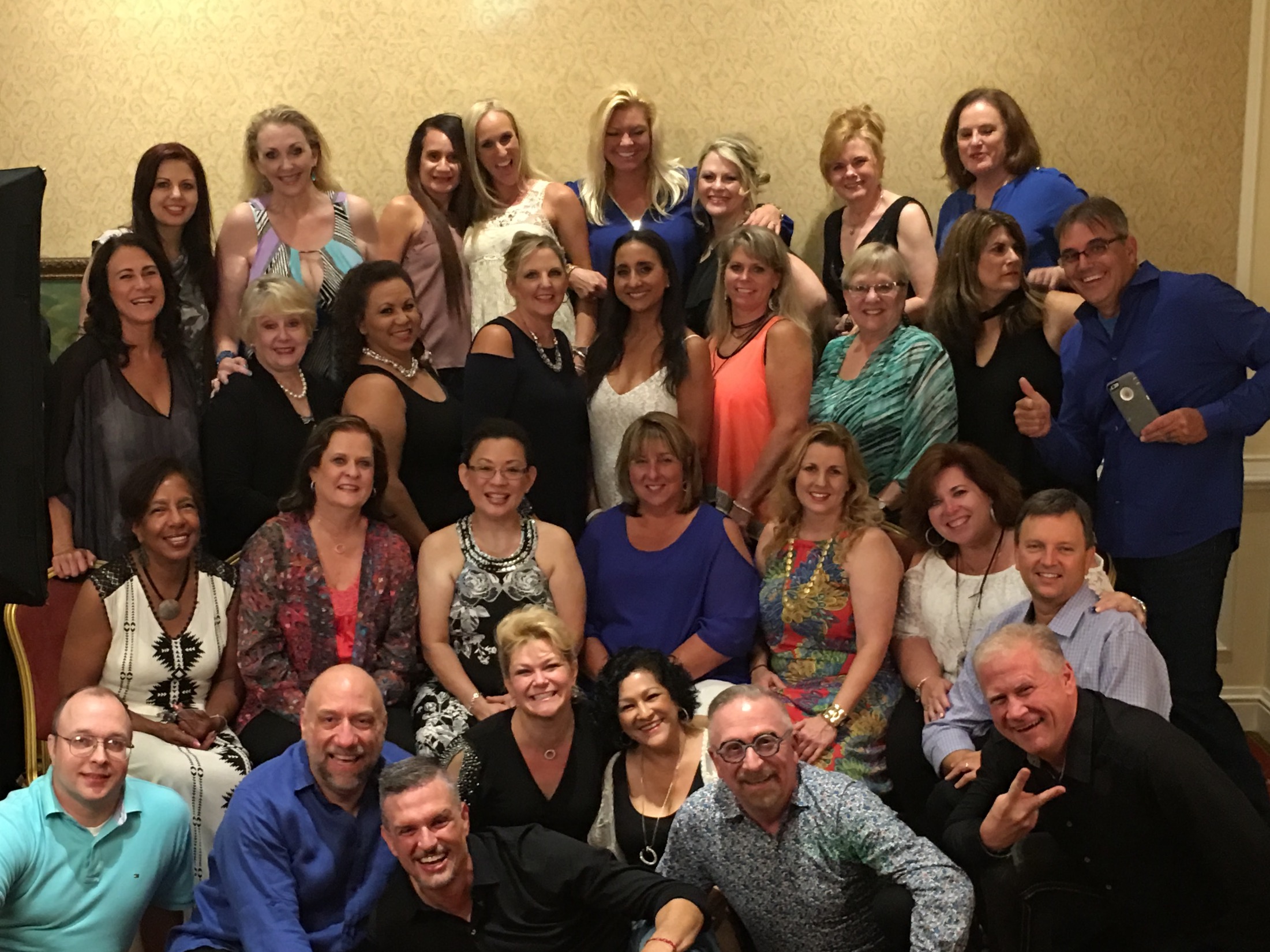 Exclusive SEE Summit | SUCCEED ~ EMPOWER ~ ENLIGHTEN
Date: January 27, 2018
Cost: $89 per person (early bird pricing ends the start of 2018!) includes lunch, materials and speakers
Want to learn from top business owners and speakers join us and learn more. Learn how to build your business faster and more efficiently. Learn how to utilize social media in order to engage your prospects in discussions. Learn how to prospect and close. Learn necessary skills such as personal development and your mindset. There will be a special leadership panel and team building exercises.
Click Here To Register Your Hotel Room (discount room ends 12/28/17!)
Courtyard & TownePlace Suites DFW Airport North (free shuttle service)
2200 Bass Pro Court
Grapevine, Texas 76051
Phone 682-223-1870 Fax 817-251-5020
E-mail contact: Dana.Gibson@newcrestimage.com
~~~~~~~~~~~~~~~~
WHO THIS EVENT IS FOR:

Small business owners

Want to scale your business?

Want to shorten the amount of time you work?

Spend more time with your family, friends, hobby?

Maximize production at work?

Make more money?

Current network marketers who feel stuck

Lack of upline support

You feel lost

Your current training is inadequate

You've been in the business for several years, but haven't made much money

Entrepreneurs who want to learn how to succeed in business
WHO THIS EVENT IS NOT FOR:

People who do not want to grow their business

People who are completely content with their current living and work situation

Not willing to learn new strategies and techniques

Only looking to build their business offline
1 year = 365 Opportunities
Ask yourself:
"Do I SEE A SUCCESSFUL FUTURE in the next 365 days?"

YOU deserve to treat yourself and kickstart your New Year—complete with all the tools, support and encouragement you need to build your business legacy in 2018.
This program is developed for those who are are thinking about pursuing entrepreneurship as well as seasoned entrepreneurs who want to take their business to the next level.
Attending this interactive fun filled business workshop with talented business leaders in different industries who will be sharing their secrets how they have built their fortunes and how you can learn from their mistakes and successes.
As the indulgent holiday season comes to a close, why not dive into an exhilarating mix of top Multi Millionaire Speakers?
AGENDA
Here are a few of the topics and what you will take away from the event:
~Michael Ray Newman - "CEO of Zig Ziglar International"
"Scale your business and improve your personal life by actually sticking to a daily routine."

Michael credits his awakening to the unparalleled inspiration of Mr. Zig Ziglar, who in his lifetime, influenced more than a quarter of a billion people worldwide.
http://zigziglarinternational.com/meet-the-ceo/
~Liz Morris - "The Personality Doctor"
"Does Your Personality Pass the Leadership Test?"
~Craig Power - "Edward Jones"
"How small business strategies save thousands in 2018"
~Rekesha Pittman - "Book Midwife"
"Elevator Power Pitches: Attract high profile leads in 60 seconds, 30 seconds, and 1 sentence."
~Leigh Barnes - "Edge of Greatness as an Independent Owner"

"How to analyze the viability of any business idea in less than 20 minutes without writing a 20 page business plan." (Simple method developed at Stanford University)
~Guy Tuell - Cofounder & CEO elfyshuffle.com
"Attraction marketing via smartphone apps"
$69 PRICE INCLUDES: All Power Sessions & Speaker Sessions, All Marketing Materials, Saturday Lunch.
Saturday January 27
8:30a - 9:00a | Registration
9:00a - 1:00p | Training
1:00p - 2:00p | Lunch (provided)
2:00p - 6:00p | Training
9:00p - 12:00a | Dancing and fun at The Glass Cactus!
For those flying into town, there are two major airports. DFW is the closest airport and only 5-10 minutes from the hotel. If traveling DFW Airport they offer FREE SHUTTLE SERVICE. Love Field is 17 miles away and the home of Southwest Airlines.
Parking
Complimentary on-site parking
Airport
Dallas/Fort Worth International Airport - DFW

Hotel direction: 3.8 miles N

Airport shuttle service, on request, complimentary




Shuttle Phone: +1 817 251 9095

Courtesy phone available

Estimated taxi fare: 40 USD (one way)

Dallas Love Field - DAL

Hotel direction: 17.7 miles NW

This hotel does not provide shuttle service.

Fort Worth Alliance Airport - AFW

Hotel direction: 22.2 miles E

This hotel does not provide shuttle service.
Uber, traditional taxi, rental cars
Free parking for hotel guests


FAQ
Do I have to bring my printed ticket or phone record to the event?
Yes, please bring your event registration ticket or your phone record with you for an expedited check-in process. Individuals who register for the event will be presented a ticket in order to receive a lunch plus drink tickets.
What should I bring to the event?
Pens, pencils, writing tablets, laptop computers. We will have free access to WIFI. Bring snacks or beverages, if you'd like. Lunch will be provided Saturday. Saturday night is picture night, so dress pretty. Casual dress for all other meetings.
How can I contact the event organizer?
Host | Leigh Barnes
Phone | 615-238-4606
Email | leigh@webuilditbig.com