Description
This best-selling, award-winning program provides parents, teachers, and anyone involved in child care with straight forward techniques for managing children ages 2-12 without arguing, yelling, or spanking. Parents will learn how to control obnoxious behavior, the Six Kinds of Testing and Manipulation and how to handle them, and what to do about such issues as chores, practicing, homework, messy rooms, lying and so on. The presentation deals with the frequent and ordinary, but aggravating problems that children present. The seminar is intended for parents of average children as well as parents of children with special needs. If a family is in counseling, the 1-2-3 Magic program can be an important part of the therapy.

Parents find the 1-2-3 Magic program surprisingly effective because Dr. Phelan emphasizes several things that are different from any other parenting program:
Kids are not "little adults." Parents are encouraged not to see their children as rational and altruistic little beings who always respond well to logic in disciplinary situations.

The No-Talk and No-Emotion Rules. Since children are not little adults, attempts at reasoning are often useless and, even worse, sometimes lead to the Talk-Persuade-Argue-Yell-Hit Syndrome. This also often involves parents getting too excited and angry, which has the paradoxical effect of reinforcing bad behavior.

Controlling obnoxious behavior and encouraging good behavior require different tactics.
A.

Obnoxious behavior is controlled by a process called "counting." The system is simple and easy to learn. Parents are, in fact, warned that they may be skeptical initially because the strategy almost seems too easy.


B.

To encourage good behavior, parents can choose from among several tactics or combinations, including positive reinforcement, the docking system, kitchen timers, charting, and natural consequences. The use of these methods is tailored to each situation, child, and parent.




Testing and Manipulation. Parents are not ready to begin using the program until they are taught to anticipate all possible negative responses from the children. The Six Kinds of Testing and Manipulation are described and parents learn how to manage them.

Slipping. No one is perfect! Travel, illness, grandparents and new babies can sometimes upset the program, but parents learn how to quickly get back on track.

Dr. Phelan addresses the most commonly asked questions. Parents are taught precisely what to do, what not to do, what to say, and what not to say, in most every situation. Over 15 of the most commonly asked questions are dealt with specifically, including: What do you do in public? How do you deal with uncooperative grandparents? What do you do if you are on the phone? What if the child won't go to his room? What do you do if the child wrecks his room?
Parents are encouraged to start the program immediately after attending the seminar. They will be pleasantly surprised and—sometimes pleasantly shocked—with the good results.
This free event is sponsored by Maine Township's MaineStay Youth & Family Services and Chicago Behavioral Hospital. It is appropriate for parents, community members, and professionals and includes 1.5 free CEUs for social workers, professional counselors, marriage and family therapists, psychologists, and nurses. Check in will be from 6:30-7:00 PM. Advance registration is requested as seating for this event is limited.
We will be collecting donations at this event to support Northwest Suburban Day Care Center, a local nonprofit that enables low-income parents to maintain employment and support their families by providing them with high-quality, affordable preschool on a sliding fee scale. Attendees are encouraged to bring paper towels, hand soap, Play-Doh, Crayola markers, white cotton balls, and playground balls (vinyl).
About the Presenter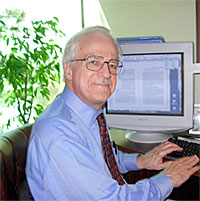 A registered clinical psychologist, Thomas W. Phelan, Ph.D., has worked with children, adults, and families for over 40 years. He is a member of the American Psychological Association and the Illinois Psychological Association and has also served on the boards of directors for both ADDA and CHADD, two ADHD international support groups. The author of numerous books, DVDs and audios, he is best known for his ground-breaking book, 1-2-3 Magic: 3 Step Discipline for Calm, Effective, and Happy Parenting, which has sold over 2 million copies and is now in its 6th edition.

Dr. Phelan maintains an active schedule of international lectures and is a frequent guest on radio and television. His articles appear in numerous regional and national publications. Dr. Phelan and his wife of 50 years raised two children and experienced first-hand many of the problems he now helps parents tackle.


This program is recognized by IDFPR as providing CEUs for LPC/LCPC and LSW/LCSW under license number 159.001334, LMFT under license number 168.000223, LCP under license number 268.000070, and RN/LPN/APN under license number 236.000127.