04-30-2021 Suicide Awareness Program Registration
The Suicide Awareness Program is a statewide conversation among the legal community & its partners about suicide awareness and prevention.
About this Event
For updates and the most current information about the Suicide Awareness Program, please visit http://cjcpga.org/suicide-awareness-program/.
About the Suicide Awareness Program
During this program we will commemorate the lives of some of our colleagues who we have lost to death by suicide; learn about various paths to recovery from thoughts of suicide; and discuss how our profession can better address the mental health challenges that face individuals who work in the legal profession.
This is a FREE event but pre-registration is required on or before April 28, 2021, at 11:00 pm. The link to attend the Webinar will be sent to pre-registered attendees on April 29th approximately 1 day prior to the CLE.
• The CLE will be presented on the Zoom.us platform and you will need to access the seminar via a Zoom link using a smartphone, tablet or computer. A dial-in telephone number will NOT be provided for this webinar. You must log in to the webinar via smartphone, tablet, or computer to receive CLE credit.
Feeling stressed, worried, lonely or just want someone to talk to?
Members of the State Bar of Georgia may also contact the Bar's Lawyer Assistance Program confidential hotline at 800-327-9631, just to talk or for a variety of counseling needs. #UseYour6
If you are not a member of the State Bar of Georgia, help is still available 24/7 through the Georgia Crisis & Access Line (GCAL) at 1-800-715-4225.
In addition, the Bar has other resources such as SOLACE and Lawyers Helping Lawyers to help during these unprecedented times.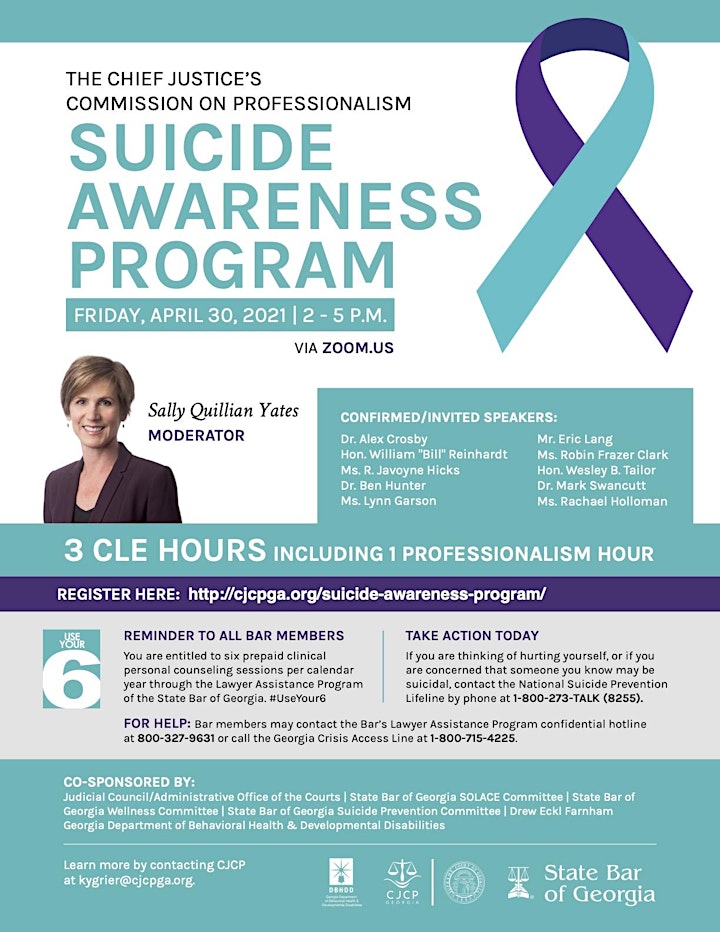 The Suicide Awareness Program is pproved for 3 General CLE Hours, including 1 Hour of Professionalism CLE credit. The cost of CLE credits in not included in the registration fee and attendees are responsible for paying for CLE credits directly to the State Bar of Georgia's CLE department after the Commission has verified CLE attendance via Zoom records and submitted the attendance to the State Bar's CLE Department.