Actions and Detail Panel
007 Benefit ♣ St. Patrick's Day Social
Thu, March 16, 2017, 5:30 PM – 9:00 PM EDT
Description
007 Benefit ♣ St. Patrick's Day Social
Thursday, March 16, 2017

5:30PM - 9:00PM
♣ "Goldfinger" Martini ♣ Appetizers ♣ Live Jazz
♣ Cigars for Sale ♣ Cigar Patio
Includes: Two Drink Tickets (Limit 1 Goldfinger Martini)
Tickets:
$35 Early Bird thru 2/16
$45 Regular 2/17 - 3/16
$50 At the door (credit cards accepted)
PARKING (See Map Below):
RECOMMENDED: Eddie V's Valet Service Front entrance of 7900 Tysons One Place, McLean, VA 22102. (This is across the street from the Hyatt Valet entrance). The charge is $6 per car. A short ride up the escalator will bring you near the entrance of Eddie V's on the Lobby Level of the Tysons Tower building.
Option A: ​Tysons Corner Mall – Garage E
Free garage parking attached to the Tysons Mall. Main entrance directly next to the Hyatt Regency at 7901 Tysons One Place. We recommend parking close to the hotel at the west end of the garage on Level 4. A short walk across the Tysons Corner "Skywalk" will bring to the Outdoor Plaza and a short walk to Eddie V's.
Option B: Pay For Parking Garage
This garage is located beneath the 7900 Tysons One Place building with entrances to both the left and right of the main valet cul-de-sac. The charge is $2 per hour. The elevator will bring you directly to the Lobby Level of 7900 and a short walk to Eddie V's and the Outdoor Plaza.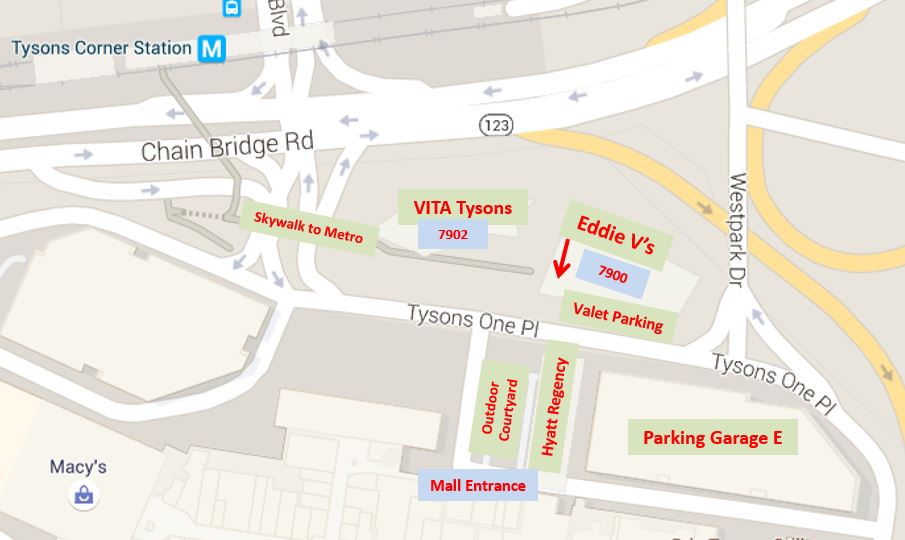 Cant' make it to the social? Please consider making a Donation.
007 Benefit LTD is a 501(c)(3) tax-exempt non-profit. Net Proceeds will be used to finance the 7th Annual 007 Black Tie honoring Veterans and Wounded Warrior Heroes, coming Fall 2017.