001# Good Pub

Saturday, November 2, 2013 from 5:00 PM to 7:00 PM (GMT)
Event Details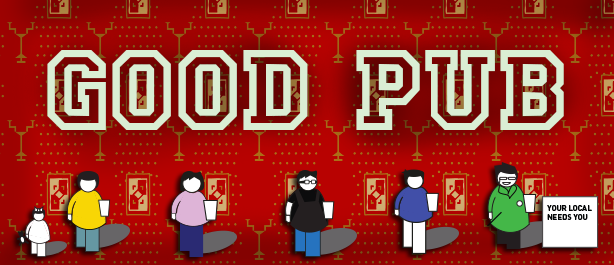 001# Good Pub
Good Pub is a regular gathering for meeting @GOOD people at a local pub. Simple as that. This is our first GOOD PUB night in London, We're looking forward to holding many more across London's neighbourhoods!

The Idea
The Good London chapter has been thinking a lot about broad themes related to "local" and "community" efforts and engagement. Our last event was about "eating local," so for our first GOOD PUB night, we're excited to be discussing "drinking local." (And actually drinking locally, for those of us living in East London.) The idea is that GOOD PUB nights will inspire and foster dialogue, connections, conversations and actions related to meaningful topics.

The Theme
We will be discussing the local pub scene, pub culture and the challenges local pubs are facing with a couple special guests and local experts at this GOOD PUB night. The themes we'll be exploring include financial and commercial pressures pubs are facing, the historical value and character of pubs, the social function pubs play within neighbourhoods and communities… amongst other aspects of the topic..

Special Guests:
J.Mark Dodds - The People's Pub Partnership
James Watson - Save the Chesham
Event details: GOOD Pub starts at Bar Kino from 17:00PM to 19:00
Lightning talks at 17:30 PM.  Hashtag: #GoodPub #GoodLondon | Twitter: @GOOD 

About our Special Guests
J. Mark Dodds is setting up The People's Pub Partnership a crowd funded co-operative pub company to radically change the UK pub sector for good. He's a photographer with a lot of food and drink experience in restaurants, bars, clubs and pubs. He's currently involved in Project Development of an uncompromising, crowd-funded low environmental impact pub company; mutually owned; with local supply chains; involvement in on-site power generation, craft brewing, baking and associated sustainable stuff. Truly putting pubs at the heart of the community.

James Watson is the Secretary of "Save The Chesham" and helped Hackney to become the first council in the country to successfully defend an appeal against a decision to list a popular pub as an asset of community value (ACV). It was made Hackney's first ACV in March 2013, meaning the owners were not permitted to sell the pub without first offering community groups the chance to purchase it. James is also the CAMRA pubs preservation officer for East London and has a wealth of knowledge about the history of local pubs. 
About Good
GOOD is a global community of, by, and for pragmatic idealists working towards individual and collective progress. Good.is is the platform for collaboration amongst members of the GOOD community and the to share what's good to learn and do. These efforts are organized and coordinated from GOOD headquarters in Los Angeles, USA, where we pursue the mission to convene, connect, and empower all of us who give a damn. Join us. If there's a topic you'd like us to explore at an upcoming GOOD PUB or a venue you'd like to suggest, please let us know! Stay tuned by following our GOOD London page
http://www.good.is/london
When & Where

Bar Kino
177-179 Morning Ln
E9 6LH London
United Kingdom


Saturday, November 2, 2013 from 5:00 PM to 7:00 PM (GMT)
Add to my calendar