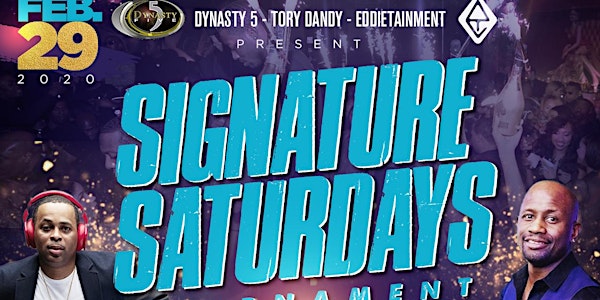 ★-★ SIGNATURE SATURDAYS ★-★ Tournament Grand Finale @Vapiano || Tory Dandy...
Event Information
Location
Vapiano Charlotte
201 S Tryon St
Charlotte, NC 28202
Description
SIGNATURE SATURDAYS
Tournament
GRAND FINALE
Eddietainment | Tory Dandy | Dynasty 5

will end one of the most exciting tournament weekends with an Epic Ending.
Saturday, February 29, 2020
@Vapiano 10PM-2AM
201 S. Tryon St. (near corner 4th)
Charlotte, NC 28202
FREE SAMPLE 1800 TEQUILA TASTINGS AND SPECIALS
LIMITED FREE before 11pm RSVPs
(DOES NOT GUARANTEE ENTRY! Admission based on ticket sales & capacity)
Listen to the sounds of two of the country's best DJs

DJ Skillz (SC/NC/) and DJ Kaos (NYC) will help keep the crowd Lit & Rocking!
Enjoy tastey drinks, plenty of seating, dance, and mingle with hundreds of other people in town for the weekend festivites.
To Purchase Tickets & Tables visit:
signaturesaturdays2020.eventbrite.com
The Top Reasons to party with us at Vapino Saturday night Tournament Weekend!
1. Classy posh venue. Vapiano's gives you the Euro-chic feel in the heart of Charlotte.
4. Available seating. Multiple places for the ladies to sit and rest their feet in their expensive high heels. :)
Also multiple areas with table packages available starting from $150. Yes, $150!!!
Contact Eddie at eddiet456@gmail.com for Table Reservations & Bottle Service.
Fair drink and bottle prices relative to the other venues. Get the most for your money. Why pay double?
FREE RSVP Information For All Events
FREE RSVP Ticket allows for free admission before the RSVP time stated on the event. Being in line does not constitute being in the building. For free RSVP ticket admission you must be in the building before the RSVP time stated on the event. If you are not in the building before the RSVP time stated on the event then you will be charged admission. Early arrival is strongly suggested. An RSVP ticket does not guarantee admission. Admission is based on venue capacity. The only way to guarantee admission is to purchase a ticket.
General Disclaimer
Disclaimer: Each event venue and its management retain the right to deny entry based on non-compliant with basic rules such as dress code, too intoxicated or other event venue rules. Dress code restrictions are at a management's discretion pertain not merely to categories of clothing but more importantly, to style of execution. All Tickets are final sale and non refundable. ALL GUESTS MUST BE 21 years +
Legal Disclaimer
Legal Disclaimer: The event hosts are not affiliated with the CIAA® or any other association. All copyrights, trademarks, and registered trademarks are the property of their respective owners.
Date and time
Location
Vapiano Charlotte
201 S Tryon St
Charlotte, NC 28202
Refund policy