Description
Travel & Scholarship Promotional Pricing Available! --call or email for details.
Introduction
In this two-day course, you'll gain an understanding of the role of Scrum Master in a SAFe enterprise. Unlike traditional Scrum Master training that focuses on the fundamentals of team-level Scrum, the SAFe 4.0 Scrum Master course explores the role of Scrum in the context of the entire enterprise, and prepares you to successfully plan and execute the Program Increment (PI), the primary enabler of alignment throughout all levels of a SAFe organization. This includes learning the key components of scaled Agile development, how Scrum is facilitated throughout the enterprise, and how to execute iteration planning. You'll also discover how to build high performing Agile teams by becoming a servant leader and coach, and how to coach those teams to deliver the maximum business value that is achievable through SAFe. The SSM certification signifies that you are prepared to perform the role of Scrum Master in a SAFe environment, increasing your value to teams and organizations that are implementing SAFe.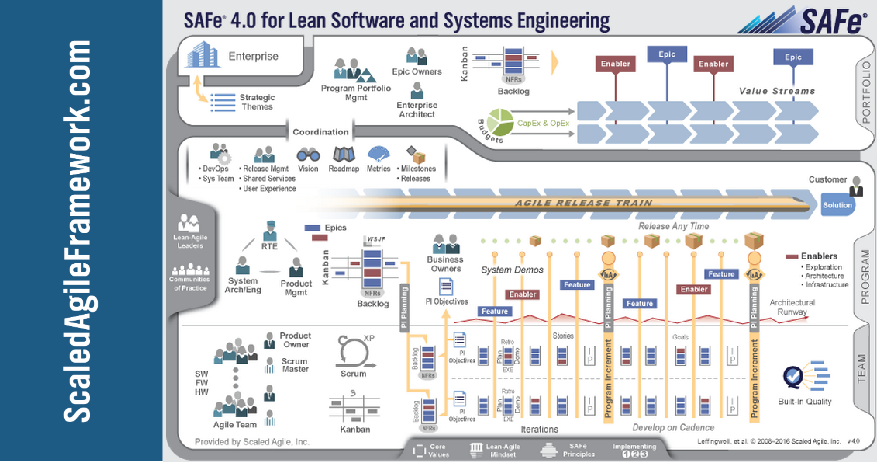 Attendees typically include executives, managers, consultants, Lean-Agile Leaders, and Agile change agents.
Audience
Intended for people new to the role of the Scrum Master, or people wanting to better understand the role and how it fits in a SAFe enterprise, attendees typically include:
New or existing Scrum Masters
Team Leads
Release Train Engineers
Executives, Managers, and Consultants
Learning Goals
After this course, you should be able to:
Describe Scrum in a SAFe enterprise
Perform the role of the Scrum Master in SAFe
Facilitate Iteration Planning and effective Iteration execution
Support effective Program Increment execution
Build high performing teams by becoming a servant leader and coach
Topics Covered
In this course you will:
Identify the key components of Agile development
Identify the key elements of Scrum
Explore Scrum in the context of a SAFe enterprise
Describe the roles and responsibilities of the Scrum Master
Identify the characteristics of an effective Scrum Master
Experience PI planning and explore how to facilitate this event
Experience a complete iteration
Explore how to facilitate iteration planning, backlog refinement, team and system demos, and the iteration retrospective
Identify ways to track iteration progress and foster collaboration and synchronization between the teams in the program
Explore improvement at the Program level with the Inspect and Adapt workshop
Identify the characteristics of a servant leader
Experience coaching with powerful questions
Identify ways to facilitate better meetings, foster team member collaboration, and manage conflicts
Prerequisites
There are no prerequisites to take this course. All stakeholders working in a Lean-Agile environment or transformation are welcome to attend.
SAFe Certification
Attending this course prepares you to take the SAFe 4.0 Scrum Master exam in order to receive the SAFe Scrum Master (SSM) certification.
What You Get
The class registration includes:
Printed workbooks
PDF workbooks
Course certificate
Eligibility to take the SAFe 4.0 Scrum Master (SSM) certification exam
Annual Renewal
Renewals are from the date of certification.
Renewal fee: $100
10 Professional Development Units
Professional Development Units (PDUs) and Scrum Education Units (SEUs)
Attendees may be eligible to apply for 16 PDUs toward their continuing education requirements with the Project Management Institute (PMI) for PMP and PMI-ACP certifications.
Attendees may be eligible to apply for SEUs under category C, toward earning or renewing their CSP through Scrum Alliance.
Instructor: Sandra Johnson
Sandra Johnson (SAFe Consultant) MBA, SPC4, PMP, Corporate Experience:
Release Train Engineer Sandra Johnson, SPC-4, began the Agile journey in 2012 as a ScrumMaster and has served as a change agent within the SAFe framework since 2013. While working as a project manager in waterfall environments, she realized that there had to be a better way of helping organizations reach their strategic goals faster and with higher quality deliverables. She researched and networked to find her way to Agile software development and has never looked back.
Sandra currently coaches, mentors and facilitates Agile software development teams and ScrumMasters in the healthcare IT sector. She has prior experience in government, pharmaceuticals and finance industries.
Qualification: Sandra holds an MBA from the University of Texas at Dallas. Active certifications include SPC-4, SA, CSM, PMP, & ITIL v3 Foundations.
For more information, contact The i4 Group Consulting: thei4group.com
Cancellation Policy:
Refunds will be issued for cancellations greater than 14 days from the start of the course and are subject to a $150 processing charge. For cancellations between 8 and 14 days from the start of the course, registrants may change to another course of equal or lesser value. For cancellations 7 days or less from the start of the course, no refunds will be issued or changes allowed.
​
All ​classes are not guaranteed to make. Classes can be cancelled due to low enrollment or any unforeseen reason. The i4 group is not responsible for any kind of reimbursements due cancelled classes . It is recommended that you contact us for course status before booking any travel accommodations. In the event a class is cancelled, all ticket holders are entitled to a full refund for their ticket purchase.