Description
Promotional Pricing Available! -call or email for details!
Introduction
In this two-day course, attendees will gain the knowledge necessary to lead an enterprise Agile transformation by leveraging the Scaled Agile Framework® and its underlying principles of lean thinking and product development flow. This course will enable you to leave with an understanding of how the principles and practices of the Framework support Lean-Agile Programs, Scaling Agile, Lean-Agile Program Portfolio Management, and Scaling Leadership.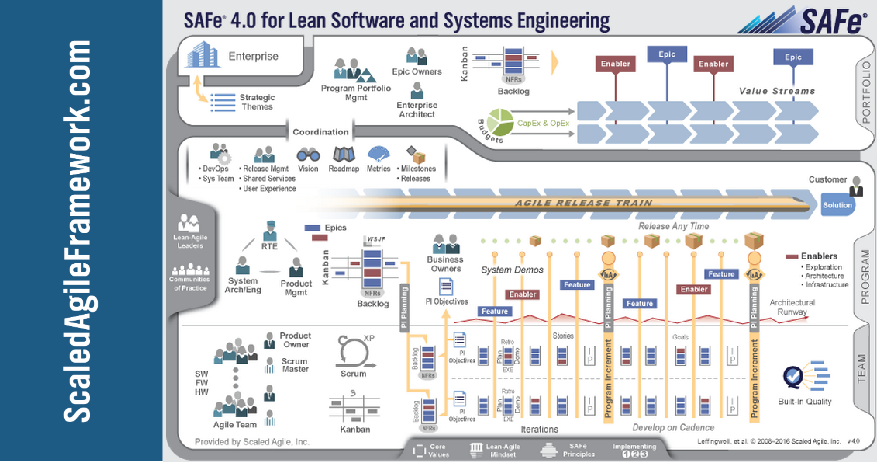 Attendees typically include executives, managers, consultants, Lean-Agile Leaders, and Agile change agents.
Learning Goals
To perform the role of a SAFe 4 Agilist, you should be able to:
Apply SAFe to scale Lean and Agile development in your enterprise
Recognize and apply a Lean-Agile Mindset and principles
Continuously explore, integrate, deploy, and release value
Empower with a Lean Portfolio
Coordinate the development of large solutions
Enhance your Lean-Agile leadership skills
Support a Lean-Agile transformation in your enterprise
Topics Covered
Introducing the Scaled Agile Framework (SAFe)
Embracing a Lean-Agile Mindset
Understanding SAFe Principles
Experiencing Program Increment (PI) Planning
Exploring, Executing, and Releasing Value
Leading the Lean-Agile Enterprise
Empowering a Lean Portfolio
Building Large Solutions
What You Get
The class registration includes:
Attendee workbook
Preparation and eligibility to take the SAFe 4 Agilist exam
One year membership to the SAFe Community Platform
Course certificate of completion
Attendees must attend both days of the course to be eligible for the exam.
Who Will Benefit
The following individuals will benefit from this course:
Executives and Leaders, Managers, Directors, CIOs, and VPs
Development, QA, and Infrastructure Management
Program and Project Managers
Product and Product Line Management
Portfolio Managers, PMO, and Process Leads
Enterprise, System, and Solution Architects
Prerequisites
All are welcome to attend the course, regardless of experience. However, the following prerequisites are highly recommended for those who intend to take the SAFe 4 Agilist (SA) certification exam:
5+ years' experience in software development, testing, business analysis, product, or project management
Experience in Scrum
Annual Renewal
Membership renewals are one year from the date certification is earned
For more information, contact The i4 Group Consulting: thei4group.com
Cancellation Policy:
Refunds will be issued for cancellations greater than 14 days from the start of the course and will be assessed a $150 processing charge. For cancellations between 8 and 14 days from the start of the course, registrants may change to another course of equal or lesser value. For cancellations 7 days or less from the start of the course, no refunds will be issued or changes allowed.
Instructor: Arnold Aranez
Influential technologist (@mr_gadget) with a proven track record in Agile delivery of customer-centric digital solutions across APAC. Provided executive Agile coaching in nine countries (trained over 500 staff in Agile fundamentals, Scrum & Kanban) and successfully led digital programmes in six countries. Almost 20 years experience in telecommunications, banking, retail, advertising, airline and insurance industries.