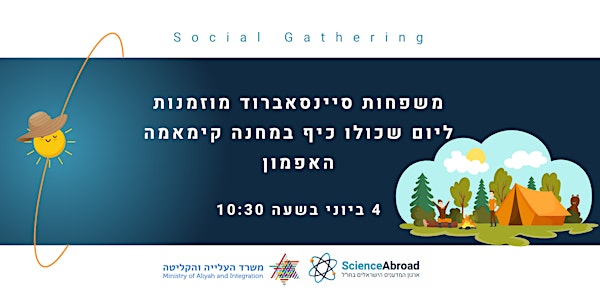 משפחות סיינסאברוד מוזמנות ליום שכולו כיף במחנה קימאמה האפמון - Kimama Halfm
משפחות סיינסאברוד מוזמנות ליום שכולו כיף במחנה קימאמה האפמון - Kimama Halfmoon
Date and time
Sunday, June 4 · 10:30am - 5:30pm EDT
Location
Kimama Half Moon 7 7 Arts Road Monterey, MA 01230
About this event
משפחות סיינסאברוד מוזמנות ליום שכולו כיף במחנה קימאמה האפמון - Kimama Halfmoon
מתי? יום ראשון, ה - 4 ליוני בין השעות 10:30-17:30
איפה? Kimama Halfmoon, 7 7 Arts Rd, Monterey, MA 01230, United States
מה בתוכנית?
10:30 - התכנסות וארוחת בוקר מפנקת
11:30 - שייט באגם
12:30-15:30 - פעילויות במתקני המחנה השונים: סדנת בישול, יצירה, טניס, כדורסל, כדורגל, סקייט פארק, משחקיה לקטנטנים, אופניים ועוד הפתעות
15:30-17:30 - זמן משפחתי בריכה עם ארוחה מפנקת של על האש ושירים ישראליים.
לבאים מרחוק, מומלץ להגיע ערב קודם לאחד המלונות בעיירה הסמוכה, Great Barrington.
הפעילות ממומנת ע"י משרד העלייה והקליטה – המרכז לקליטה במדע ואגף יזמות עסקית
About the organizer
ScienceAbroad is an Israel-based nonprofit organization that harnesses the power of senior Israeli scientists living abroad. Through its wide-reaching professional and social network, ScienceAbroad inspires connections with local communities, international scientists and with Israel. The network advances scientific achievements, bolsters the Israeli identity of scientists living overseas, and helps facilitate the return of great minds to Israel.
Since its inception in 2006, ScienceAbroad has grown to over 3,900 members across 300 campuses and has established 32 branches worldwide run by scientists who volunteer their time and expertise.