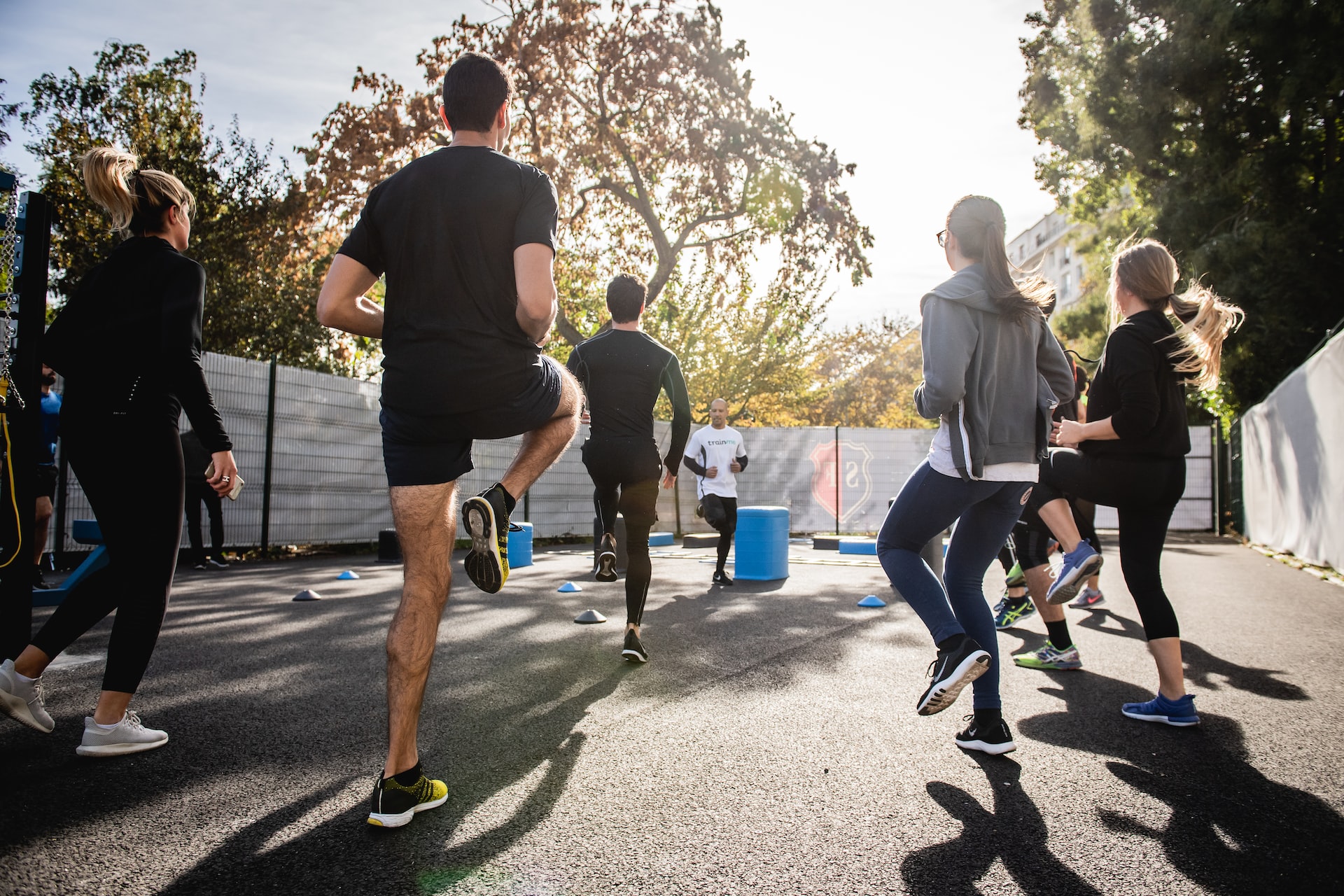 How to Plan Sports and Fitness Events: The Ultimate Guide
Organizing a sports and fitness event can help grow your business and unite the community. In this guide, we'll take a look at how to plan a sports event, from the initial steps to the day-of execution. Read on to learn all the details about sports event planning, and check out our event planning checklist and examples to guide your event prep.
What are the benefits of organizing fitness events?
Hosting sports events can deliver plenty of benefits for your business. First, these events can be an effective promotional tool, allowing you to showcase your business — whether that's a gym or a yoga studio — to your local community. Organizing a fitness event can also serve as a charity fundraiser that allows you to give back. You can then use the event as an opportunity to network with other local businesses and gain potential new customers.
How to organize a sports event in 8 steps
A successful sports event requires proper planning and organization. Learn more about these eight key steps that begin with early-planning essentials and conclude with event promotion that can attract a crowd.
What are the steps in organizing a sports event?
As you begin to plan your event, your initial question might be: What is the first thing to do when you create a fitness event? Start by focusing on your goals and budget before you dive into the details. Read on to discover these important event-planning steps.
1. Be clear on the purpose of the event
Determine why you're hosting a sports event. Is the purpose of the event to promote your business, gain new customers, fundraise, or engage the community? Establish clear goals that relate to your purpose. Learn more about why people go to live sporting events for inspiration.
2. Set your budget
Determine how much you want to spend, and consider the upfront costs of planning a fitness event. The most significant cost may be the venue unless you plan to use your own facility. If you're working with a smaller budget, be flexible with your venue options to save money. Other costs to consider are staffing and catering for your event. Here's how to master your event budget.
3. Choose the type of event
Sports events come in many forms, so choose the best type with your purpose in mind. Popular options for fitness events include races, such as marathons and 5Ks, spectator sports, or single-elimination tournaments that use teams from the community. Or, consider a charity game featuring professional athletes competing for fun while supporting a good cause.
4. Decide who'll attend
How big do you want your event to be? Determine who you want to attend your event while keeping the venue's capacity in mind. You can attract even more people from the community with various ticket options — offer spectator tickets to watch professional athletes play a sport or athlete tickets to participate in the sporting event.
5. Set a date and time
Choose the date and time so that you can start marketing your event. First, consider the weather. If you're planning an outdoor event, try to plan it during a time of year when the climate is moderate. Next, think about other competing events in your community — you don't want to host your fitness event on the same day as the town fair!
6. Secure a venue
Once you have a date — or a few potential dates — in mind, it's time to find your venue. First, consider whether an indoor or outdoor space works best for your event. Will you need seating for spectators or open space for games? Consider any amenities you may need, including concession stands and restrooms. Book an event at an appropriately sized venue that can support your anticipated attendance.
7. Plan your supplies
Make a list of your supplies and start collecting them before the event. Your fitness event planning will vary depending on the type of event, but you may want to invest in some merch such as T-shirts. Sports events may also require equipment like balls, rackets, bats, or cones. Medals or trophies can be handed out to winners. Signage can also be helpful to direct event-goers as they arrive.
8. Promote your event
Event promotion is a must to attract attendees and ensure your event is a success. Eventbrite Boost can help you promote your event and highlight it on social media. Incorporate creative advertising ideas to build interest in your sports event, including content marketing, email campaigns, and brand ambassadors.
Nailing the sports event planning process
You've tackled the big to-dos and are ready to dive into the details of your event. Next, our sports event planning checklist will help you focus on the must-haves that will make your event successful. Read on for more tips.
Planning staff for your sport event
Think about how you will staff your event, whether you'll hire a team or recruit volunteers. You'll need to have enough help to work registration tables, concession stands, and information booths. Other volunteers can assist with setting up or cleaning up your event. You might even need additional staff to help with traffic flow, crowd control, and parking.
If your event includes an organized game, then referees are a must. Rather than trying to oversee the game yourself, find a professional referee with knowledge of the game and unbiased opinions. Check with local high school athletic departments and sports clubs to find a referee who's willing to help.
When planning your staff, consider what stations you'll need to cover and how many attendees you expect. Naturally, the larger your sports event, the more workers you'll need to pull it off.
Factor food and drink into fitness event planning
Don't forget about refreshments! Every fitness event should have plenty of water stations set up for competitors and attendees alike — for free. You can solicit donations of bottled water from a local business to support your event.
For food, you have several options. You can provide food as the event host, perhaps setting up a concession stand with snacks and drinks available for purchase. Hire a caterer to provide more elaborate offerings, such as complete meals or themed snacks. Or, you can invite local food trucks to set up at your event. If your budget or staff is limited, food trucks are a great way to offer munchies without any additional effort.
Think about event health and safety
Regardless of the size of your event, consider setting up a first aid tent to help with minor injuries, such as falls. For larger fitness events, having medical support on site can maximize participants' health and safety. Medical professionals on hand can help with more serious concerns, such as dehydration or overheating.
Medical waivers help protect you and your organization when hosting a sporting event. Ask participants to sign a waiver before the event begins. You may also need to invest in liability insurance for additional legal protection for your business should a participant get injured.
Creating an emergency action plan for a sporting event
Having an emergency action plan for a sporting event is essential. Consider these important details as you devise a proper plan:
Identify the biggest threats to your event. For sporting events, a medical emergency might be your top concern. However, consider other matters such as crowd control measures, potential threats of violence, or a missing person.

Secure the materials you need to handle potential emergencies. For a fitness event, first aid supplies and water are musts.

Line up security to help reduce the risk of an emergency at your event.

Create a document that outlines potential emergencies at your event and your plans to mitigate any issues. Post printed emergency action plans at first aid tents and registration tables, and share them with security and staff so that everyone stays well informed should a problem arise.
Finalize your fitness event plan
Your fitness event plan should be ready to distribute before you meet with your staff and volunteers prior to the event. You want a solid plan in place with some flexibility to address unexpected situations. A sports event planning checklist will ensure your event plan is laid out for everyone to review.
Fitness event plan example
Follow a sports event planning template as your go-to guide on all the details of your event. Here's what it should include:
Weekly goals to prepare for your event:

List specific tasks to accomplish each week leading up to your event. If it's just a few weeks away, each week will have many tasks. If you're planning for an event that's months out, you can spread tasks out. Assign tasks to different team members, if applicable. Set a deadline for each job. Give every team member access to this template so they can confirm when tasks are complete.

Budget breakdown:

Create your budget and categories to keep track of event spending to ensure you stay on track.

Event day plan:

Include a minute-by-minute schedule for the event. Your sample sports event management plan should list timelines for setup, the event itself, and cleanup. Assign each staff member or volunteer to a schedule.
Getting ready to host a sports event
Now that you understand how to organize a sports event, you're ready to prepare for the big day. Follow these final steps to ensure you're ready to kick off your event.
Finalize rules, teams, and timetables
An event with organized sports needs to run seamlessly. Establish game rules and send them out to participants and referees in advance. Create a bracket or game schedule that includes all registered teams. Make sure games are timed appropriately, considering the length of each match plus time for warmups and breaks.
Reach out to attendees
A proactive communication plan helps you inform attendees with all the details they need before the event. Before event day, distribute information on parking, schedules, food and drink options, and more. Ideally, you'll send this information out one to two weeks beforehand. At this point, you're on the attendees' radar, and sharing important information will help build excitement.
Your sports event planning checklist
Here's a sports event plan sample to inspire you. Categorize your list by topic, then break it into more specific tasks.
Pre-Planning
Identify purpose, goals, and objectives

Select a date and time

Secure a venue

Establish a budget
Marketing
Sign up with an event planning platform, such as Eventbrite

Create an event page

Share information on social media pages

Run paid social ads on Facebook and Instagram with Eventbrite Boost

Cross-promote with sponsors and vendors
Staffing
Hire staff to work at the event, including referees or scorekeepers

Secure volunteers

Connect with vendors, such as food trucks
Equipment
Visit the venue to determine what equipment is available

Secure necessary equipment

Consider technology needs, such as audio equipment or scoreboards/timers

Acquire tents, tables, chairs, and other items needed for the event
Scheduling
Create a minute-by-minute schedule for the event

Schedule games or tournament brackets as needed
Organize a sports event with Eventbrite
Ready, set, go! Let Eventbrite help you plan your next event, from ticketing to marketing and everything in between. Learn more about how to create events for free on Eventbrite.