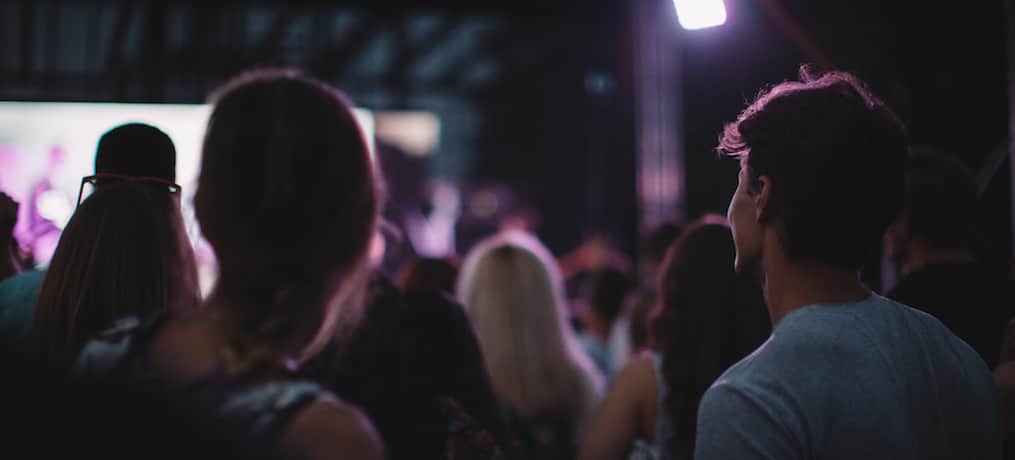 How the Newport Folk Festival Gets Tickets Into True Fans' Hands
Long before there was Lollapalooza and Coachella, there was the Newport Folk Festival. This legendary summer music festival (where Bob Dylan first plugged in and went electric) is attended by more than 30,000 fans a year.
Tickets are highly sought after — in fact, Newport Folk Festival sells out before the lineup is even announced. And while all events want that type of demand, it can also create some problems.
A few years ago, Ticket Operations Manager Deb Girard realized that excited fans were arriving with counterfeit or otherwise illegitimate tickets. "Seeing people come to the windows with tickets that were fraudulent broke my heart," she says.
Girard discovered that fake tickets were being sold for four times face value… and she knew she had to do something to keep fans from getting duped again. So she and Executive Producer Jay Sweet turned to technology, teaming up with Eventbrite to create a system to cut down on ticket scalping and price gouging. Their main goal was to ensure legitimate tickets would get into the hands of deserving fans.
How Newport Folk Festival made sure tickets ended up in the hands of fans — not scalpers
Sophisticated fraud detection with technology
Girard and Sweet knew that preventing ticket fraud was absolutely crucial — but they had to consider fraud-prevention measures alongside user experience. After all, most people who are signing on to buy tickets aren't looking to flip them and make a massive profit.
All of this means that the challenge, for events, is to strike a balance between solving scalping problems while maintaining a focus on purchase experience.
Here's how the Newport Folk Festival ensured that only legitimate users get tickets — without compromising the attendee experience:
When tickets go on sale in November, fans receive confirmation, but they don't actually get a "print-at-home" ticket right away. Instead, about a week to ten days before the event, they receive barcodes. This helps deter potential scalpers since it makes it harder to transfer tickets to potential buyers

Newport Folk Festival enforced reasonable limits on how many tickets a "household" could purchase. This helps prevent some scalpers from easily grabbing up large quantities of tickets. However, scalpers can be quite persistent, which is why Newport Folk Festival doesn't stop there. Eventbrite used its scalping algorithms and machine learning models to monitor sales, and detect scalpers who were attempting to circumvent the limits. Watching sales in real time, the system prevents scalper purchases before they are completed.

Additional automated systems run on completed purchases, and surface for review anything else that managed to get through. Within a few minutes of purchase, Eventbrite is able to do some additional review of an order. With Newport's permission, Eventbrite refunds orders proactively and kicks those tickets back into inventory.




Then, Eventbrite continues to scrub sales information and conduct a "paper scrape" to weed out any remaining scalpers. These are the most sophisticated of the bunch, able to cover their tracks well. Eventbrite's tools are able to detect them by scrutinizing their IP addresses, billing addresses, and other parameters and clues that they left behind.
These methods stopped more than 10% of tickets going to professional resellers and got tickets back into the hands of legitimate buyers. Such robust technology has helped Newport Folk Festival significantly reduce scalping and ticket fraud.
A revolutionary solution to ticket transfers
This has all been great news for fans of the Newport Folk Festival, but there's another level of complexity. Inevitably, people buy tickets for themselves or friends — and then realize they can't attend. Without a paper ticket or electronic barcode to share, it's tough for a legitimate ticket-holder to sell their spot to another fan in advance of the festival.
Enter Lyte, a fan ticketing platform enabling Festival patrons to return their tickets instantly and securely. Founder and CEO Ant Taylor started the company to create an alternative to secondary ticketing markets which are a pain, costly to fans, and fraught with ticket fraud.
Every time the Newport Folk Festival sells out of a tier, they turn on an "exchange"—a platform provided by Lyte. Festival hopefuls can put themselves on a digital waitlist for tickets, holding their spot with a credit card reservation. When a ticket holder realizes she can't make the show, she then returns the ticket to Lyte instantly. Lyte takes care of getting the ticket to the next person in the Lyte queue. The new ticket holder is charged and notified. Those in the queue can check back on Lyte to see where they are in line, and can also cancel their reservation at any time.
For ticket-holding fans, the simple three-click process to return tickets is far superior to old-school choices. Trying to connect with a stranger on Craigslist to exchange hands is a hassle at best. And for those in line for tickets, it takes the anxiety out of purchasing after-market tickets. "If you're patient and you're in the queue, the Newport festival will take care of you," Taylor says. "And that ticket is 100% verified."
The availability of Newport Folk Festival tickets on the scalper market has decreased by 70%. "Technology has been on our side, year to year. We're starting to layer it on," Girard says.
Now, people who show up for the festival actually get in the gate at face-value. And with technology on their side, the Newport Folk Festival's organizers can rest easy knowing that these true fans can get to enjoy the show, year after year.
Discover more ways you can improve the experience for your most loyal fans in Attract Your Music Festival's Most Valuable Fans.