Mess Hall: The Medicine D.C. Makers Needed
"Find the pain point, and create the aspirin."
It was at an entrepreneurial conference that Al Goldberg — a longtime Washington, D.C. catering pro trying to branch out on his own — heard these words. He'd spent two full years trying to find a commercial kitchen, and had come up short. Oddly, it seemed like everyone he knew, from kombucha makers to cookie bakers, had the same problem.
"It seemed there were others out there with whom we were commiserating who needed a space and weren't able to find something in the district," he remembers. It was 2014, the burgeoning food truck movement was gaining ground, and he had a glimmer of an idea: Go big. Create a community for these cooks and makers. So when he stumbled on an "old blighted warehouse" in an industrial part of the city, he snapped it up.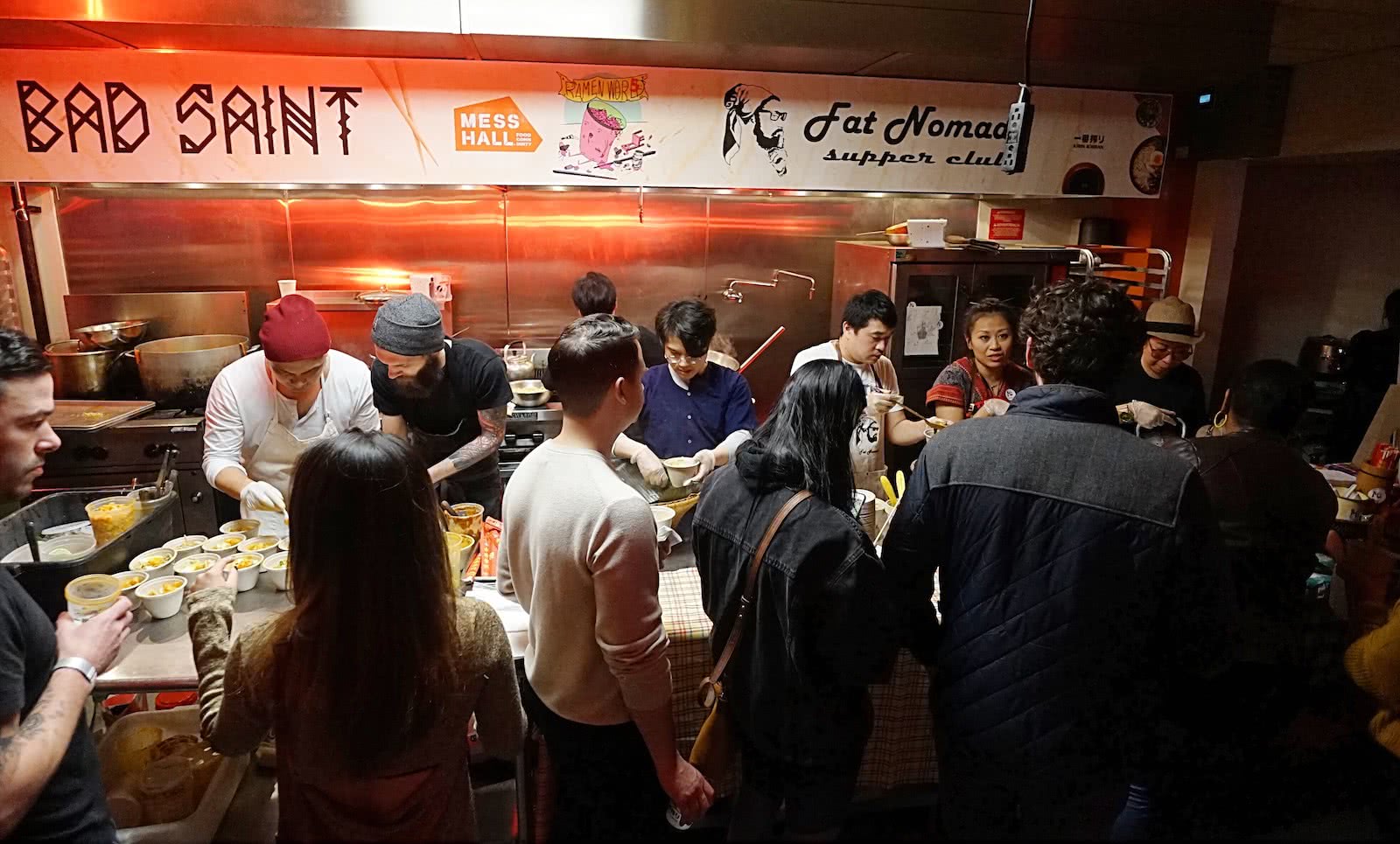 Going big and opening doors
The 10,000-foot space in Northeast D.C. had one door. There was almost no plumbing or draining. "It was just an old warehouse," Al remembers. He had few people to ask for help — except La Cocina, a women-focused incubator in San Francisco, and Hot Bread Kitchen in New York. But the bank said, Al remembers, "It sounds crazy enough to work; we'll give you the loan." 
Within a year, although he "got hosed" by contractors, he was opening the doors for Mess Hall's premier event — and knocking the D.C. events scene sideways.
 The first event was Launch Pad, a "Shark Tank"-like competition, with a panel of judges deciding which creators would be allowed to create at Mess Hall — and a first-place prize of seed money. It was open to the public, so the D.C. community could weigh in — sowing the seeds for successful future events. The judges included a rep from DC Brau (a local brewery) and another from nearby Gordy's Pickle Jar, but also CEOs of national food businesses. Attendees waltzed in, oohed and aahed over the space, and snacked on samples. Judges picked a handful of applicants from the 100 that had flooded in to be founding members.
Today, event winner Mason Dixie Biscuit Company can be found in grocery stores nationwide — and Mess Hall is a 47-member strong community, all of whom pay a fee in order to use the space, utilities, attorney, and amenities. The businesses are local and eclectic: In one corner, you'll spy Motown Square Pizza, a Detroit-style pie business that will be "graduating" to a brick-and-mortar restaurant soon, says Al. Across the way are Nomad Dumplings, a consumer-packaged good you'll spy in grocery stores. Then there's Pratt Standard Cocktail Company, which make what Al says are "amazing" cocktail syrups to buy online.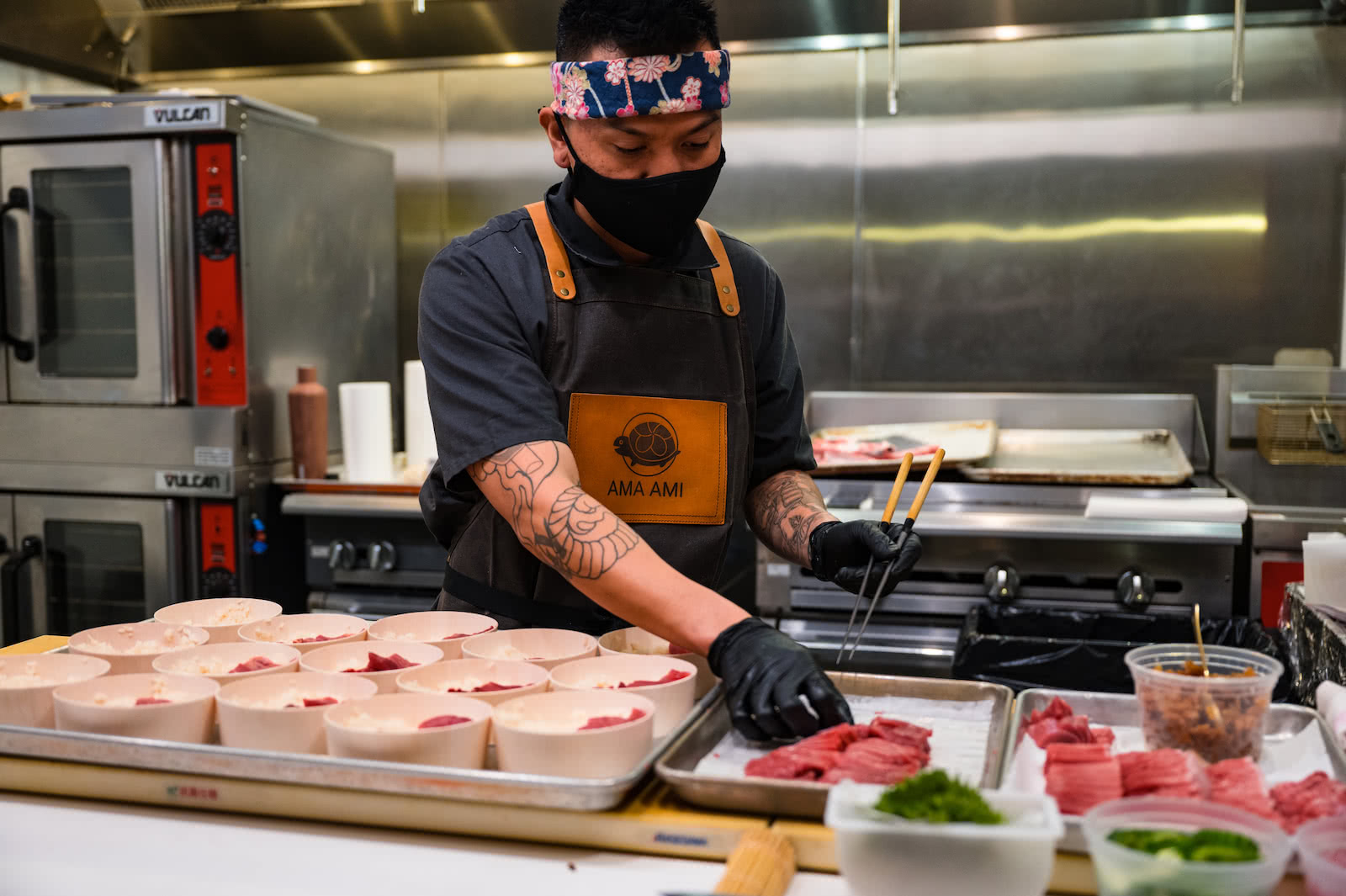 Surprises and delights
Distinct from a typical food hall in that it is primarily a production space, Mess Hall has adapted to the post-pandemic world in a way that happened to be very customer-friendly: walk-up windows.
 "We put in a couple windows," says Al, "like drive-through windows; just walk-ups." A consumer can order via DoorDash, Uber Eats or Caviar, come to the window, and grab their food to go. As it's been a vaccinated-only facility since August 2021, this move keeps the vendors safer, he says.  
 As for the events, Al has hosted hundreds in the Mess Hall space — quite the success story for a guy who started in restaurants as a bus boy "with some killer flair." Though commercial kitchens are the primary focus, they're at the back of the space, and there's designated event area at the front of Mess Hall. The garage bay is a functional loading dock.
 "For events, we use it for anything from a dining area to a dance floor," says Al. Add a DJ or a band, hang some twinkle lights, and it's the little black dress of event spaces: "We go from day to night in the flip of a switch," says Al. "Pull a food truck up, and it's an instant party."
Despite the success of his events — Ramen World in particular, which features the buzzy D.C. noodlscene, has been a hit — he's hardly cocky. "Every event, 10 minutes before you open the doors, feels like it's going to go off the rails," he laughs. He has some words of wisdom for his fellow event-throwing entrepreneurs.
"Think about surprise and delight: If someone shows up to an event and you give them something extra, that makes the event special and memorable."
First, "Surround yourself with people who are going to make for a super-compelling and interesting event that's going to make for a fantastic experience for your event-goers." Ask yourself, he suggests, "Is there going to be perceived value? Is it unique?" Then bring the right people together to make it happen.
Secondly, know who you are. "Knowing ourselves and being true to our own brand and our own ethos is integral," says Al. "We'll always feature local makers — whether local alcohol or small local food businesses."
Perhaps most crucial is his final suggestion: "Think about surprise and delight: If someone shows up to an event and you give them something extra, that makes the event special and memorable."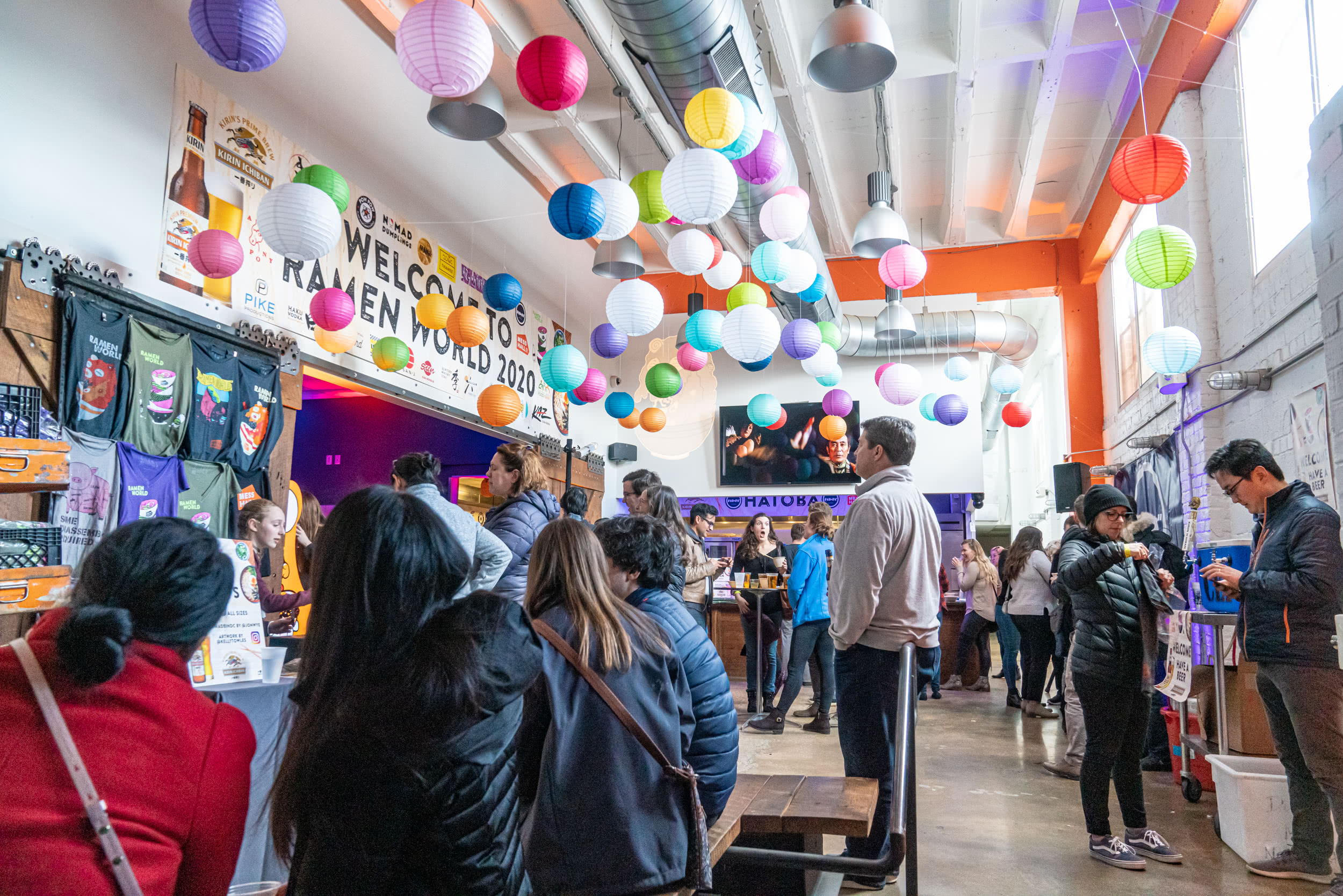 Consider Ramen World: It wasn't enough to have 12 half-bowls of the city's best ramen. When you walked in the door, you were greeted by the world's largest Pac-Man.
"It was not advertised," remembers Al, but "while slurping noodles, you could take a break and play Pac-Man on a 12-foot screen." So tell them the things that will make them want to come, but "hold back a few things," he suggests. "I think my kids broke away and played Pac-Man the whole time," he laughed.
Bringing the community together 
Right now, Al is gearing up for NKOTB — not the iconic '80s boy band, but one of his biggest events. "It features the hottest soon-to-open restaurants in the DC area… to give the general public the first bite of a restaurant." He teams up with his pal Nevin Martell, a D.C.-area food journalist. The event has been canceled twice due to the pandemic, but now it's back, and "you can try a dozen restaurants all in one shot."
"Surround yourself with people who are going to make for a super-compelling and interesting event that's going to make for a fantastic experience for your event-goers."
Something that clearly centers the space and Al himself is the notion of community-building. (If you squint at the Mess Hall logo, you'll see "Food Community" sandwiched right in there.) He hosts events back to back more often than not, but always gives the cooks an hour in between to hang out together and try one another's food.
"We always use that hour as chefs-only time so chefs can engage with each other." At most events, you'd see them making the rounds, beleaguered, at the very end of the event, but Al instead prioritizes that time. Why?
"To enhance the chef community within D.C.," he says. "I think it's better that they get their own time to share. Make a cocktail for a brother or sister in the kitchen, and enjoy that time."
It's a beautiful thing to see.
Interested in attending one of Mess Hall's events? Follow Mess Hall on Eventbrite to be alerted when new events are added.
Up next: Read our creator spotlight on How Art Battle Makes Art Immersive, Democratic, and Fun.