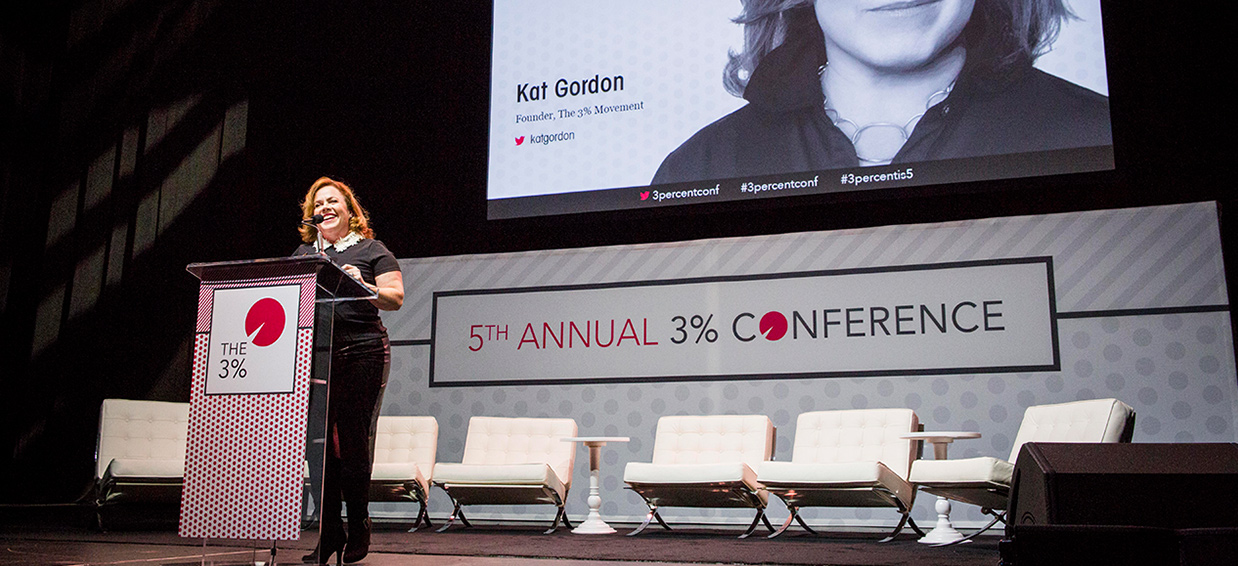 How a Simple Observation Led to a Sold-Out, Culture-Shifting Event
The best events don't always start with a business plan. Often, they start with a spark. Someone has a passion they want to share, and a great idea about how to share it. They're moved to bring people together around a vision, so they make it happen — even with no event planning experience. Here's an interview with Kat Gordon, whose 3% Conference has created real change in the career opportunities for female creatives.
Seven years ago, the 3% Conference debuted in San Francisco to a sold-out crowd. Now the event has taken the creative world by storm. It features high-profile speakers from Apple, LinkedIn, Airbnb, and more to talk about the role of women in creative industries.
But contrary to what you might assume, the 3% Conference was not designed by a sophisticated events team. Instead, it was born from a simple observation by its creator, Kat Gordon, a seasoned creative director of 20 years:
Only three percent of creative directors were women.
This inequality gave her a simple idea: bring the creative community together to make a shift. Read on for Gordon's take on her almost accidental trajectory to event innovator extraordinaire.
What first sparked the idea for your event?
A longing to attend such an event! I kept waiting for someone to do something like this, until it dawned on me that I was that someone.
When did you know your event was be a success?
We made money from year one. In fact, our first event sold out in advance. I took it as an optimistic sign. And it was.
Was there a moment you had to take the leap and go
all in
?
Yes! For at least the first 18 months I was planning the conference and running my own ad agency at the same time.
Somewhere around the year-two mark, I needed way more time to plan the event. At the same time, I was starting to deliver traveling "road show" events, and that took a lot of time, too.
I realized I had a full-time job on my hands with the 3% Conference — and it could pay my salary. I close the ad agency and never looked back.
What was your first big failure, and what did you learn from it?
We delivered an event in London in 2015 that lost a lot of money. In many ways, it was a success. It sold out and got lots of good press. But we weren't able to raise the sponsor dollars in the UK because we hadn't yet earned their trust.
We thought of canceling, but we were personally on the hook for an expensive venue. At some point, we realized that venue's cancellation fee would be around the same as our potential loss if we went ahead and threw the event. So we decided to throw it. And we learned a valuable lesson: What works in the US might not always work everywhere else.
How much has your company grown, and were there growing pains?
3% is now seven years old and has a team of ten, not including our events team (another four to six people). These are exciting numbers, but the real growth we've experienced is that 3% has transformed from a conference into a movement.
Besides events, we offer culture consulting and certification inside creative companies, modeling our event recommendations so clients can build more diverse, creative companies.
The toughest lesson? How long it takes for certain ideas to take root — and how much to invest in them before you have your answer. Our certification program took time and money to build, and ad agencies were slow to embrace it. I'm so glad we didn't give up because it's now becoming an industry standard and making real change.
If you could go back in time and give yourself a piece of advice about your event, what would it be?
While events are wonderful for building awareness and community, if your sole reason for launching an event is to make money, think twice. But if you have a true passion for something, and want to create community around it, do it.
Have a spark of passion to share? Don't wait.
By the way, that 3%? It's no longer accurate. Today, thanks in large part to Gordon's work, the number of female creative directors has grown to 11.5%. And she hopes to see it keep growing until it's 50%.
Perhaps you, too, have an incredible idea for bringing people together around your passion, but no idea how to get started. Don't let your idea die in the realm of imagination! There may not be an instruction manual for turning your passion and vision into an event business, but there are plenty of inspiring examples you can emulate.
Ready to take the leap? Set up your event on Eventbrite in minutes.