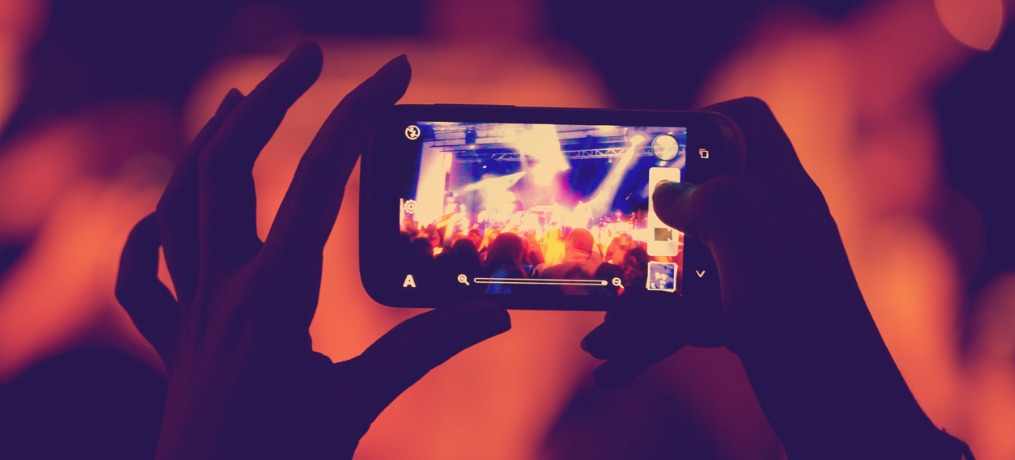 5 Ways One Historic Music Venue Uses Instagram to Reach Fans
Promoting shows is one thing, but how do you stay connected with your fanbase?
Marketing Director Stefanie May of the Capitol Theatre says the best way is to use Instagram to reach fans. While many marketers think of Instagram for engaging young fans, May says Instagram is perfect for the New York venue's core audience, who is typically 30 or older.
"We use Instagram to promote shows, but our main goal is not to be too salesy," says May. "We use it as a tool to connect with the audience."
Keep reading to learn five Instagram guidelines from Capitol Theatre, and start using them to engage your fans.
1. Post beautiful images
It may seem obvious, but quality matters on Instagram, so don't skimp on photography. While May often takes and posts photos herself, she also relies on the Capitol Theatre's house photographer and videographer, as well as a team of freelance photographers.
Key takeaway: Quality reigns supreme on Instagram, so make sure your photo and video posts are beautiful, inspiring, and engaging by using skilled photographers. The best live music and fan photos capture emotion, connection, or transcendence.
2. Lean into your brand personality
The historic Capitol Theatre was a regular tour stop for the big acts of the 1970s and the jam bands of the '90s. Today, it books a mix of genres, but May likes to reach back in time to showcase the Capitol Theatre's brand identity. "We like to evoke feelings of rock and roll nostalgia with legendary artist photos."
May says success on Instagram is all about conveying your brand identity and connecting with fans. "Every brand on Instagram should be able to show who they are and what they're all about. It's a great platform to be authentic and let your personality show."
Key takeaway: Think about the emotions fans associate with your festival or venue, and post content that evokes those feelings.
3. Spark conversation — and keep it going
For May, Instagram success all comes down to fan interaction. She'll ask questions to generate comments, and she replies to comments on every post. "My motto is: you can't just make a post and not look at it again," she says. "You want to know who commented, and what they had to say. You want to spark an interaction."
May also comments on fan photos of Capitol Theatre shows. "After every show, we'll search our hashtags — #thecap or #thecapitoltheatre — to see who was there and who posted photos. We'll comment on the photo and thank them for coming to the show. We want people to know that we're looking at what they're posting."
Key takeaway: Revisit each post you make several times. Use it as an opportunity to respond to comments and encourage interaction.
4. Target your advertising
Instagram has the same powerful audience targeting and advertising tools as Facebook. To promote shows, May uses these tools to reach local fans who "like" the band or similar artists. She'll run boosted posts from a Monday show announcement through the Friday on-sale date, then for a few days more.
While May sees more direct ticket sales come from Facebook than Instagram, she sees value in Instagram's ability to combine show awareness and fan connection.
Key takeaway: While fan engagement through organic posts is an Instagram essential, advertising and boosted posts are also an important part of the Instagram marketing mix. Use the built-in advertising tools to set up audience targeting.
5. Engage with artists
While interacting with fans is a vital part of the Capitol Theatre's Instagram strategy, May has her team engage with bands on Instagram, too. "We're always looking at and liking bands' posts. Every day an intern helps us engage with the bands we've booked. We'll also get video from bands and post a clip." May posts similar updates in Instagram Stories, which are only up for 24 hours, but tend to get more views.
Key takeaway: Engage with artists' posts to reach their fans. You'll not only foster excitement about your shows, you'll also expand your fan base.
For more essential marketing techniques, download the 2018 Music Marketing Handbook The Five Essential Elements.