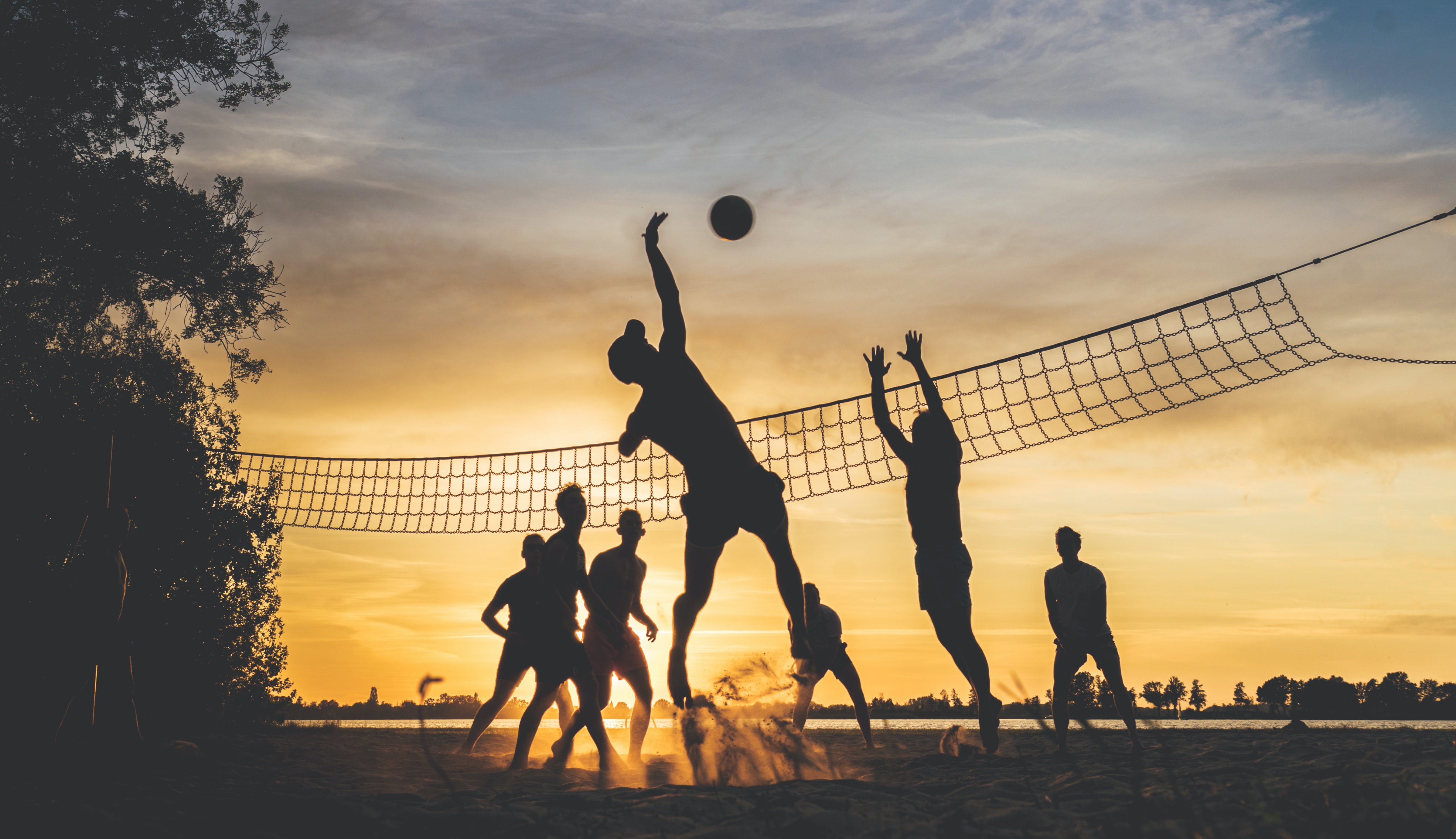 How to Increase Attendance at Sports Events and Sell More Tickets
With fitness influencers flooding social media, athleisure on trend, and everyone heading back to the gym, it's clear that sports and athletics-themed events attract crowds. Many event creators are asking how to create a sports event to attract that same crowd. Whether you're organizing a 5K run, an obstacle race, or a community soccer tournament, your event can tap into the current wave of fitness enthusiasm.
Read on to see what factors lead to success and to learn how to market your sports event.
What factors could affect attendance at a sporting event?
Firstly, an audience must know when and where an event is happening. If people don't know the key details (or that it's even happening), it's impossible for them to attend.
Potential audiences consider several factors when scoping out events, such as:
How fun it looks

Where it's located

Day and time

How convenient parking is
We also need to touch on how to sell sporting event tickets! Price can affect sales, so you'll want to carefully weigh how many patrons your event can accommodate along with how many people you expect will be interested in attending.
How to increase attendance at sporting events
Knowing how to attract fans to your sporting event is a must. Here are a few techniques to consider.
Work around the community calendar
Most leagues create their own schedules, but if your event is more flexible or involves attendee participation, such as in a 5K race, choose a date when the community calendar is relatively clear. Consider scheduling your event alongside a holiday to catch people when they're off work.
Increase the value to sports fans
Who doesn't love a deal? Increasing the value of your event will make attendance that much more attractive. Try these ideas:
Offer food and drink.

If your attendees are hungry without options, they won't stay long. Athletic performance requires energy, too, so be sure to include concessions such as food kiosks, drink stands, or other food services.

Food trucks can also be a convenient solution

.

 If you're serving food, increase the number of trash receptacles, too.

Provide coaching and trainer access.

If your event is a competition or involves attendee participation, giving competitors access to coaching or training specialists brings special value. It shows investment in and commitment to the participants by helping them improve their performance. This can lead to increased interest in sports and greater brand loyalty.
One thing to remember: many people value things they have to pay for more than what they receive for free. Lowering your price too much may make event-goers question quality or value.
Make your event listing comprehensive
Your event listing serves as a first impression of your event — it's where people first get an idea of your event's tone, atmosphere, and details. Making sure it's straightforward yet comprehensive gives a clear sense of the value your attendees will see.
How do you achieve this? Make your event listing visually appealing — it should look attractive without being overwhelming. Use graphics to personalize it and break up the prose. Include information about sponsors and other vendors attendees may find at the event.
Give attendees a sense of ownership
Event creators can inspire greater loyalty and improved value by giving event-goers a sense of ownership. That can mean getting them involved in the event, such as in competitive events like races or active events like 5K runs. It can also mean giving them inside information, like attendance figures or the amount of money donated at a 5k fundraiser. If your event is competitive, provide statistics indicating their performance level to see how they compare.
How to market a fitness event
A marketing strategy for sports events should focus on getting details in front of as many potential attendees as possible. Try maximizing exposure through promotional efforts, social media ads, and more. Read on to find out how.
Increase the exposure of your event
Sporting events naturally attract active and athletic people, so reach this demographic by promoting your event in places popular with this crowd. Partner with sporting goods stores to promote your event — you can hang banners in windows or place flyers on check-out counters. Connect with local school sports teams and athletic programs or approach local pro athletes about potential involvement. Placing promotional materials at neighborhood parks and community centers (which often host youth baseball, soccer, and football games) is also a good idea.
Send sports event marketing emails
Emails are an efficient way to reach a large number of people directly. When event-goers register for an event on Eventbrite, they include their email address, so you can contact past event-goers about current events in line with their interests.
And when you use Eventbrite Boost for your email marketing, you have the option to create an email list of everyone that's already bought a ticket –– not to mention the ability to send up to 10,000 emails a day for half the price of other email platforms. (If your volume falls under 250 emails per day, you're covered by Boost's free plan.)
Additional benefits of email marketing include:
Building excitement:

An

email marketing campaign

is an effective way to build excitement around your event. Initiate interest with an announcement about your event and continually build upon that interest with reminders and updates about new features, participants, and more.

Organizing your contacts:

Create email groups for those who've attended events, registered but didn't attend, attended one event, attended multiple events, and so on. This allows you to

tailor your email messages

more effectively.
Social media for sports event promotion
Who doesn't love scrolling through social media to see what their friends and colleagues have been up to? A sports event marketing campaign using social media is a great way to get your details in front of a lot of eyes. Taking advantage of Eventbrite Boost's integrations with a range of social media makes it a snap to spread the word far and wide. Social media lets you:
Create and maintain relationships with interaction.

Use storytelling to draw on followers' love of sports by highlighting participants' achievements, finishes, medals and trophies earned, and similar results.

Create an online community for the sport or event.

Engage with your followers through comments and messages before and during events. This will provide an existing fanbase when event promotion starts.

Produce content related to the sport.

This will interest followers without directly marketing an event. It also helps to establish your brand as an authority and minimizes the sales aspect of event promotion, which creates greater authenticity.

Partner with local fitness influencers.

Social media influencers like personal trainers, runners, and coaches are

experts at promotion

.

Ask them to give tips and advice to participants through cross-promoting with their own brands.

Provide behind-the-scenes content.

People love to see what goes on behind the scenes. Quick clips, such as setting up the event and staff arrivals, help build anticipation.

Post photos and videos.

Visual content highlighting your participants and attendees spurs engagement. This helps promote your event as well as create interest for those who have not yet registered for your events.

Take advantage of Snapchat filters.

Set up

Snapchat filters

so attendees can show team pride or attendance and achievements. This helps build a sense of community and creates buzz about your event.

Show off on TikTok.

The snack-sized format of TikTok is perfect for highlights of competitions, athletic achievements, and similar action-oriented clips.

Promote the goodwill activities of the event.

Don't be shy about showing your charitable side! Remind everyone about the free tickets given to charity, volunteer work of athletes, and similar activities.

Use social media ads.
Tips for effective promotion
While you may have plenty of promotional ideas for sporting events, how can you tell which will work? The trick is ensuring your events reach those most interested in sporting events — and reaching as many of them as possible. Here are some tips:
Get smart about ads:

Boost's

Smart Audiences

tool lets you gain insight into your events and attendees. It lets you run social ads that target attendees who will love your event, based on what they've attended in the past.

Take it offline:

While your online marketing campaign may have social media covered, not every sports fan is constantly checking their feed. Hang posters and flyers with eye-catching graphics in gyms, tennis courts, stadiums, parks, and other favorite sports hangouts.

Secure sponsorship:

Ask any sports marketing pro in event management, and they're likely to tell you how

sponsorship benefits your events

. Not only does it help lower costs and increase your event's revenue, but sponsors can also help with event promotion. Many sponsors have their own marketing budgets, so when negotiating, discuss combining promotional efforts to increase event reach.
How to engage fans and secure repeat attendance
Repeat attendance likely means your guests not only were engaged and enjoyed themselves, but they also wanted to come back. It can be the foundation for growing your events. Make sure your events inspire repeat attendance with these tips:
Improve the entertainment factor
While your athletes are catching their breath at halftime, provide entertainment such as a marching band, local gymnasts, or cheerleading squads, or open up a competition to the public to make your event stand out.
Theme nights
Theme nights are a fun way to encourage audience participation and engagement. Host a "Salute to Service" by providing free admission to first responders and veterans. For an event around Halloween, ask guests to dress up in costume or participate in a costume contest. These kinds of promotions are especially effective at viewing events like football, basketball, and baseball games.
Use downtime to your advantage
Along with increased entertainment, halftime and similar breaks during a sporting event offer you a chance to promote future events. A contest with free tickets to the next event is a great way to let everyone know about it and creates extra fun. T-shirts and other merchandise promoting your brand and events are also effective. You can then promote food sponsorships by shouting out specials on drinks and snacks.
Make it interactive
Apps and smartphones make engaging with your attendees easy. Create polls and get everyone to vote for their favorite team or player. Turn a camera towards the audience so the crowd can catch themselves on the scoreboard screen. Ask attendees to upload or hashtag their favorite photos so you can share them with the community on your website or in your next event listing.
Creating your sports event marketing plan
For the most effective event promotion, you should create a sports event marketing plan that lays out who you want to reach and how you will do it. Don't know where to begin? We've got you covered.
Essential questions for your fitness event marketing plan
It's a good idea to do a SWOT analysis of your event to determine the event's strengths, weaknesses, opportunities, and threats. A good marketing plan means you need to research who to reach and how. Laying all this information out in an organized fashion allows you to form a strategy for your promotional efforts, which will help you reach the people most likely to respond favorably to your event. Your marketing plan should have:
A mission statement.

What's your event's goal? Why are you creating this event?

A situational analysis.

Has this event been run before? What were the results?

A market analysis.

Who's your target audience? What are the local demographics?

Marketing strategies.

What marketing and promotional activities will you use?
We've put together a sample marketing plan below as a starting point for you to expand upon.
Sports event marketing plan sample
MARKETING PLAN FOR A 5K FUNDRAISER
Mission Statement
This event's mission is to raise charity funds by encouraging pledges on behalf of participants running a 5K race.
Situational Analysis
This event has not been held before, although a 5K run was organized for a school fundraiser in a neighboring community last year. The community is a suburban, primarily residential area with both single-family homes and multi-family residences. Local businesses are complemented by big box stores and national brand department stores. Several residential communities are under construction, and an elementary school recently opened to make five total elementary schools, five middle schools, and four high schools.
Market Analysis
A 5K charity fundraiser can attract young families, working professionals, and active retirees. The charity aspect can also appeal to those inclined to altruistic activities. Schools, churches, and local businesses are all potential targets.
Marketing Strategies
Reach families by promoting through schools and school sports programs. Generate interest from working professionals through a social media campaign directed toward active lifestyle influencers. Interest church groups and social justice organizations through a charitable function of the event.
SWOT Analysis
Strengths: The event invites athletes, but it is not overly difficult to dissuade non-athletes. A charitable component encourages participation.
Weaknesses: A first-time event lacks tradition. Active events can discourage those who don't see themselves as athletic.
Opportunities: This community does not have any regularly organized 5K runs. Residents have a strong sense of community, and prior charity events have exceeded expectations.
Threats: A neighboring community held a 5K fundraiser for a school, which could inspire competitors. City sports leagues are also popular and may threaten commitments.
Publicize your sporting events now
Now that you've done the research, designed your marketing plan, and have your event all set and ready to go, there's only one thing left to do. Sign up for Boost and get everyone talking about your sports event!