Looking for a way to inject a bit of quirkiness into your next big event? Renting a food truck can be a quick win. Better yet, food trucks typically run a lot cheaper than traditional caterers.
But don't stress! At Eventbrite, our community of event creators is always looking for support when it comes to booking food trucks and managing catering for their events. That's why we've become experts at assisting you in planning and securing the perfect food trucks for your next event.
A food truck rental will cost anywhere from $12-25 per head — but there are tons of factors involved that can bring this cost way up (or down).
In this guide, you'll find out the benefits of renting a food truck, what factors affect the food truck rental cost for your event, and some pro tips on how to shave food truck costs without cutting on quality.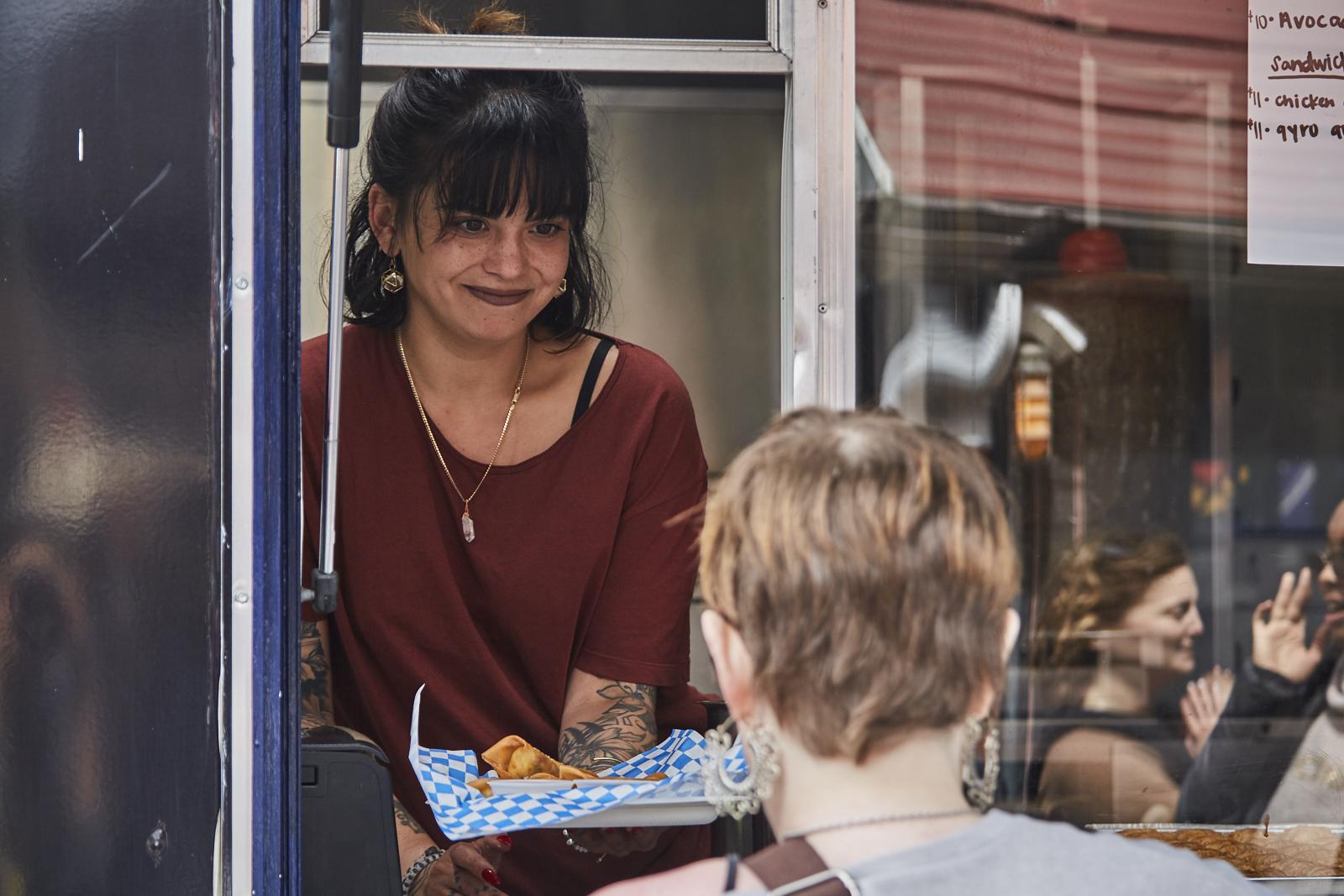 What are the benefits of hiring a food truck for your event?
Food trucks have exploded in popularity over the past decade or so — and it's not hard to see why.
As an event planner, food trucks represent a unique way to inject a bit of fun into an event. They're quirky and they're non-traditional. As a result, you'd be surprised how a couple of food trucks can help to cultivate a festival-like atmosphere that will get your guests talking and break the ice.
With a food truck, you also give yourself much more flexibility.
At first glance, a food truck might sound less prepared to take on a big crowd at break-neck speed. But food trucks are fast, efficient, and minimize all the fuss around catering.
Think about it: Food trucks are traveling catering facilities. That removes the need for you to select a venue with full-service kitchens. It eliminates the requirement for kitchen staff to plate up food, waiting staff, and clean up, too — which means you're free to choose from a broader range of venues for your event.
But food trucks offer you more than just freedom of choice regarding venue. They also enable you to be pickier about your catering menu.
The food truck sector is growing by around 6.4% each year. New trucks enter the market every month, and researchers forecast a total market value of more than $2 billion by 2030.
Translation: If you can imagine it, a food truck can probably do it. You're no longer bound to one of three set menus from a venue's preferred caterer.
If you want tacos at your next event, you can find a taco truck. If you want BBQ ribs, find a BBQ truck. If you want macarons — well, you get the idea.
For example, look at how event creator Rockers Unltd has been using food trucks.
Their regular Rum Punch Brunch events in Atlanta celebrate Caribbean culture by renting food trucks that serve unique Caribbean street food. These events are all about developing a sense of community and having fun, and food trucks help to provide a unique menu to match the vibe.
Best of all, those choices are usually way cheaper than traditional catering.
According to the Knot 2022 Real Weddings Study, the average price per person for hiring a caterer to produce plated meals for a wedding comes in at $75. By contrast, you can hire a burger van for around $10 per person — and the guests will probably leave with happier tummies, too.
However, choosing a food truck over a traditional caterer is one of many ways you can save money catering an event.
What factors affect your food truck rental cost?
We've already mentioned that food truck rental costs usually are far lower than hiring a traditional caterer. But beware: Food trucks vary in cost for a few reasons.
To help you start formulating your catering budget around hiring a food truck, we'll walk you through the five most significant factors affecting your total cost.
But don't worry, because we'll also walk you through some pro tips on reducing those costs.
Pricing structure
Most food trucks agree to park at events and feed guests based on one of two pricing structures — on a catering or attendee-pay basis.
Catering pricing structure
If your food truck of choice operates a catering pricing structure, the truck owner will expect you to pay the truck for serving a certain number of dishes or people at an all-inclusive rate.
This is the most common route for private events, and it's usually the preferred route for food truck owners because they'll know all their costs will get covered ahead of time.
Let's say you rent an ice cream truck to show up at a corporate staff appreciation day. If the truck uses a catering model, you might pay them $800 because they're serving up ice cream cones to 200 employees at $4 per head.
That being said, you may not have to pay anything if your truck of choice operates using an attendee-pay model.
Attendee-pay model
Under the attendee-pay pricing model, the event organizers aren't responsible for paying for the cost of booking the truck for the event. Instead, customers pay for their food like they would at a restaurant.
However, an event organizer may sometimes need to pick up a small outlying booking fee even though the guests will be paying for their own food.
You'll generally see the attendee-pay model at play if you're planning a big concert or festival with an entire pavilion of food trucks.
As the event organizer, it's your job to commission each truck and communicate the event particulars to the owners. You need to ensure they understand any event or venue policies, know where they need to be, when they need to get there, and approximately how many guests they can expect to feed.
After that, your attendees are responsible for paying for the food they eat.
Minimum guarantee
Food trucks usually charge a minimum guarantee, no matter the price structure you use. A food truck's minimum guarantee is a set amount a food truck will charge for coming out to your event. This amount is regardless of how many eaters you plan to have at the event, and it's all about enabling food truck owners to plan.
Food trucks generally set a minimum cost to make sure they will cover their basic operating costs like fuel, food costs like ingredients, energy, staffing, and the amount of time spent driving to and from your event.
Minimum guarantees often range from $300 to $1,000 — but, again, it depends on the truck. Not all owners will charge a food truck minimum for your event, as this is often negotiable. But it's a typical expense that you should be prepared to pay.
Need a hand pricing the rest of your event (not just the food truck)? Get the bigger picture with our free event budget template.
Location
Next, you'll need to be prepared to budget for your food truck rental cost based on location.
Just like venue fees, your food truck costs will typically vary based on where your event is.
Trucks are often more expensive in big cities because they have to match higher costs like labor, ingredients, and permits. That being said, remote venues do generate higher transport costs for food trucks — which will likely get passed on to you as the event planner.
It's also important your event is somewhere with plenty of space for food trucks to park.
For example, take a look at event creator Main Street Fairs. They regularly organize music and art festivals where food trucks take center stage. They always choose venues with loads of space for these big events, like county fairgrounds and municipal complexes.
Ultimately, it's all about location. For tips on how to ensure you're planning your event in the right space, take a look at our comprehensive guide.
Menu
Just like traditional caterers, food trucks can offer different menu types, which will vary in price.
Translation: A taco truck is invariably cheaper than a fish and chip truck. That's because of the cost of the ingredients and the dish's complexity. The extra cost is directly passed on to you as the food truck's client.
You can often negotiate food truck menus to fit your vision better (or your client's) while considering the truck's capabilities.
For example, you can request your hog roll truck add a dessert or a cocktail to the menu for each guest.
Or you could give your guests a taste of everything by incorporating a huge range of trucks to create a plethora of choices. Just look at event creator PreHab Health & Performance's Adjustapalooza 2023 in Idaho.
To make sure they've covered all their bases, they've booked trucks serving everything from Mexican and pizza to donuts and dairy-free acai bowls. That's certainly one way to expand your menu and make lots of attendees happy.
Bear in mind that the amount of food and the type of food you serve impact cost — be sure to factor this in when costing your food truck budget.
Not quite sure what you're looking for in terms of the menu? Explore some of the upcoming online events from caterers and food truck owners worldwide to discover what weird and wonderful ideas they're cooking up.
Duration of the event
You can also expect the duration of your event to impact your food truck rental cost directly. This is because a lot of food truck businesses employ staff by the hour, energy costs will be higher, and they'll need to be stocked and prepared for multiple servings.
Bearing that in mind, how long do you need food trucks in service during your event? Hiring a few food trucks for an afternoon will be cheaper than hiring them for a whole day.
You may get a discounted rate from food truck owners for engaging a truck for longer, but your overall rental cost will rise even with a discounted rate.
A huge element of choosing the duration of your event depends on the time and dates you'd like it to be on. Take a look at this expert advice on how to choose the perfect date for your event.
Type of event
Finally, your food truck rental cost will vary based on the event type.
For example, corporate events may require more than one truck or a specific menu. That will increase your price per person — often doubling it, although you can negotiate this down.
Weddings typically have a higher rental rate because of the complicated logistics involved. Even mentioning the word "wedding" will push some food truck owners to quote you a higher price instinctively.
It's best to be prepared to pay higher costs for larger events. However, many food truck owners offer reduced rates or a lower minimum if you're expecting above a certain number of guests.
How to save on food truck rental costs: pro tips
Now that we've covered the factors affecting the cost of hiring a food truck for your event, let's talk about how to bring those costs back down.
Certain elements are out of your control — particularly if your clients are set on a certain location or menu. Fortunately, you can take small steps to cut corners and make your event catering more affordable. We'll walk you through those steps.
Pro tip #1: Scale the menu back
A full-service catering truck will charge you less for small plates or hot dogs than for a three-course dinner.
If you're pushing the top end of your budget, chat with your food truck of choice about more affordable options.
Sometimes this can lead to a bit of back-and-forth between you and your caterer. But if you power through and negotiate, you should be able to compromise on a low-cost menu that the client still loves.
Unsure about going for a smaller menu? According to Harvard researchers, eaters prefer smaller menus because they do a few dishes well (rather than loads of dishes not so well).
Pro tip #2: Book based on proximity
According to researchers from the University of Michigan and Northwestern University, food truck density is way higher in college towns — while cities with a higher rate of fast-food restaurants are less likely to have a decent local selection of food truck cuisines.
If you're based in a remote location, and the only local food truck is an ice cream truck, hiring that truck will be cheaper than asking a burger truck to drive 90 minutes from the south side of Chicago.
Achieving a compromise is crucial here. If you can opt for a menu closer to your needs rather than your ideal choice, you could significantly reduce your expenses.
Pro tip #3: Negotiate
Remember: Those who don't ask don't receive.
Have a candid conversation with truck owners about your event budget and vision. At the end of the day, they want (and probably need) your business.
There's often some wiggle room on both sides in terms of budget and costs — and by starting the conversation, you might be surprised what you can negotiate without compromising on quality or fun.
Looking for more pro tips on how to budget for your event and make sure everything goes without a hitch? Dive into Eventbrite Academy.
Food trucks are fun and inexpensive
Food trucks are a brilliant way to add some fun, flavor, and flair to your next big event. They're generally cheaper than traditional catering companies and can offer a lot more flexibility regarding venue selection and menu choices.
Event management goes way beyond choosing the right food truck — no matter what event type you plan. Next, you've got to think about how you will promote your event and start selling tickets. That's where Eventbrite Boost can come to the rescue.
With Eventbrite Boost, you can streamline your social media and email marketing to start advertising your event, track ticket sales, and communicate with your guests ahead of the big day.
Ready to try it out? Join Eventbrite to find out how we can help you take your event to the next level.