Want to get word out about your event?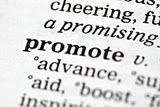 Here are 5 ways effective ways to promote your event using Eventbrite's promotion tools:
Web Promotion: Make sure the "Publishing Options" box is checked on your event details form. We'll list your event in the Eventbrite event directory and we'll blast your event out to all major search engines (Google, Yahoo, MSN, etc) as well as event listing sites. (Eventful, Oodle, and Googlebase)
Send Email Invites: After creating your event, send out email invitations to prospective attendees. Simply click "Email Invitations" on the Quick Actions drop down menu.
Affiliates: Sign up affiliates to help you promote your event. Create custom affiliate links for your event and track affiliate sign ups and ticket sales.
Website Integration: Publish the entire registration form on an outside website. Select "Website Integration" from the Quick Actions menu and follow the simple process. Alternatively, publish registration buttons and links on an outside website. Choose "Buttons and Links" to access that feature.
Event Promoter Widget: Publish the Event Promoter widget on other websites to show a slide show and calendar view of your upcoming events. Select "Event Promoter" from the Quick Actions drop down menu.