We've enhanced our email invitation tool to make it easier for you to spread the word about upcoming events!
Now you can import addresses from your past event attendee lists as well as import addresses from common mail programs (Hotmail, Yahoo, Outlook, Gmail and more).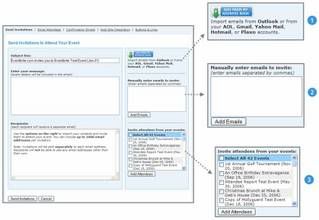 See how it works here.
We're also working on more great email features to be launched very soon:
1. Save contact lists
2. HTML Editor for email body
3. Save email formats
4. Track RSVP's from invitations