Go Green When You're Going Orange—Ditch the Paper Tickets!
We love being orange, but sometimes, it feels so good to be green! In honor of Earth Day, we want to make it easy for our organizers to be eco-friendly with their events.
Yesterday, we shared some tips for simple steps to building an eco-friendly conference. But you don't have to be a big conference to save trees. Even organizers of small events can reduce waste by using our current features to turn off PDF ticketing and print instructions.
In honor of Earth Day, we wanted to highlight this green feature. Eventbrite has so many great features, and with so many ways to customize our product, organizers sometimes forget this important step. On a day like today, however, it's worth celebrating.
Check out this step-by-step to learn how to turn off your PDF tickets (also known as a will call option):
1) From the My Events page, click on the title of your event and go to the Manage page for that event. On the Manage page, select Edit Order Confirmations from the features menu on the left side of the page.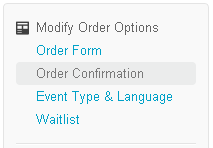 2) Disable PDF tickets if your event does not require physical tickets. Un-check the two options—to attach PDF tickets to the confirmation email and to include a link to these tickets in the email—at the top of this section. Turning off unnecessary PDF tickets can reduce both attendee confusion and paper waste. You can always print out a check-in list, use the Entry Management tool located in the Manage page for your event, or download and use our Easy Entry iPhone app to check in attendees at the door to your event.

3) Make sure to advise your attendees in the order confirmation email and/or page that tickets are not included and so not required.
Customize the order confirmation email:
If you haven't disabled PDF tickets (see step two above), any text that you enter will appear on the PDF tickets that your attendees will receive and print.
If you have disabled PDF tickets (see step two above), any text that you enter will appear in the Instructions section of the order confirmation email. With tickets disabled, you have more formatting options for your text, and you can also enter HTML into your order confirmation email.
Note: You can also change the default reply-to email address that will appear on the email confirmation.
4) Customize the order confirmation page. Enter any information that you would like to appear in the Message section of the order confirmation page, which is the page where an attendee lands after successfully completing an order. This section reads HTML, allowing you to add links and images to your order confirmation page.
Try this out to celebrate Earth Day, and remember the importance of incorporating green into your events year-round!