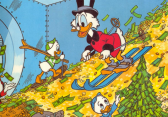 5 Ways to Save Money While Planning Your Next Event
Today's guest post comes from David Bakke, a small business owner in Atlanta. He writes about topics relating to finances, careers, business, and retirement options on the blog, Money Crashers.
With the economy not yet roused from its recent slumber, you may still find yourself with a smaller budget than expected when planning your company's next event. With increased pressure to deliver in today's business landscape, this presents an unfortunate Catch-22: how do you pull off an effective event on a limited business budget?
There is a way. Instead of getting frustrated trying to tailor a big budget event with limited resources, reverse your strategy and embrace the budget you have. There are plenty of ways to put on an effective and memorable event with limited funds. To help get started, read on:
1. Know Your Budget
You don't start baking a cake until you have a list of ingredients in front of you, so how can you plan a major corporate event without understanding what you've got to work with? Speak to your colleagues and superiors and find out precisely what your budget is. Find out how much money you can spend on a venue, guest speakers, catering, decorations, awards, entertainment, and incidentals. Setting baseline limits on each of your many categories can help keep costs in line.
2. Use Sponsors
Companies are chomping at the bit to get their name out in the public arena without paying high advertising or PR fees. Take advantage of that. Find a budding company looking to make a name for itself and exchange exposure for money.
Use your industry connections to put out feelers, and, to increase your chances of landing sponsorship, choose a company or organization closely related to your business. Draft a proposal, present a road map for a future reciprocal relationship, and find the right person to present your offer to. You may be surprised by the result.
3. Negotiate the Price of the Facility
Because of the sluggish economy, venues are seeing fewer bookings. Use that to your advantage. Do some research and find out the standard booking rates at a few facilities in your area and present an offer accordingly. Also inquire about the facility's occupancy rate over the past year and, if they've had significant openings, use that knowledge to negotiate for a better deal.
If each venue is concerned about their competition, they just might be willing to bend significantly on price just to underbid other facilities in the area. Additionally, check out your local convention and visitor's bureau to find out about more cost-effective venues at your disposal.
4. Save on Speaker Fees
Guest speaker fees at your event can add up in a hurry. To avoid this, look for a speaker who's already got an appearance booked around the same time in your area. You can cut down on transportation and lodging costs, and you may even be able to pay reduced rates. Also, consider booking your speaker well in advance, as many bump up their rates as their calendar fills up.
5. Reduce Catering Costs
If you'd like to serve food at your event, consider going buffet-style. It's much more cost-effective than opting for a sit-down lunch or dinner with a planned menu and waiter service. Try limiting your bar to wine, soda, and juice, instead of a full open liquor bar, which can be quite costly.
And, if you're interested in serving only hors d'oeuvres, consider partnering up with an up-and-coming caterer. Present it as an opportunity for exposure at a major event by offering to bill it as "catered by so-and-so" in exchange for a reduced rate. Exposure to a high-end crowd is often enough to get a great deal from a savvy chef.
Final Thoughts
Saving money requires creative thinking, diligent research, and negotiation. If you're willing to tackle those three tasks, your event just may be the envy of your industry!
What ways can you think of to save on your next meeting or event?