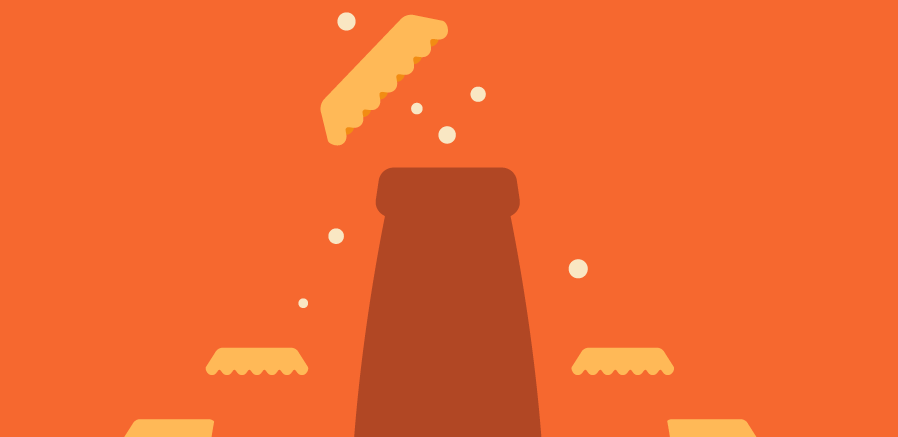 3 Craft Beer Industry Trends Breweries Need to Know
There are more craft breweries operating in the United States than at any point in history. But with seemingly infinite brew choices for consumers, the craft beer industry may be reaching a saturation point.
According to the Brewers Association 2016 report, craft beer volume grew just 6% in 2016, compared to 13% in 2015 and 18% in 2014. Not to mention that 97 breweries closed their doors last year, nearly double the number that closed in 2014.
Under the pressure of industry saturation, goliath beer companies like Heineken and Anheuser-Busch are buying up dozens of small brewers. This has left many craft beer brands struggling to figure out how they can stand out without selling out.
Differentiate your beer brand using these three trends shaping the future of the craft beer industry:
Craft beer industry trend #1: Brewery memberships will provide another income source
Today, some brewers have basic membership programs that offer discounts and giveaways. But if you stop there, that membership program may not be enough to keep your business afloat. And most breweries have a long way to go before they can catch up to the wine industry's popular membership programs.
You can make a membership program more enticing to fans — and a more important revenue stream for your business — by taking the membership perks to the next level. Give members early access to bottle releases, or guaranteed tickets to brewery events. While state laws can make beer distribution tricky, you can also offer quarterly shipments for in-state members.
Another way to show gratitude toward your members is with exclusive events: invitation-only release parties, members-only events, and first access to general-public ticket sales or VIP tickets. Putting your members first increases fan loyalty and positions your brand in a positive light.
Perhaps the most unique example of brewery memberships is the Bruery in Placentia, California, which has a tiered membership program. Members pay yearly dues — a great generator of incremental income for the company. For one price, members get early access to releases (which always sell out). At a lower membership price, members join a quarterly beer club and receive different beers in the mail four times a year. This also helps build the Bruery as an exclusive brand, which hipster craft beer fans can't wait to become members of.
Craft beer industry trend #2: Breweries will embrace their community roots
Cult favorite craft brewers can struggle to reconcile a growing brand against their local roots. Brews and brewery events focused on community help strengthen their connection with fans.
One way craft brewers are doing this is by incorporating local ingredients into their brews. For example, Fort Point Beer Company has a Manzanita brew, which is a local plant that they char to add a woody finish to this popular beer.
This strategy can work no matter how big your brand is. For example, Sierra Nevada offers a one-of-a-kind experience by partnering with other local breweries and using local ingredients in their brews. Although Sierra Nevada is a big brand, its regional festivals spotlight indie brewers in eight areas across the country, from Portland, Maine to Austin, Texas.
If you run a local brewery, you can also deepen your community connection by partnering with other local organizations for events. Take Pizza Port Brewing Company, which participates in more than 30 local events each month. Events include tailgate parties and intimate tastings at their five Southern California locations.
Even with so many events each month, Pizza Port still focuses on local, intimate gatherings. "We would rather have a small event that makes less money to ensure the beer is top quality and served properly," says Festival and Events Manager Jamie Shelley. "We are a brewery that will always put a large emphasis on the quality of the beer."
Craft beer industry trend #3: Brewers that give back will thrive
75% of Millennials say it's important to them that the brands they support give back to society instead of just making a profit. For the craft beer industry, this could be as simple as donating a portion of proceeds to a local charity. But there are many options for more thorough partnerships with local causes.

Fort Point Beer Company, for instance, supports local charities in several ways: donating to charity, sponsoring cleanup days, participating in fundraisers, and bringing awareness to important organizations like national parks. The company's goal with any beer event is to show people a good time while elevating the mission of the organization along with other local groups.
"When we think about our brand having staying power, we want to establish ourselves as a pillar to the San Francisco community," Fredericks says. "Nonprofit organizations often have never worked with a beer company, but they're looking to attract younger members. There's an opportunity for beer brands to help organizations raise money and awareness, all while getting people to try beer in fun, unexpected settings."
For more tips on how to differentiate your brewery or beer festival in a saturated craft beer industry, check out Beer Industry Trends: How to Differentiate Your Brewery or Beer Fest.