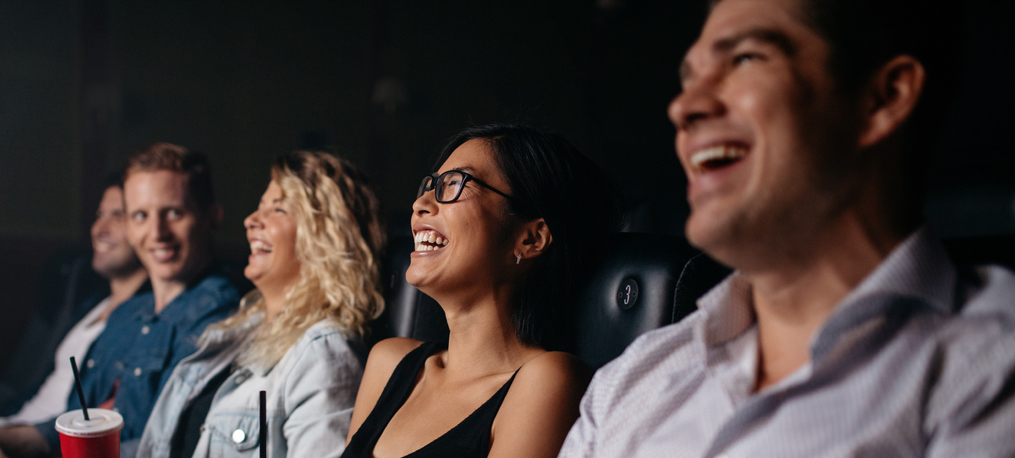 4 Ways to Sell Out Your Comedy Venue
Increasing attendance at your comedy venue doesn't have to mean more work. With the right tools in place, you can better promote comedians, impress attendees, and increase profit.
Simple strategies like upgrading your technology can already make a big impact on your sales. For instance, Frost & Sullivan found that event technology can increase your attendance by 20%, increase productivity by 27%, and decrease costs by 20-30%.
Here are four ways you can use technology to sell out your comedy venue — without doubling your workload.
1. Use RFID to handle more than entry
You manage hundreds of shows at your venue each year. But do you have a tool that can help you sell out an event both before the show and onsite?
You might have seen people paying for drinks with the tap of their wristband at some venues, and RFID's benefits can help venues of any size. Here's how RFID can help sell out your comedy venue:
Collect better data.

To register RFID wristbands, attendees give you lots of information — even if they register as a group. That means more email addresses to use in your marketing, more attendee data you can share with your partners, and ultimately more tickets sold.

Generate buzz.

The moment fans receive their RFID wristband or badge in the mail, they start sharing their excitement on social media. RFID helps generate loyalty among existing fans — and spread serious FOMO to everyone else. Word of mouth promotion is a key driver of a sell-out event for your venue.
Streamline sales.

Speed up fulfillment by assigning RFID badges and wristbands to fans as they arrive — eliminating chaos for staff and getting attendees inside faster. The quicker you get people inside, the more time you have to sell.
2. Optimize your website for mobile sales
Your website is the north star for your attendees — they go there to look up shows, to check out your venue's FAQs, and most importantly, to buy tickets. And chances are, they're probably looking at your website on their phone.
If the layout is unattractive — let alone difficult to use — they'll leave before ever buying a ticket. Here's why mobile optimization will skyrocket your sales:
Mobile users have taken over.

comScore, one of the most trusted sources for marketing data and analytics,

reported that

mobile-only users surpassed desktop users in March of 2015. So mobile optimization isn't just about experience — it's also about a wider reach.

You can sell more with mobilized ticketing forms.

Studies

have shown

a 160% lift in purchase completion with mobile-optimized payments.

Each step in the checkout or registration process will lead to a 10% reduction in transactions.

Reducing the amount of steps to checkout on mobile will make the purchase process easier — and increase your online sales.
3. Simplify your ticketing process
One in four online buyers won't complete a purchase that requires them to make an account. One in ten buyers drops off for every extra field in the purchase form. Hidden fees that are revealed at the end of the purchase process can make potential comedy fans close the window — instead of buying their tickets.
You probably don't realize how much these factors are hurting your sales. The easiest way to sell out your event is to make it painless for fans to buy tickets. Here are best practices for ticketing your venue:
Limit the number of steps it takes to check out

Don't require attendees to log in or make an account to buy tickets

Clearly communicate any additional ticketing fees before purchase

Optimize process for mobile
4. Use chatbots for extra customer service
Communicating with your fans is often a key to success. Chatbots are trending in events right now because they have so much potential to help you scale your customer service response during busy times.
Good customer service can go a long way to selling out your comedy show. They can:
Answer common questions for potential or actual participants — 24/7/365. They're helpful in responding to questions like "What time do doors open?" and "Is smoking allowed?"

Be programmed to learn from previous interactions and personalize conversations. If someone has a question about refunds, the chatbot can get him the answer he needs.

Alert your team when complicated issues arise. Maybe a vendor has a question about delivering supplies to your venue. The chatbot can flag that chat for you so you can respond accordingly.
For comedy venues, every minute counts. The right event management tools can help you impress attendees, sell more, and ultimately, grow your event. Check out this guide for more tips to Multiply Attendance at Your Comedy Venue (Without Putting in More Work).