Info
Planes of Fame Air Museum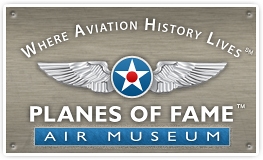 The Planes of Fame Air Museum is an independently operated, non-profit 501(c)(3) aviation museum that is dedicated to the preservation, perpetuation and exhibition of historical aircraft, and to the men and women, both famous and unknown, who devoted their lives to flight.
Having Trouble printing ticket? Call: 1-800-350-8850 6am-6pm PT Mon-Fri
Events
Currently, Planes of Fame Air Museum does not have any upcoming events.
Your message has been sent!