Featured
Info
Website:
MacMall Huntington Beach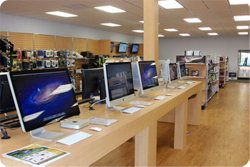 MacMall Retail Store - Your Apple Specialist. Visit us and get the lowest price for Macbook Air, Macbook Pro, iPod, iPad and more! Join our events and free seminars and get to know more about your Mac, accessories and software.
MacMall Store Huntington Beach 
16929 Beach Blvd., Huntington Beach, CA 92647
(714) 466-6255
Other Locations: 
MacMall Store Torrance
22719 Hawthorne Blvd., Torrance, CA 90505
(310) 353-7443
MacMall Store Santa Monica
1505 Wilshire Blvd., Santa Monica, CA 90403
(310) 394-7779
MacMall Store Chicago
329 W. Grand Avenue Chicago, IL 60654
(312) 999-6255
Events
Your message has been sent!