Deanwood Heritage Trail Tour Presented by Cultural Tourism DC
Washington Dc,
Bummer! Sales have ended.
Unfortunately, tickets for this event are no longer on sale.
Event Details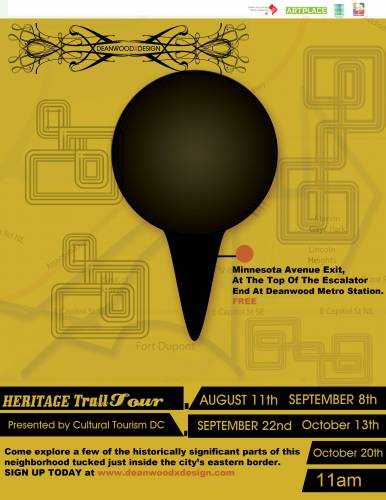 Walk with us though the WOOD! Deanwood that is! Join us on this special guided walking tour of the Deanwood Heritage Trail!!
The boundaries of Deanwood vary - depending upon what generation of Deanwoodian you ask. Come explore a few of the historically significant parts of this neighborhood tucked just inside the city's eastern border. Learn about the only amusement park ever to be housed within the boundaries of the District, the green space, as well as the entrepreneurial, self-sufficient men, women, and families who have called this part of the city home for generations. Meet at the Minnesota Avenue Metro station, Minnesota Avenue exit, at the top of the escalator End at Deanwood Metro station.
Presented by Cultural Tourism DC and led by Chair of the Deanwood History Committee, and Kia Chatmon
Get your FREE Heritage Trail Booklet 
Historical Society of Washington, D.C., 801 K Street, NW
Parker Barbershop, 4509 Sheriff Road, NE
Riverside Center, 5200 Foote Street, NE
Little Bubbles Laundromat, 4338 ½ Sheriff Road, NE
Suburban Market, 4600 Sheriff Road, NE
Washington Funeral Home, 4925 Nannie Helen Burroughs Avenue, NE
Washingtoniana Division, Martin Luther King Memorial Library, 901 G Street, NW
And after visit the DeanwoodxDesign Gallerys located at 
IDEA Public Charter High School Wellness Center 1027 45th Street NE(Deanwood Metro )  
Tubman-Mahan Gallery inside the Center for Green Urbanism 3938 Benning Road NE
(Minnesota Avenue Metro
HEY SMARTPHONE USERS! USE YOUR SCVNGR APP ON THE DEANWOOD HERITAGE TRAIL TOUR. 
Game On! The DXD mobile SCVNGR tour is officially live! Download the SCVNGR app for iPhone and Android phones to play. Don't have a smart phone? You can still join in the fun by texting the code: dxdkickoff to 728647(SCVNGR).
Earn points towards badges and rewards for completing challenges at each of our temporium locations. Check the leader board for your competition. SCVNGR will be active at all our events, and we'll be rolling out new challenges to keep it competitive over the next four months.
The more you play the greater your chances to win!