Supra Boats Shock and Awe 2013 New Model Reveal
Nashville, TN
Bummer! Sales have ended.
Unfortunately, tickets for this event are no longer on sale.
Event Details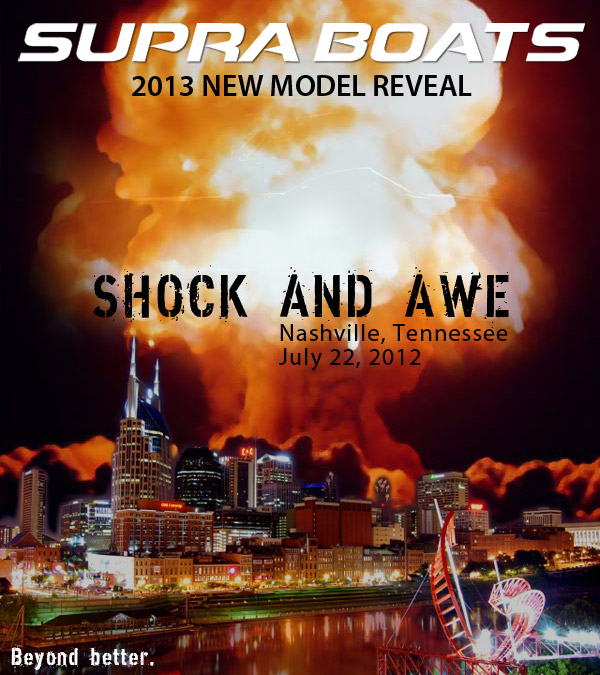 Prepare to be shocked and awed at the
2013 SUPRA NEW MODEL REVEAL
in Nashville, Tennessee July 22 - 23, 2012.
We're looking to stun the wake industry with a new Supra boat reveal this summer in Music City. The siege begins Sunday evening with an invitation-only new model unveil followed by on-the-water demonstrations Monday afternoon. This model release party is restricted to preferred Supra Boats partners and will NOT be broadcast. 
As an invitee you and your media outlet will have the opportunity to publish the first photos, video and information about this game-changing Supra boat model. This new model content will be available exclusively to attendees, until the official Supra Boats release July 26, 2012. Your web site could be the source of this ground-breaking news before anywhere else.
We have big plans for you early Sunday evening as well as Monday afternoon, but feel free to make some plans of your own. You'll be in the heart of Nashville, after all. What happens at the Supra Shock and Awe Reveal stays at the party, sort of. Check out this link to some of the local Music City attractions for some inspiration.
Step 1: Click "Attend Event" to register for the Supra Shock and Awe Reveal.
Step 2: Book your hotel room TODAY! You are responsible for your own room reservations. The Skier's Choice group rate is $129 plus tax, and that rate is available for 3 days pre, and post event, based on hotel availability. Marriott Reservation # is (888)-364-1200.  You must ask for the Skier's Choice, Inc. group rate when they book. Deadline is July 8th.

Note: Moomba Boats is hosting a 2013 model introduction and boat demonstration on July 24, 2012. Email invites for that unveil will be sent separately.