America's Most-Wanted Eco Posters
New York, NY
Bummer! Sales have ended.
Unfortunately, tickets for this event are no longer on sale.
Event Details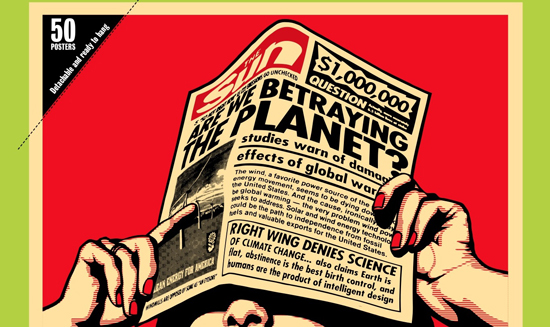 Edward Morris, Green Patriot Posters book cover by Shepard Fairey (detail), from Graphic Design: Now In Production
Be a part of history as Ed Morris, the co-author of Green Patriot Posters, leads a team of designers, thinkers, environmentalists and audience participants in creating America's Most-Wanted Eco-Poster in real time! In designing the poster Morris will also be leading the team through a discussion of environmental and activist imagery, the current state of the environmental movement and the efficacy of art and design. Electronic copies of the resulting image will be freely distributed at the event and on a website afterwards.
Moderator: Ed Morris, The Canary Project

Client: May Boeve, 350.org

Panelists: Natasha Jen, Pentagram; Ellen Lupton, Cooper-Hewitt National Design Museum; Debbie Millman, Design Matters

Design Director: Jon Santos, Common Space Studio

Designer and Technician: Diego Gutierrez
PANELISTS AND DESIGNERS:
Moderator:
Edward Morris
Edward Morris is an artist and sustainability advocate. In 2006 he co-founded The Canary Project, an organization that produces art and media that deepen public understanding of climate change. He has exhibited at both art and science museums internationally.   In 2008 Morris was awarded a Loeb Fellowship from the Harvard University Graduate School of Design, and he currently teaches in the TransMedia department at Syracuse University. He is the co-author of Green Patriot Posters (Metropolis Books, 2010).
www.canary-project.org, www.history-of-the-future.com, www.greenpatriotposters.org.
Panelists:
May Boeve
May Boeve is the Executive Director and Co-Founder of 350.org, an international climate change campaign. On October 24, 2009, 350.org coordinated the most widespread day of political action in history, with more than 5,200 events in 181 countries all conveying the message: 350, the safe level of CO2 in the atmosphere. Previously, May co-founded and helped lead the Step It Up 2007 campaign, which helped to change the debate about global warming policy in the United States by combining the efforts of over 200 partner organizations. May was the recipient of the Brower Youth Award in 2006 and is the co-author of Fight Global Warming Now. She lives in Brooklyn. 
Natasha Jen
Natasha Jen is a partner at Pentagram. Natasha's practice has been notable for crossing media genres, drawing on references from a diverse range of cultural, historical, aesthetic, and technological sources. She has earned a variety of awards and appeared in a number of publications, including Print Magazine, Creative Review, Metropolis, Flaunt Magazine, China Art and Design, Soda Magazine and Rosebud. She was one of the winners of Art Directors Club Young Guns 4 and served as a judge for the competition in 2007 and 2011. She has been a guest critic at the Yale University School of Art.
http://new.pentagram.com/2012/03/natasha-jen-joins-pentagrams-new-york-office/
Ellen Lupton
Ellen Lupton is curator of contemporary design at Cooper-Hewitt, National Design Museum in New York City and director of the Graphic Design MFA program at Maryland Institute College of Art (MICA) in Baltimore. An author of numerous books and articles on design, she is a public-minded critic, frequent lecturer, and AIGA Gold Medalist.http://elupton.com/
Debbie Millman
Debbie Millman is President of the design division at Sterling Brands and President Emeritus of the AIGA. She has worked on the redesign of over 200 global brands, including projects with Pepsi, P&G, Colgate, Nestle and Hasbro. Millman is a contributing editor at Print Magazine and Co-Founder and Chair of the Masters in Branding Program at the School of Visual Arts in New York City. In 2005, she began hosting the first weekly radio talk show about design on the Internet. The show is titled "Design Matters with Debbie Millman" and it is now featured on DesignObserver.com. In 2011, the show was awarded a Cooper Hewitt National Design Award. She is the author of numerous books on design and branding.
Design Implementation:
Jon Santos
Santos is the founder and director of Common Space Studio. Common Space combines both commissioned work and self-initiated projects, publishes art books, produces exhibitions, events, websites and videos. The aim of the studio is to stimulate the circulation of ideas and to find channels o communication that interconnect various artists, designers and disciplines. Santos is adjunct professor at Pratt Institute of the Arts, NY. Between 2000 and 2011 he was visiting artist at Sint-Lukas Academy in Brussels, adjunct professor at the California College of Arts in San Francisco and guest lecture at the AIGA in Washington, DC.  Santos has also presented his design work at Pecha Kucha NY.
http://www.commonspacestudio.com/
Diego Gutierrez
Diego Gutierrez is a graphic designer and art director. Born in Oaxaca and raised in San Miguel de Allende, Mexico, he has over a decade of working experience in Rome, Los Angeles, and New York City, where he now resides. Gutierrez currently does art direction for major corporate clients like Colgate-Palmolive and Nestle-Purina; oversees the visual identity for independent music label Dutty Artz and New York's leading Latin electronic dance music party Que Bajo; and has contributed original designs to projects such as Green Patriot Posters:Images for a New Activism and Hello Bad Mind.
Free ferries from Manhattan and Brooklyn: http://govisland.com/html/visit/directions.shtml