YOU'RE INVITED TO THE ATL'S HOTTEST RED CARPET AWARDS EVENT OF THE YEAR! *Accepting Vendors, Artist and Your Logo for The ATL's Hottest Awards Red Carpet Banner for all to see!

Saturday, December 1, 2012 from 1:00 PM to 10:30 PM (EST)
Event Details
           ITS THE ATLS HOTTEST
RED CARPET PARTY and  ENTERTAINMENT EXPO
*SEEKING VENDORS to present their products and services
*ENTERTAINERS have the opportunity to perform and present themselves to Expo and Awards attendees
Special Invited Guest: VIP's, Celebs, Record and Industry Execs!
*ADVERTISE your business, product, organization and services to a host of new customers at the ATL's Hottest Red Carpet Event! 
*Ever watched the awards shows on TV and thought it might be fun to experience the Glitz, Glam, Excitement and Nastalgia that is
"The Red Carpet"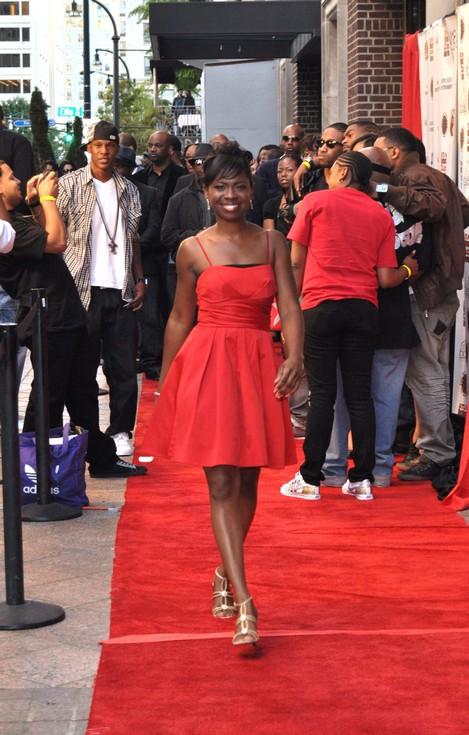 HERES YOUR CHANCE
WALK IT
NOVEMBER 12th
*SPONSOR AN AWARD TROPHY and YOUR COMPANIES NAME
 will go on the award and become a part of history!!!
*YOUR COMPANIES LOGO
*YOUR GROUPS LOGO
*YOUR ORGANIZATIONS LOGO
on the Hottest Awards Red Carpet Steppin Repeat Banner
for all to see as they walk the Red Carpet!!
COME AND ENJOY!!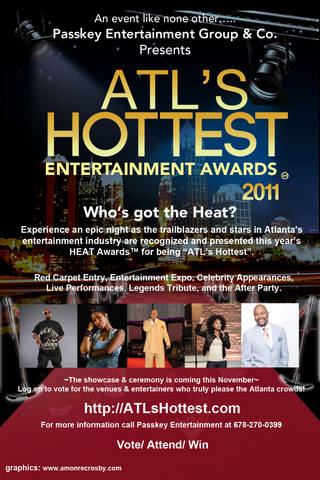 *You know alot of people, businesses, entertainers?
EARN MONEY
 *Becoming a Red Carpet Rep
*The Pre Awards festivities will be smokin Hot with The hottest DJ's
 Food, Drinks, Music, Entertainment, Dancing, Fun!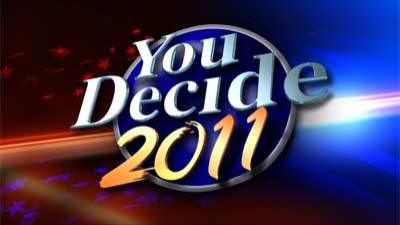 BUT FIRST 
DON'T FORGET TO VOTE for the ATL's Hottest in Music, Entertainment, Media ,Venues and Events at http://ATLsHottest.com until Nov 5th
GEORGIA WORLD CONGRESS CENTER 
LUXURY CAR PARADE
RADIO PERSONALITY MEET AND GREET
VIP RED CARPET PARTY 
 and
THE 3rd Annual ATL's HOTTEST ENTERTAINMENT AWARDS
 Presented By
Passkey Entertainment Group and The Awards Patrol
Follow the awards on Twitter @Passkeyent and @AtlsHottest 
Purchase TICKETS/ Media Passes/Vending Spaces/Performances slots/ Logo Placement@
 http://ATLsHottest.com/BUYTICKETS.html
Its a festive, semi formal and be as Hot as you wanna be
Red Carpet Awards Event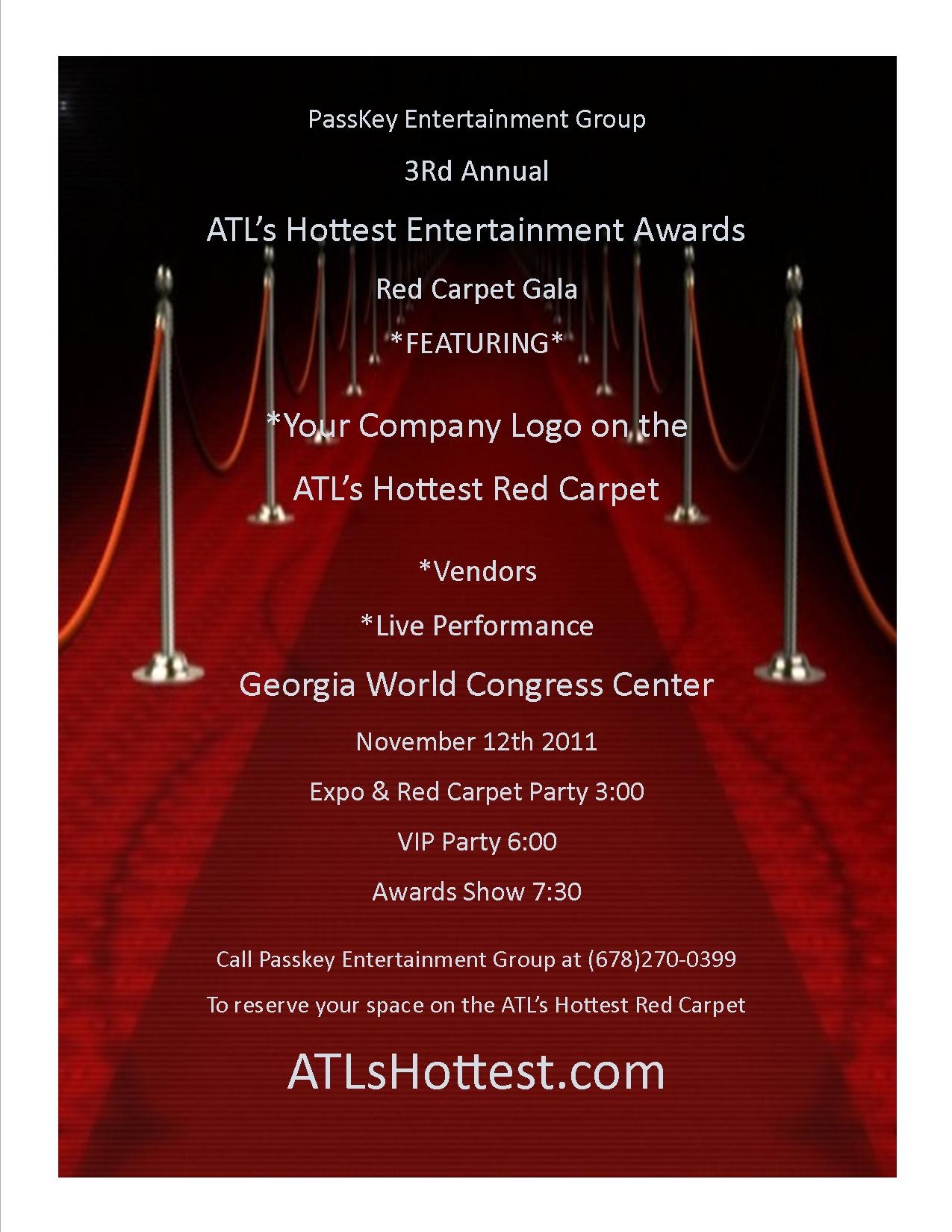 Have questions about YOU'RE INVITED TO THE ATL'S HOTTEST RED CARPET AWARDS EVENT OF THE YEAR! *Accepting Vendors, Artist and Your Logo for The ATL's Hottest Awards Red Carpet Banner for all to see!?
Contact Passkey Entertainment & "What's Hot ATL?"
When & Where

Georgia International Convention Center
Metro Atlanta
Awards Showcase this fall
Atlanta, GA


Saturday, December 1, 2012 from 1:00 PM to 10:30 PM (EST)
Add to my calendar
Organizer
Passkey Entertainment & "What's Hot ATL?"
Its time for the 3rd Annual 'ATL's Hottest Entertainment Awards' 2011. Last year's 'red carpet' event, held at 200 Peachtree Atrium, showed Atlanta that it had an awards showcase that was all about showing the whole country just how much talent the ATL has!
Over 600 people showed up to walk the red carpet just before we honored the 'Hottest' in the city! "ATL's Hottest Entertainment Awards 2011" takes place this fall! It's the awards show that truly bears the name 'ATL's Hottest!
Nominate your favorite venues, artists, promoters, bands, DJ, hosts and more! Log on: http://atlshottest.com today!
Passkey Entertainment is your complete entertainment and event creation company- specializing in creating not just great events but Great Times! We are the creators of the 2009, 2010, and upcoming 2011 ATL's Hottest Entertainment Awards; plus the 8th Annual "Night of Love", and we are the talented producers of the hit stage play "No More Strength".
If you're looking for great networking opportunities with real music and entertainment elite- simply join Passkey Entertainment group online @ www.passkeyentertainment.com What ever you're looking for, Passkey would like to be your 'passkey' to all of your music and entertainment needs. Follow Passkey on twitter @passkeyent.
Black Lion Promotions is the essence and 'Vangaurd of ATL Events' since 2007. Most recent works inlcude: Associate Producer of the 2nd annual ATL'h Hottest Red Carpet (a pre-awards interview and celebrity arrival show); and co-creators of Atlanta's 'Soul Session Sunday'. Black Lion Promotions is exceptional in their ability to organize promotional strategies and concepts. the Vangaurd always take to the front of any movement for change!