Women Leaders at Fast Growth Companies

Thursday, February 2, 2012 from 5:30 PM to 7:30 PM (PST)

Los Angeles, United States
Event Details
Open to the public & men are welcome to attend

Darya Allen-Attar, Broads Circle Founder
P R E S E N T S
Generously sponsored by
---
Panelists: 
DEBORAH BENTON
Chief Operating Officer
ShoeDazzle

BERENICE OFFICER
Chief Financial Officer
DOGSWELL®
JULIE SCHOENFELD
Chief Executive Officer
Perfect Market, Inc.
AN DE VOOGHT
Vice President of Internal Audit (GLOBAL) 
Red Bull GmbH (Parent)
Moderator:
ANGIE L. WILSON
Partner, Ernst & Young LLP

Event Producers:
KATHERINE J. BLAIR
Partner, K&L Gates LLP
ANNE PLECHNER
President, Labyrinth Financial Consulting
---
Panelists:
DEBORAH BENTON
Chief Operating Officer
ShoeDazzle
Deborah Benton is Chief Operating Officer for ShoeDazzle. She is responsible for developing and executing the operational strategy for the company including all sourcing, inventory management, quality control, client services, merchandising and finance, and accounting. 
Prior to joining ShoeDazzle, Benton served as Executive Vice President of Operations and Inside Sales for Teleflora, the leading U.S. florist wire service, where she managed a $100 million P&L, and more than 125 employees across multiple departments. She previously served as Director of Customer Service Strategy as a member of the pre-IPO team at eToys, a pioneering e-commerce retailer.  Benton began her career as a management consultant with the Mitchell Madison Group.
Deborah Benton earned a B.A. in Health Sciences and Master of Business Administration from Queen's University at Kingston, Canada.
BERENICE OFFICER
Chief Financial Officer, DOGSWELL®
As the CFO of DOGSWELL®, Berenice has provided leadership to this innovative company that has more than doubled in size during her tenure. Number 101 on the list of fastest growing companies in America, Los Angeles based DOGSWELL® makes natural pet foods and treats, and is the first company to fortify meat treats with supplements. Successfully managing growth in a difficult economic environment coupled with their unique products is what has put DOGSWELL® on the list of companies to watch in America.
A Chartered Financial Analyst (CFA), Berenice majored in International Business Administration at the American University of Paris, and received her MBA from the University of Southern California. Berenice moved up the ranks as an Assistant Vice President at California Commerce Bank, a subsidiary of Citigroup, and as a Vice President at Plexus Group, a subsidiary of JP Morgan Chase. After working in the public sector for many years, Berenice made the move to the private sector, joining the executive team as the CFO of RealtyTracker.com later becoming Guthy Renker Home, LLC.
When she's not in the DOGSWELL® office, you can find Bere swimming laps in the Pacific or playing with her son Tomas. Bere loves dogs big and small, but none more than her 4-year-old French Mastiff with HAPPY HIPS® named Toro.
JULIE SCHOENFELD
Chief Executive Officer, Perfect Market, Inc.
Julie Schoenfeld is a serial entrepreneur and a founding member and CEO of three successful venture-backed start-ups.  Schoenfeld has raised over $100M in capital for her companies and had an exit of more than $300M for Net Effect, Inc. Julie is currently the CEO of Perfect Market, Inc., a company whose mission is to help traditional publishers compete in the digital world.  Perfect Market is a recognized leader in distributing and monetizing content.  Her company has pioneered techniques using Social Media to drive traffic, generate interest and messaging which have helped customers improve performance over 200%.  Her customer list includes the LA Times, The New York Times, CNN, The Orlando Sentinel, Boston.com to name just a few.  She has raised more than $28M for Perfect Market from tier one venture capitalists as well as strategic partners, Comcast and the Tribune companies.
Schoenfeld is a veteran entrepreneur with a passion for identifying talent and assembling effective teams.  Prior to Idealab spin-out Perfect Market, Julie was a founding member and CEO of two other successful venture-backed startups.  Julie was president-CEO of OEwaves, Inc. from its creation in 2000 to February 2007 and she remains active on OEwaves' board of directors.
Previously, Julie was president-CEO of Net Effect Systems, Inc.  In her 18-month tenure at Net Effect, she raised two rounds of financing from Greylock Management, Trinity Ventures and TL Ventures, built a world-class management team, launched the company and product and sold the company to Ask Jeeves, Inc. for more than $288 million.  Before Net Effect, she was VP of worldwide sales for Stream International, where she grew sales from $30 million to more than $200 million in three years.
A recognized industry spokesperson, she serves on the board of the Young Presidents Organization of Los Angeles (YPOLA).  She also is the president of the Rose Bowl Aquatic Booster Club which provides support to over 400 swimmers including Olympic Athletes in the Southern California area.
Julie holds a B.S. in engineering from Tufts University and an MBA from Harvard Business School.
AN DE VOOGHT
Vice President Of Internal Audit (GLOBAL)
Red Bull GmbH (Parent)
Promoted in 2007, Ms. De Vooght reports to the Global Audit Committee (including Red Bull Owner). In this new role (now held for 4,5 years), she is responsible for Red Bull GmbH's (Parent Company) World-Wide Internal Audit and/ Management Consultancy Department for all regions (Americas, Middle East, Asia, Europe, etc.) and all Red Bull Companies (Beverage, Media Business, Sports Companies, etc.) to examine, evaluate and report on the effectiveness and efficiency of all business processes, procedures and strategies (marketing, sales & distribution, HR, finance, operations, etc.) and provide executive management with recommendations on how to further streamline the existing processes to allow for a solid infrastructure that will enable management to effectively manage the current and future growth of the business.
Ms. De Vooght conducted various Internal Management Consultancy Engagements for the various Red Bull Subsidiaries and Key Partners such as Red Bull Media House, Red Bull Racing (Formula One), Red Bull Air Race, New York Red Bulls (MLS soccer), Red Bull Mexico, Australia, New Zealand, Panama, Colombia, Brazil, Spain, Belgium, Netherlands, Turkey, Hungary, Russia, Ukraine, Asia (Hong Kong, Singapore), UAE, Czech Republic, Slovakia, Egypt, Croatia, India, UK, Ireland, UAE, Middle East & Africa Region, etc.
She is a Project Team Member for the North American Sales & Distribution Assessment Initiative for evaluation of the route-to-market in North America for improved Distribution Partner Management.
Ms. De Vooght established various Global Guidelines for the entire Red Bull Organization including Code of Conduct, Risk Management Guidelines and Distributor Management Guidelines.
Prior to her current role, she was the Vice President of Finance and CFO, USA for RED BULL North America (Beverage Subsidiary) for 9 years in charge of RBNA's Finance Department for the USA while managing a financial growth from $13Mio to $1.3Billion. Prior to working for the Red Bull Company, she was in charge of the Finance & Operations Department at Sony Cinema Products for 3 years and started her business career as an auditor at Price Waterhouse.
She holds a Masters of Business Administration Degree from Marquette University/Antwerp University, Executive Masters Degrees in General & Financial Management from Stanford University and a Bachelors Degree from Antwerp University (Belgium). She is also a certified CIA (Certified Internal Auditor) and speaks 5 languages (Dutch, French, English and basic German & Italian).
---
Moderator: 
ANGIE L. WILSON
Partner, Assurance and Advisory Business Services, Health Sciences
Ernst & Young LLP
Angie is a partner with Ernst & Young in the AABS practice and is a dedicated leader within the Health Sciences Industry Group.  Angie has more than 15 years of Assurance and Advisory Business Services (audit) experience and is specialized in serving public and private clients in the Health Sciences industry.
She has significant experience in serving all sectors of the health sciences industry including pharmaceutical, biotechnology, medical device, hospitals, managed care organizations, pharmacy benefit management companies, long term care and hospice.  Angie has extensive experience serving clients that are SEC registrants, including the direct involvement in numerous IPO's and secondary offerings.  She has also assisted many clients in private placement offerings and merger and acquisition activities.
Angie also leads the inclusiveness and diversity efforts for the Pacific Southwest Area. Some of Angie's current clients include Abraxis BioScience, Inc. (SEC), Peregrine Pharmaceuticals, Inc. (SEC), IPC The Hospitalist Company (SEC), and Pegasus Biologics, Inc.
Angie graduated from the University of Tulsa with a B.S. degree in accounting and from Arizona State University with a Masters of Business Administration.  She is a member of the American Institute of CPAs and the Arizona Society of CPAs.
---
Host: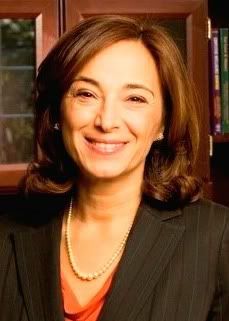 DARYA ALLEN-ATTAR
Founder, Broads Circle
Financial Advisor
Darya founded Broads Circle in 2008 with the goal of creating an exclusive network of senior businesswomen in the Los Angeles area. Broads Circle focuses on MONEY and POWER for women. A "Broad" in our circle is a dynamic, smart, successful woman responsible for driving revenue and growing capital. Our events provide a venue for making high quality revenue connections and are focused on taking women to the next and highest level in business to assume leadership positions. We draw from a wide range of industries, and in fact make a point of holding events which highlight women who lead in all the industries that are well represented in Los Angeles.
With 22 years of experience in financial services, Darya's forte is strategic wealth management for families and foundations. She is a CPA and Personal Financial Specialist (PFS), and obtained her MBA from Fordham University. Darya has taught as an adjunct professor of Finance at New York University and has authored many financial planning articles.  Darya is married with three children, lives in Pacific Palisades, CA, and currently serves on the Board of the Westside YMCA.
Event Producers:
KATHERINE J. BLAIR
Partner, K&L Gates LLP
Ms. Blair is a transactional partner practicing in the areas of corporate, mergers and acquisitions, securities, finance, and general commercial matters. She serves as the managing partner of the Los Angeles Corporate Practice. She has advised both sellers and buyers on a variety of complex transactions, including stock and asset sales, mergers, management and leveraged buy outs, joint ventures, strategic alliances, and reorganizations. She represents companies in the structure, negotiation, diligence, and completion of transactions ranging from several million dollars to more than $500 million. She has worked in a diverse range of industries, such as mortgage banking, consumer and retail goods, internet and telecommunications, foreign manufacturing, biotechnology, and travel.
Ms. Blair also has extensive experience representing companies and underwriters in various corporate finance and capital market transactions, including IPOs, secondary and follow-on offerings, registered direct and at-the-market offerings, reverse mergers, PIPEs, offshore transactions, trust preferred, debt and preferred stock offerings, tenders offers, going private transactions, and venture capital financings.
She advises companies on state and federal regulatory and governance and compliance matters related to the SEC, FINRA, NYSE, NYSE Amex, Nasdaq, state regulators, and other authorities. Ms. Blair also acts as consistent corporate counsel for companies advising them on general corporate matters, including Board and management counseling, disclosure matters and controls, equity compensation, and other business matters.
Ms. Blair received her J.D. from Pepperdine University School of Law (cum laude; American Jurisprudence Award – Remedies; Moot Court Board; Trial Advocacy Tournament Chair; Dean's Merit Scholarship) and her B.A. from University of California, San Diego.
ANNE PLECHNER
President, Labyrinth Financial Consulting
Ms. Plechner is currently president of Labyrinth Financial Consulting. She has over 20 years of experience as a financial and operational leader in a variety of industries but with a focus on Entertainment & Media and Advertising. She has held both CFO and COO positions in a number of companies where her focus has been to drive margins upward, create operational excellence and to work with entrepreneurs and creative executives to execute strategic initiatives and reach company profitability goals.
Most recently, Ms. Plechner held the position of COO at Craig Murray Productions (recently re-branded as mOcean Advertising) which is one of the largest Entertainment Creative Advertising agencies in Los Angeles.  In this role, she negotiated client fee arrangements, implemented new financial systems to greatly improve operational information and support, reduced working capital needs and negotiated the acquisition of an internet based advertising company.
As the most senior "business executive", she worked closely with the creative executives to significantly improve profitability while maintaining the creative excellence and culture of the company.  Additionally, she provided leadership and management of all finance, human resource and IT functions.
Prior to Craig Murray Productions, Ms. Plechner held finance and operations positions at Sony Pictures Entertainment, Deloitte Consulting and has also been a principal in a consulting practice providing interim CFO services.  She received her Bachelor's degree in Economics from UCLA and her MBA from the Anderson Graduate School of Management at UCLA.
---
AGENDA 
5:30-6:30 pm  Networking and Cocktail Reception
6:30-7:20 pm  Moderated Panel Discussion
7:20-7:30 pm  Q&A and Closing Comments
Private Premium Members Dinner immediately follows cocktail event (by invitation only).

REGISTRATION
This event is by invitation only and guaranteed seating is limited to the first 100 guests who confirm registration by purchasing an event ticket above.
Event Date: February 2, 2012 from 5:30 pm to 7:30 pm

Event Location: Luxe Sunset Hotel (see map at right)

Event Fee: $60 per person during Early Bird Registration by Jan 5, 2012;
regular registration is $75 per person.

There will be no at-the-door tickets issued for this event. If you plan to attend, you MUST register by purchasing a ticket above.
Registration by Invitation - Please print out your confirmation of registration and bring it with you to the event.  
Questions or problems with registration?  Contact kim@broadscircle.com for assistance.
There will be no refunds issued for this event.
MEMBERSHIP
Membership in Broads Circle is by application and approval ONLY.
If you are interested in becoming a member, please submit your request including your full contact information to  kim@broadscircle.com.
---
Broads Circle Advisory Board 
DARYA ALLEN-ATTAR, Financial Advisor, Founder and Chairman
CHERYL A. CALHOUN
Managing Director, CBIZ Accounting, Tax & Advisory Services, LLC
JOY CHUDACOFF, Founder, Smart Women Smart Solutions
Coaching and Consulting Services for Women
FAY FEENEY, CSP, ARM
CEO, Risk for Good
CAROL GEFFNER, PhD
CEO, ArpegioHealth, LLC
DANA HOLLINGER, J.D.
The Dana Hollinger Group
JOCELYN TETEL
Vice President Advancement, Skirball Cultural Center
LINDA WHALEN
Associate Director of Communications, Ernst & Young LLP
TRACY WILLIAMS, President & CEO
Olmstead Williams Communications, Inc.
---
Special thanks to our sponsor:
Ernst & Young is a global leader in assurance, tax, transaction and advisory services. Worldwide, our 141,000 people are united by our shared values and an unwavering commitment to quality. We make a difference by helping our people, our clients and our wider communities achieve their potential.
Ernst & Young refers to the global organization of member firms of Ernst & Young Global Limited, each of which is a separate legal entity. Ernst & Young Global Limited, a UK company limited by guarantee, does not provide services to clients. For more information about our organization, please visit www.ey.com.
You may also contact:
Angie L. Wilson, Partner, Ernst & Young LLP
Email: angie.wilson@ey.com
Office: +1 213 977 4269
Attendee List
Sort by:

Date

|

First Name

|

Last Name
When & Where
11461 Sunset Boulevard


Los Angeles

, 90049


Thursday, February 2, 2012 from 5:30 PM to 7:30 PM (PST)
Add to my calendar
Organizer
Broads Circle
Driving Revenue and 
Growing Capital for Women
Broads Circle is a professional business networking group that is all about MONEY and POWER for WOMEN. We bring together the smartest, most successful women in Los Angeles for our events.
Visit us online at:
www.BroadsCircle.com