WOMEN IN LEADERSHIP: "Unlocking the Power of Women to Change the World"

Saturday, March 30, 2013 from 12:00 PM to 5:30 PM (MST)

Tempe, AZ
Who's Going
Loading your connections...
Event Details
Important Information for Summit Day:
The summit is tomorrow, and we hope you are as excited as we are! So that the day can go smoothly, please take a minute to review the following important information:  
PARKING
Free parking is available for visitors in the Apache Blvd. Parking Structure, located at College Ave and Apache Blvd. The visitor's entrance is located on the North side of the garage.
CHECK-IN
Check-in begins at 11:00 AM and the summit will begin promptly at 12:00 in the Ventana Ballroom. Please arrive early so that there is ample time for everybody to be seated and find food.
IMPORTANT: All attendees MUST bring their printed Registration Summary (ticket) from Eventbrite OR check-in with the mobile app to be admitted to the summit.
For those with keynote only tickets: Sheryl WuDunn will be speaking at 2:00 p.m. Please arrive by 1:40 p.m. for check-in so that we can seat you with minimal disruption to the summit.
LUNCH AND REFRESHMENTS
Lunch and refreshments for registered, full-day participants will be served buffet style from 11:30 a.m.-1:45 p.m during the summit. There is no lunch break scheduled, so feel free to get food at any time and then return to your seat.
BRING CASH!
1.       The summit is free, but you will want cash on hand. Here's why: 
2.        1. To purchase your copy of Half the Sky: You can purchase your own paperback copy of Half the Sky for only $15.95 and get it signed by Sheryl WuDunn the very next minute. Cash OR credit will be accepted by the bookseller.
        2. To make a donation: Woman as Hero will be collecting donations and selling t-shirts to benefit the International Rescue Committe (IRC), (one of the organizations featured in Half the Sky). You may want to donate to one of the organizations featured in other speaker's presentations.
        3. To support tabling organizations: There will be eight student, non-profit, and community groups who you will definitely want to check out. If one captures your interest, you can show it to them by making a donation or purchasing products they may have for sale.
#WOMANITY2013
As the summit progresses, we invite you to keep the online dialogue going by tweeting or sharing your thoughts and reactions to the summit with the tag #womanity2013
RECOMMENDED ATTIRE
We recommend business casual... but we certainly won't kick you out for wearing jeans :)
Thank you, and we look forward to seeing you on Saturday!
If you have any questions, please email womanashero@gmail.com.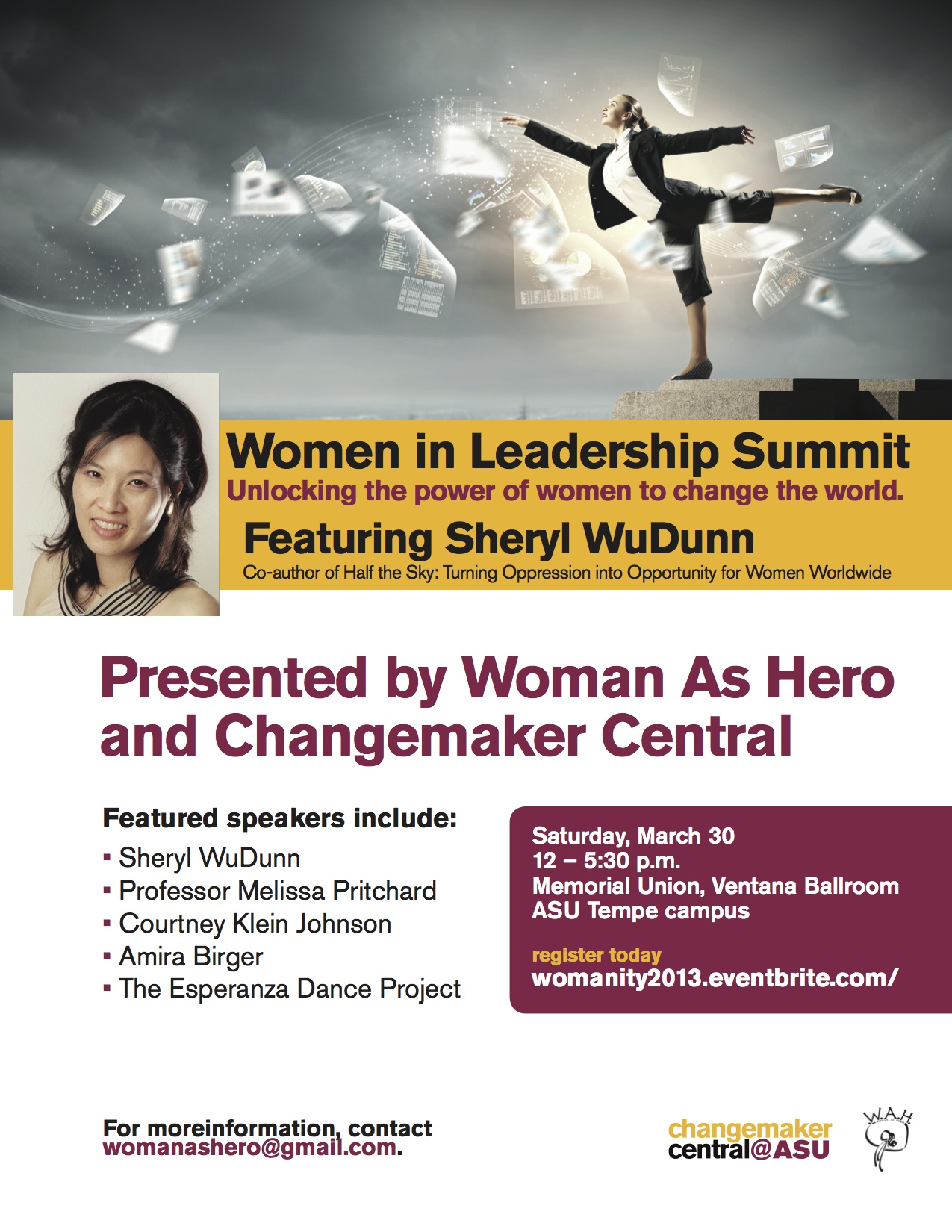 Womanity2013 will support and encourage female leadership by inspiring and motivating participants to become leaders and activists in their communities. If you attend the summit, you will:
Learn from inspiring presenters who are dynamic female leaders and activists in a multitude of fields

Network with successful women in a variety of careers and disciplines

Engage in a meaningful dialogue about the importance of female leadership, the challenges inhibiting its growth, and how we can encourage female leadership on a local, national, and global scale

Leave empowered to take on leadership in their own disciplines and their local and global communities
Date and Time: 12 p.m.-5:30 p.m. on Saturday, March 30, 2013
Registration begins at 11:00 a.m.

Refreshments and food will be served for full-day participants from 11:30 a.m.—2 p.m. in the Ventana Ballroom.

Keynote at 2 p.m.
Book Signing and Sales at 3 p.m. in MU 242 La Paz. Books are sold for $15.95.

Location: The Ventana Ballroom, located on the second floor of the Memorial Union on Arizona State University's Tempe campus
Presenters:
We are thrilled to welcome an exceptional panel of presentors to Womanity this year. From artists to entrepreneurs, journalists to social workers, these women are proof that leadership for social change transcends boundaries of career or discipline. Read on to learn more about these exceptional women and their work for change in the world.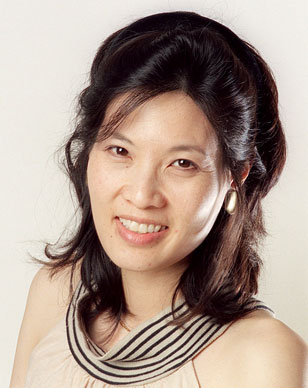 Keynote Speaker Sheryl WuDunn: Sheryl WuDunn is a globally recognized as one of the most prominent voices for women's rights today. Ms. WuDunn is the author of the award-winning book Half The Sky: Turning Oppression into Opportunity for Women Worldwide; the Senior Managing Director of Mid-Market Securities and President of Triple Edge, two social investment and consulting firms specializing in companies run by women; the Pulitzer Prize winner for Asia: Thunder from the East and China Wakes, co-authored with her husband Nicholas Kristof, and a Senior Fellow at Yale University, with a focus on China's global role.
She says: "One of the best ways to fight poverty and fight terrorism is to educate girls and bring them into the formal workforce."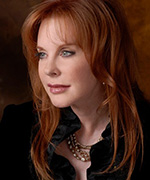 Dr. Melissa Pritchard:
A professor of English and Women's Studies at ASU, 

Dr. Pritchard has received numerous awards and accolades for her work as an educator, activist, journalist, and author. Pritchard

 worked in 2009 as an embedded journalist with five female soldiers in Afghanistan, an experience which profoundly affected her. Four months after her return to the U.S., Sr. Airman Ashton Goodman, one of the five soldiers and a fierce advocate for Afghan women's rights, was killed by an IED. In her memory, Dr. Pritchard  founded the 
Ashton Goodman Fund to support the Afghan Women's Writing Project, an award-winning online mentoring program that connects women from Afghanistan to women writers in the U.S., allowing Afgan women's voices to be heard.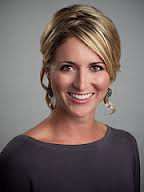 Courtney Klein Johnson: 
Courtney Klein Johnson is an Arizona native and graduate of Arizona State University's Barrett Honors College, where she received her undergraduate and Master's degree in Nonprofit Management. She is the founder of New Global Citizens, a nonprofit organization that enables youth to engage as global citizens, leaders, advocates, and change agents, and co-founder of SEEDSPOT, a nonprofit incubator focused on supporting innovative social entrepreneurs in Arizona creating high impact ventures to improve the lives of people and communities on a local, national, or global scale.
 Ms. Johnson has been named "One of 12 Women Who Move the Valley" by Arizona Foothills Magazine and "One of 20 Woman to Change Arizona by 2020" by Arizona Woman Magazine and the Arizona Republic. She is the recipient of the first Athena Award for young professionals and has been honored as a "Power Generation Up-and-Coming Leader" by the Phoenix Business Journal's Power Book.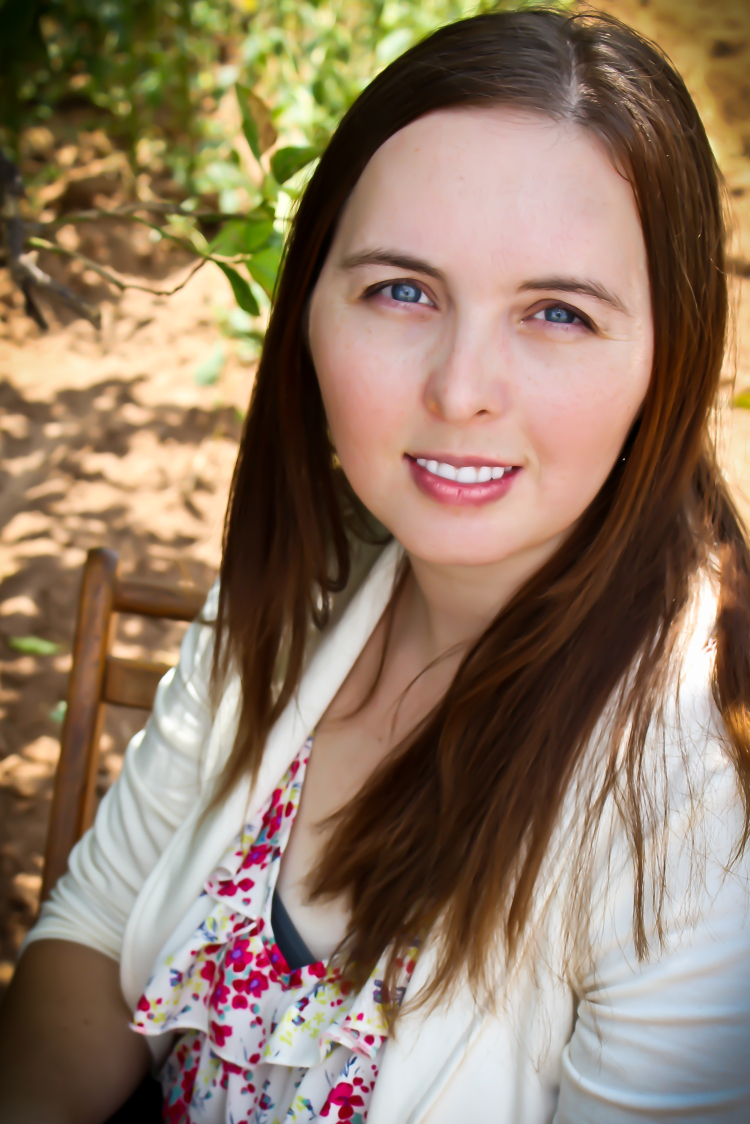 Amira Birger:
A
 survivor of sexual abuse, homelessness, and childhood sex trafficking, Amira is now living a full life as a victim's advocate, wife, and mother, pursuing a Master's in Social Work with a Minor in 
Women and Gender Studies
. Stepping out with new-found healing, courage, and strength, Amira is sharing her story with a passion to educate, mentor and empower people who have been traumatized from the dehumanizing acts of sexual abuse.
 In addition to her work as an advocate and speaker, Ms. Birger worked with the organization Mending the Soul to develop a curriculum to help victims of sexual abuse and exploitation find healing and recovery.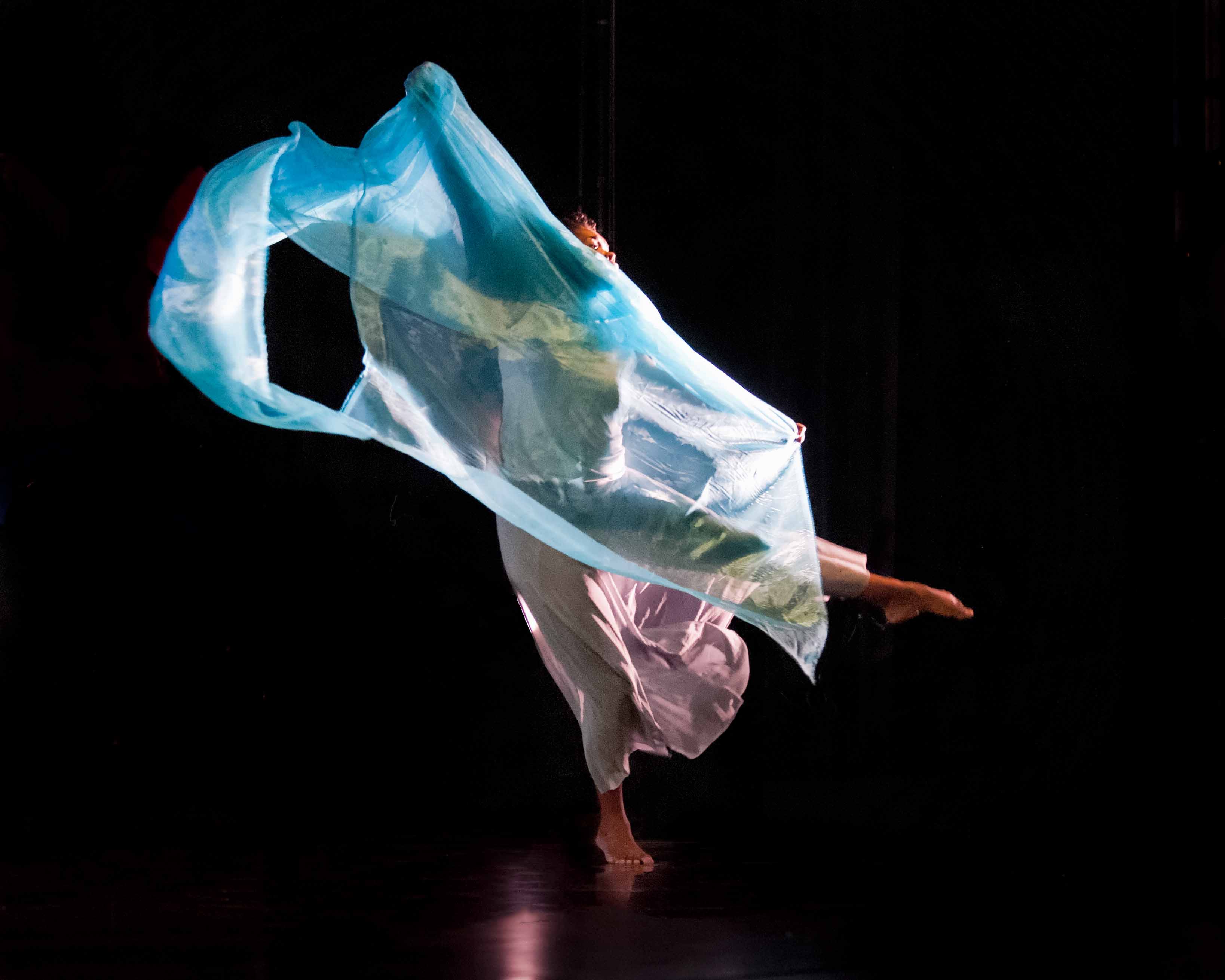 Beth Braun and the Esperanza Dance Project:
Led by Artistic Director and founder Beth Braun, the Esperanza Dance project raises awareness about childhood sexual violence and delivers a message of hope, strength and empowerment to audiences through high school multimedia performance tours in Arizona. The project is a multimedia collaboration of dance, music, spoken word, and visual art involving

 more than 25 teen and adult dancers, artists, writers and performers of diverse ethnicities, genders, backgrounds, artistic training, abilities and ages. It's

 Board is made up of individuals representing a range of knowledge, including dance, mental health, business, art, and creative writing.

 EDP is a powerful example of the arts' role in promoting social change and empowering young leaders.
Have questions about WOMEN IN LEADERSHIP: "Unlocking the Power of Women to Change the World"?
Contact Woman as Hero
When & Where


Memorial Union, Ventana Ballroom, ASU Tempe Campus
301 E. Orange Mall


Tempe

,

AZ

85281


Saturday, March 30, 2013 from 12:00 PM to 5:30 PM (MST)
Add to my calendar
Thursday, March 21, 2013 - 1:25 PM
For a list of where to park on campus for visitors, please see the link: https://cfo.asu.edu/pts-visitor-tempe. Saturdays should be free!
Friday, March 15, 2013 - 8:18 PM
Let's keep the dialogue going online during the summit! Share speaker quotes, your reactions, and thoughts on Twitter: #womanity2013
Tuesday, March 5, 2013 - 11:48 PM
The official Womanity2013 summit schedule has been released! Check it out:
Women in Leadership: Unlocking the Power of Women to Change the World
Official Summit Schedule
11:00 am - 12:00 pm: Check-in
Visit tabling organizations; Food; Networking; Seating
12:00-12:10 pm: Welcome & Introduction
12:10-12:50 pm Opening Speaker Courtney Klein Johnson- "Journey of a Dream"
Focus on: Entrepreneurship
1:00-1:50 pm: Dr. Melissa Pritchard- "The Rose: A Hero's Journey"
Focus on: Journalism, Afghan Women's rights
2:00-3:00 pm: Keynote Speaker Sheryl WuDunn- "Half the Sky"
Focus on: Global women's empowerment
3:00-3:45 pm: Break
Book Signing with Sheryl WuDunn in MU 242 La Paz; Networking
3:50-4:30 p.m. Amira Birger, "Mending the Soul"
Focus on: Social work, sexual abuse/trafficking
4:35-5:15 p.m. Beth Braun, "Esperanza Dance Project: Performing Hope"
Focus on: Art for social change
5:15-5:30 p.m. Wrap up
5:30 p.m. Summit concludes
Wednesday, January 30, 2013 - 12:58 AM
We are excited to announce our keynote speaker: Sheryl WuDunn, Pulitzer Prize-winning journalist, business executive, entrepreneur, and best-selling author of Half the Sky: Turning Oppression into Opportunity for Women Worldwide.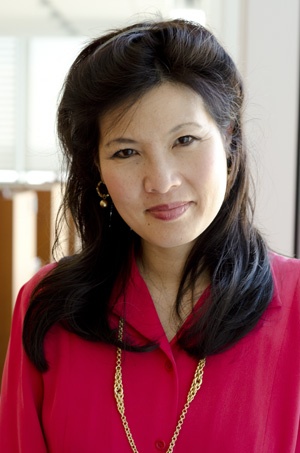 Ms. WuDunn has special expertise in Asia, entrepreneurship, global women's issues, and philanthropy. As an investment banker, she currently helps growth companies, including those operating in the fields of new media technology, entertainment, social media, healthcare, and the emerging markets, in particular, China.
    WuDunn is co-author of three best-selling books. The most recent, co-authored with her husband Nicholas Kristof, is Half the Sky: Turning Oppression into Opportunity for Women Worldwide, called "a gripping call to conscience" against the global oppression of women (Irshad Manji, The New York Times). 
Learn more about her here.