West Point LEADS Atlanta Fall 2016

Friday, October 28, 2016 from 9:30 AM to 4:30 PM (EDT)
Event Details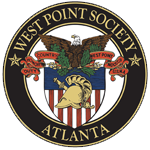 The West Point Leadership Ethics And Diversity in STEM (LEADS) Workshop 2016
Hosted by: Atlanta Public Schools, APS JROTC and The West Point Society of Atlanta
Partners for the Event: West Point Center For Leadership and Diversity in STEM (CLD STEM); Chick-Fil-A, West Point Diversity Office, Army Research Lab, West Point Admissions, North Atlanta High School, West Point National Society of Black Engineers, United States Corps of Cadets, Atlanta Public Schools JROTC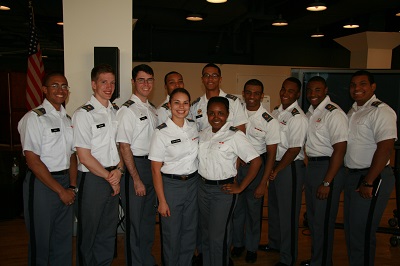 West Point Cadets from the United States Corps Of Cadets
 Our Agenda:
 0930-1030  Registration/Check-In
1030-1130  Opening/Overview/Keynote Address/Cadet Intro
1130-1200  Working Lunch
1200-1515  Breakout/Competition      
1515-1630   Final Plenary Session
1630           End of Workshop
West Point Senior Representative:  Colonel Deborah McDonald, Director of Admissions, Army West Point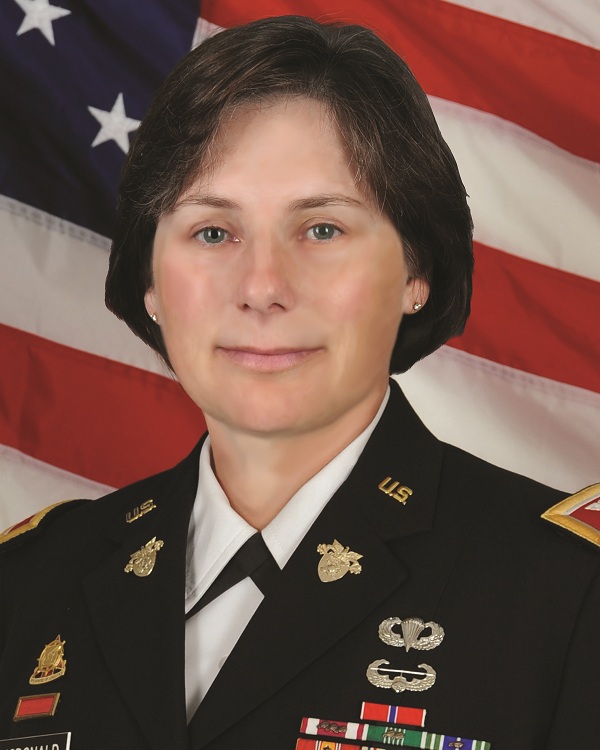 Colonel Deborah McDonald, Director of West Point Admissions, will share her experience and expertise about the key to being admitted to top tier colleges like the service academies.
Keynote Speaker:  TBA
Registration:  Registration  opens  22 September 2016 and close when we reach workshop capacity or 21 OCT 2016 at 10 AM.  Registration is first come first served.  Registration Check-in is from 09:30 AM to 10:30 AM on 28 October.  Turn in your photo release form.  If you need registration assistance, contact the LEADS workshop registrar, Ms. Gwen Powell, at 404-802-5885
or ghpowell@atlanta.k12.ga.us/Atlanta Public Schools JROTC Headquarters.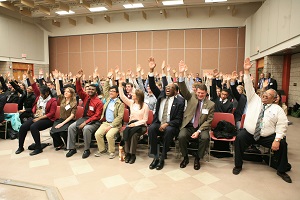 Opening Plenary Session
Opening Plenary Session:  Be seated in the auditorium, by team, at 1030. You will receive your team designation at check in. Be prepared for a fast-paced event.  The information at the plenary sesson will help you compete well.  As all good leaders, bring your spirit and your respect; compete to learn and to win.
Working Lunch: For the third year, Chick-Fil-A Foundation will support the workshop with lunch.  Thank YOU!! Designated students will pick up team lunches and participants will enjoy lunch while working.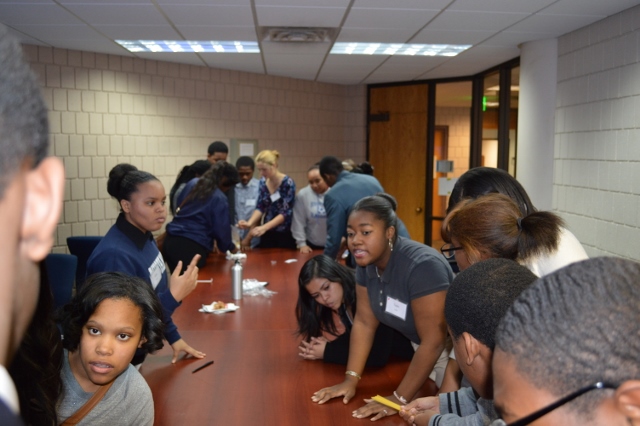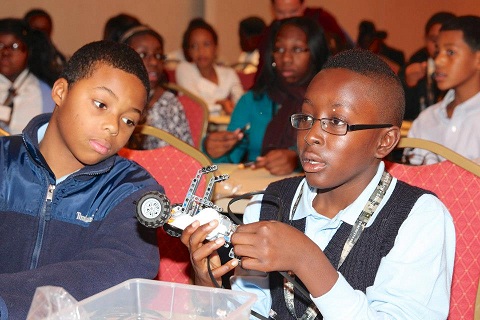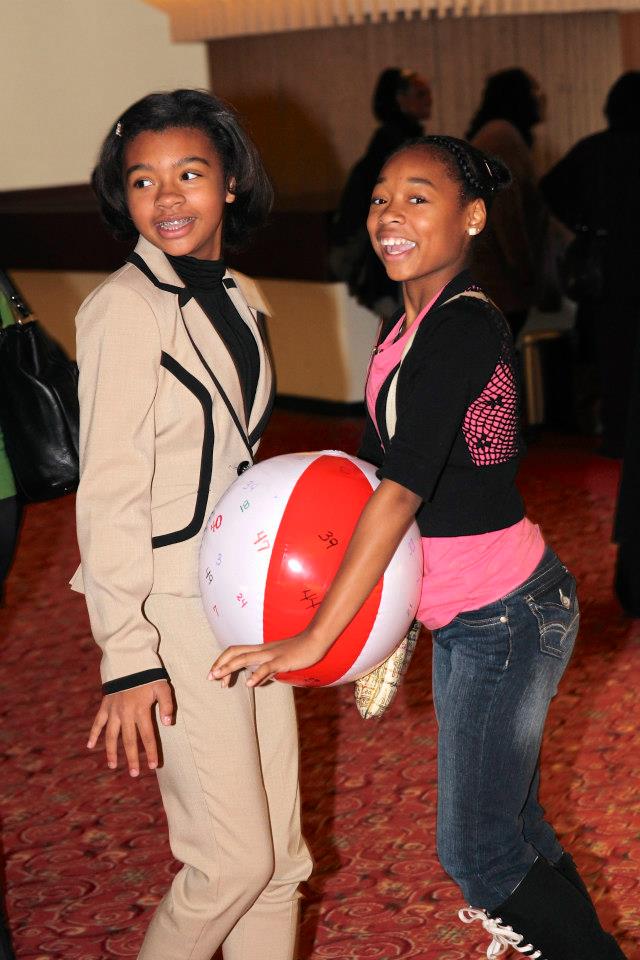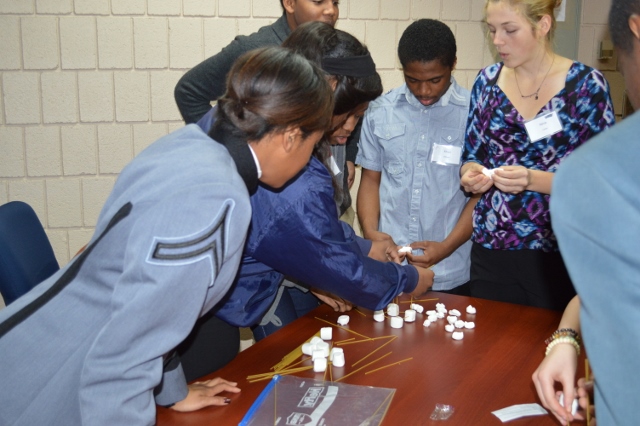 Students Engaged in Team Breakout Sessions
Breakout Sessions/Competition: The workshop challenges the leadership talent of students by requiring them to integrate and bond their diverse teams of students to compete, learn and win with their best lessons-learned or a solution to an ethical dilemma. CompetitionTeams must present thier learning to the audience in a presentation not to exceed two minutes.  The winner will be selected by your audience "peers."
         *Honorable Living:  Understanding the basics of making ethical decisions is one of the foundations of honorable living.  It requires development of character and values.  They starts with developing moral habits with good choices. Depart the workshop ready to share your exemplary leadership with your schoolmates and neighbors.
        *Requirements:  This LEADS workshop is free for Metro Atlanta region 7th thru 12th grade students with excellent academics and demonstrated leadership potential.  Transportation to and from the workshop is the responsibility of schools or designated escorts.      Schools/Organizations may nominate outstanding students from 7th thru 12th grade and there must be at least one responsibel educator escort in the school cohort who will participates in the educators' workshop and remain on site.  Those participants successfully completing the workshop will receive certificates of achievement. The event will be filmed and photographed.  We assume permission to photograph by your attendance.  Bring your Talent Media Release Form with you. (Form is at hyperlink.)   
        *Photography: The competition workshop will be photographed and filmed all day. Recommend we all keep our hair and attire picture ready. For your information, we retain only those photos that show students in the most favorable postures.  We are looking for action shots with truly engaged students.  Please avoid photo bombing.
        *Dress Code: Dress as a leader. Note the students in the photo below. Use the business casual dress code as a guide.  There will be moderate floor work, stage work, and walking, comfortable shoes and modest clothes are encouraged.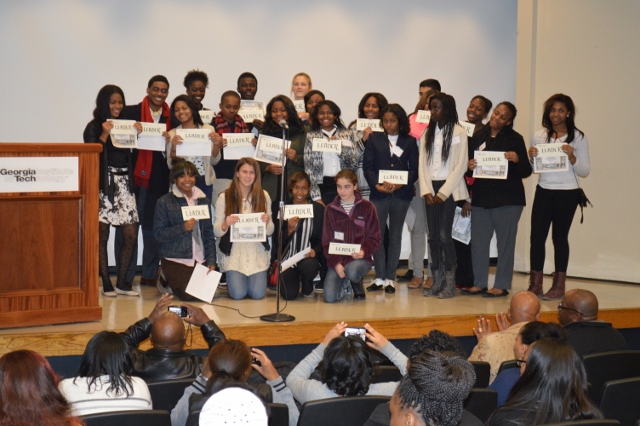 Atlanta Students Selected as "Leader Among Leaders"
Competition:  Our focus is to engage students  in STEM activities integrated within Leadership Ethics. We have found that a highly-effective way to reinforce learning is to compete.  High School students will compete in Leadership Ethics activities, and Middle School Students will compete in STEM activities led by the West Point CLD STEM Team. We will have winners of teambuilding/icebrakers, "Write For Your Life" (WFYL) Short Essay, Leader Among Leaders (LAL), STEM Competition Winners and the Overall Leadership Team Winner.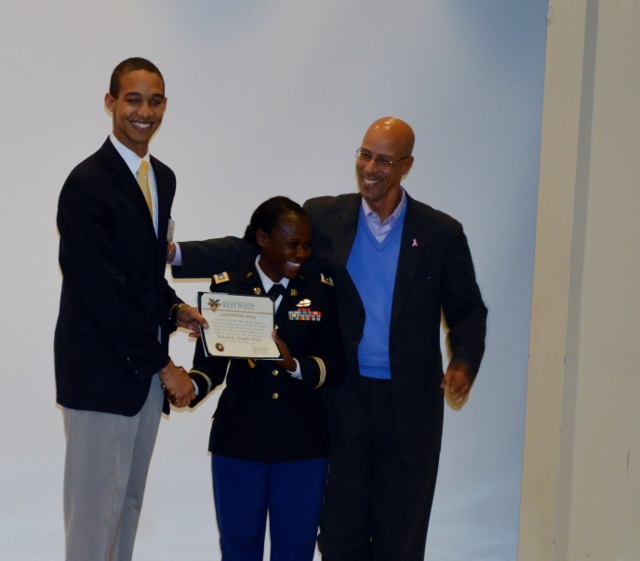 Final Plenary Session: Announcements and Updates, Team Presentations, Individual and Team Winners, Words of Wisdom, Call To Action, Closing of the Session.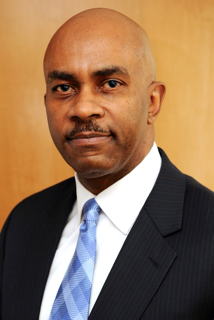 Mr. Joe Perdue (Left): Mr. Perdue is the Chairman of the 2016 West Point LEADS Workshop in Atlanta.  He comments, "We need this.  Leadership, ethics and diversity are critical to our success as a nation," says Mr. Joe Perdue, West Point Class of 1989.  "We have fallen behind other countries in STEM.  The West Point Society of Atlanta is pleased to host this important workshop."  Mr. Perdue is a a Financial Advisor with Morgan Stanley Wealth Management in the Greater Atlanta Area, a Gulf War Veteran and Immediate Past President of the West Point Society of Atlanta.  http://www.linkedin.com/in/joeperdue.
Major General (R) Ron Johnson(Right) is the Atlanta LEADS workshop senior advisor and Master Of Ceremonies.  He is a member of the West Point Class of 1976, a former Deputy Commanding General,  former Deputy Chief of the Army Corps of Engineers and former Senior Vice President of the NBA.  MG Ronald L. Johnson is a Professor of the Practice in Industrial & Systems Engineering at the Georgia Institute of Technology.    
Video:  High School
Educators Workshop:  Educators attending as escorts will enjoy a workshop conducted by outstanding experts. Plan to alternate between exercise, activity and speakers.  Planned speakers:  Dr. Patrice Benson, Army Research Laboratories, speaking on highly competitive programs, supporting academic excellence, Colonel Deborah McDonald, Director, United States Military Academy, West Point. Dr. Tony Johnson, Director, West Point Center for Leadership and Diversity in STEM and most importantly, the Cadet Panel. You will have an opportunity to exchange "best practices" in education, exercise your ethics muscles, sharpen your your leadership skills.
Pertinent Links:
2016 Voting Ballot and Feedback
2016 Memorandum of Information
2016 Atlanta LEADS Program Booklet

2016 Atlanta LEADS Program Vignettes
2016 Atlanta LEADS Program WFYL Competition
Atlanta LEADS Program LAL Assessment 360
Video of America's Academy 
LEADS Video
Leadership and Ethics Video 
West Point Math STEM Center Facebook 
West Point Center for Leadership and Diversity in STEM Education (CLD-STEM) West Point Math Department
March 2013 Day 1 - West Point LEADS Video 
March 2013 Day 2 - West Point LEADS Video
2014 Summer Leader Experience 
Upcoming STEM Camp at West Point (Camp Applications Open Spring 2017)
Donations:  For those patrons, businesses and organizations in our local, regional and national communities, who are dedicated to promoting strong competent citizens of character, we invite you to support this event by making a contribution.  Send your check payable to the John R. Petty, Sr. Foundation, and mail it to the West Point Society of Atlanta, PO Box 492511, Atlanta, Georgia, 30349.  For more information, you may click on "Contact the West Point Society of Atlanta" or call Mr. Joe Perdue, Past President of the West Point Society of Atlanta 678-734-9144
or Joe.perdue@ms.com, or Pat Locke at 703-409-2395
/ patlocke@aol.com.
Thank You for your consideration.  We look forward to seeing you at this workshop!
Save This Event
When & Where

North Atlanta High School
4111 Northside Parkway
Atlanta, GA 30327


Friday, October 28, 2016 from 9:30 AM to 4:30 PM (EDT)
Add to my calendar
Organizer
West Point Society of Atlanta
The West Point Society of Atlanta has the mission to promote the United States Military Academy through service in the local community, including the recognition and support of young leaders through its charitable arm, the John R. Petty, Jr. Foundation, a 501(c)3 organization. Graduates throughout Metro Atlanta continue to inspire and mentor candidates interested in attending the United States Military Academy.
West Point LEADS Atlanta Fall 2016