We Train You Seminar - Dental Handpiece Lab Practice

Sunday, July 13, 2014 from 9:00 AM to 5:00 PM (PDT)
Who's Going
Loading your connections...
3 of your friends are going.
Share it to get more people on board!
Share
Sara Haughty
San Francisco, California
Luke Picard
London, United Kingdom
Rick Vespucio
Florence, Italy
Event Details

Read more or sign up at www.WeTrainYouSeminar.com. 

Telephone:  888.674.6657
E-mail:         seminar@wetrainyouseminar.com
Fax:               800.737.0795
All Seminars Include:
Repair Manuals & flash drive


Certification in Dental Handpiece Sales & Repair

6 months of Free E-mail Technical & Sales Support

A Simple Checksheet on Things To Do Before Opening
Orion Dental is the world's largest provider of dental handpiece training with previous people trained from the USA, Canada, Mexico, Guyana, England, Ireland, Scotland, Belgium, France, Italy, India, Thailand, S. Korea and Australia. We provide private training courses and group seminars in Las Vegas, Atlantic City and London. We train people how to open a dental sales and repair center which is a business with low start up costs, high demand, immediate cash flow, can be home based, recession proof, easy to learn, easy to operate, worldwide demand, stable, fun and can be operated full or part time. We offer a 4 daily seminars at the New York New York from November 14-17, 2013 which includes a sales/marketing seminar, a highspeed dental handpiece repair seminar and a lowspeed repair seminar. We have Early Bird Discounts, multiple person discounts and military discounts. These seminars offer a 75% savings versus our private courses. Space is limited and we will sell out at the Las Vegas Seminar. These seminars are also provided for dental clinics, dental labs, dental schools and VA/military dental clinics.         
You can come for all 4 days or select the days that fit your needs.
FAQs
What can/can't I bring to the event?
Pens/Pencils/Paper/Notebook

Laptop and/or PDA

Camera

No video or recording devices
Where can I contact the organizer with any questions?
Paul Laird, CEO, Orion Dental Sales, Training & Repair
           Email: seminar@orionrepair.com
           Telephone: 888.674.6657
           Fax: 800.737.0795
Is my registration/ticket transferrable?
Yes. Please, mail or fax a written statement with a signature included.
Can I update my registration information?
Yes. Please, mail or fax a written statement with a signature included.
Do I have to bring my printed ticket to the event?
The name on the registration/ticket doesn't match the attendee. Is that okay?
No. Unless, prior written notification is received at least 14 days prior to event. Please, mail or fax a written statement with a signature included.
We believe in great customer service, good planning, hard work and long term relationships.
Positives of our Business Training Courses in Dental Handpiece Sales & Repair
 

No geographical restrictions

 

Compare us to the Franchisers

Can be run part or full time
Heat Sterilization of Dental Handpieces
FDA Medical Bulletin
Food and Drug Administration
FDA recommends that reusable dental drill handpieces and related instruments (such as air or water syringes and ultrasonic scalers) be heat-sterilized between patients to reduce the risk of disease transmission. If a handpiece cannot withstand heat sterilization, it should be retrofitted to increase heat tolerance and then sterilized. If this can't be done, the handpiece should no longer be used. Chemical disinfection is not recommended. Although no documented cases of disease transmission have been associated with contaminated dental handpieces, the American Dental Association also recommends sterilization of these instruments between patients. The Centers for Disease Control and Prevention also recommends that dental handpieces be autoclaved or replaced if they are not currently heat-stable.
Practice Innovations - Handpieces
DPR Magazine
The dental handpiece is probably the most often-purchased piece of major equipment in general dental practices, according to the results of DPR reader surveys over the past 10 years or so. First, on a daily basis, it's obviously the most used piece of equipment. And, because handpieces now are subjected to regular sterilization, they require replacement more frequently. In fact, this has been the greatest challenge recently for handpiece manufacturers – developing a handpiece that can withstand the rigors of repeated exposure to steam and heat. Design refinements in fiberoptics, bearings, and other internal components, as well as the use of corrosion-resistant materials, have significantly improved handpiece efficiency and longevity along with comfort and ease of use. This improvement effort continues to be a work in progress.
DPR's Editors
"Increasing use of heat sterilization of dental instruments, which tends to break down the components, has resulted in a greater need for handpiece repair globally."
— Donna Demerling, president, Timken Aerospace and Super Precision
With the advent of routine handpiece sterilization as mandated by the FDA in 1993, handpiece repair became a burning issue as the degrading effects of repeated heat processing reduced handpiece life.
//
When & Where

Loews Royal Pacific
6300 Hollywood Way
Orlando, FL 32819


Sunday, July 13, 2014 from 9:00 AM to 5:00 PM (PDT)
Add to my calendar
Organizer
Orion Dental Sales, Training & Repair
The World's Largest Supplier of Dental Handpiece Training
We have trained people from all walks of life who have never had any dental experience in the past. In addition, we have trained people;
that offer dental handpiece training

hospital biomedical tecnicians

Patterson Supply house representatives
We provide private training courses and group seminars in Las Vegas, Atlantic City and London.  The We Train You Seminars, www.wetrainyouseminar.com, offer a 75% savings versus our private courses.  Space is limited and we will sell out.
These seminars are also provided for;
 dental clinics

 dental labs

 dental schools

 VA/military dental clinics
Testimonials 
I want to say what a great experience it was to attend your school. The course was thorough, well thought out & very informative. You took me from knowing nothing about handpiece repair to a point where I am motivated to get my business started. Now that I am home & getting the workshop area set up I see how much effort you put into selecting all the right tools & equipment. Thank you for everything.
Dave H., USA
I went with my instinct and traveled from CA to WA - ORION & PAUL DID NOT DISAPPOINT ME! The training was very informative, fun and with a very friendly atmosphere. Orion Repair will make sure you'll leave with confidence. You'll even hear him in your sleep after the training from all the information he'll provide you. You will not forget the repair mechanics as he'll keep on reviewing the steps until you are comfortable with it.
Mark C., USA
We couldn't imagine a better tutor, nor a nicer welcome. There is only one "but" ; I can't get rid of that little voice in my head eternally repeating things like ; "You snug a little, you tug a little, tap tap tap, 5-6 minutes in the electrosonic." I can go on for hours like this. Be sure we won't forget, the drill became a habit and we're full of confidence to launch the business.
William G., Europe
Hi Paul and Amanda,
The tools arrived on Saturday. I am setting up and taking inventory today and tomorrow. Looks great so far! At night I am doing overhauls in my head and working on sales pitch. There's a mini Paul on my shoulder telling me what to do. And thanks for sending my glasses.
Jim D., USA
Hello Paul and Amanda:
Good evening!
I made it home safe and on time last night. I went straight to the airport from Port Orchard - just couldn't wait to see my family. I did enjoy reading the binders you've provided and time went by quickly. I will be very busy this week and will try and get my mailers out quickly. 
I am very thankful to you and Amanda for making this so easy and comfortably for me. The training was great and couldn't think of any improvement you can do, I'll rate it a 10 out of 10. I left Port Orchard with a big smile surpassing my expectations. My wife and I are very grateful, THANK YOU very much!!! 
Paul, at the moment I have no questions for you and will raise one when it comes up and of course I will update you with my progress. 
Thanks Paul! 
Please extend my regards to Amanda and the kids. 
Best regards,
Steve
Thursday, February 14, 2008 7:02 PM
Subject: Reached home safe
Dear Paul and Amanda,
I was back home yesterday night after a smooth journey. Just wish to put a little note of thanks for your help and guidance. It was a great pleasure to meet and train with you.
It proved to be a great experience for me to learn from you guys! I appreciate your kindness and generosity.
I bought QuickBooks today on my way from work. I will keep you posted as it progresses.
Thank you very much.
Kindest regards,
Jay
Subject: Arrived in BKK
Dear Paul & Amanda,
After an exhausting long lasting flight I arrived BKK last night. As we expected it was a little bit fun to pass the securities in US and in Japan with my handpress, endless questions for what do I use this press. I decided to tell them for watch making, they all were satisfied and I could pass at least.
Today I got my yellow pages and again I couldn't find a handpiece repair and sales business in BKK, I found dentist tools and equipment dealer. Okay it makes me happy, but its still unbelievable that such a work hasn't set up before.
My first meeting with a graphic shop to make all my business papers, and on Monday next week we have our first meeting about there concept, that's in time, because I have to fly to Germany by March 23rd.
Thank you again.
Johannes 
----- Original Message -----
From: Frank
To: Orion Repair
Sent: Tuesday, March 24, 2009 10:40 AM
Subject: Handpiece Training
Hi Paul:
How are you? Hope all is well.
One of the other companies that trains people is very close by, and I met with them. He is 65 miles from where I live. I almost bought his training and at the last minute of researching I saw yours which is a better deal, in my opinion. I enjoyed your training, and the business is going well.
Regards to Amanda and kids.
Kind regards,
Frank 
Dear both of you,
Once again I have to say thank you very much for your kind hospitality. And I would be happy to offer myself for you as a reference. I would be glad to recommend you to some fellow followers in "our" business. Even my wife told me to say THANK YOU for the good care you gave me.
Bye for now all the best for your family, I will continue to report from time to time.
James 
Dear Paul,
I had a very nice trip back home from Port Orchard last week. It was nice to come back home and be with my family again. I can`t thank you & Amanda enough for all the help and dedication put into my training.
It was beyond all my expectations.
I started on my list "Things to do before opening" and slowly but steady I`m doing one thing at a time. So far everything has gone smooth without a problem, but if I have any you can be sure I`ll give you a call.
Yesterday I received your box shipment with all the shop tools and spare parts, everything was complete. Thank You. Best wishes to your family.
Sincerely,
David 
Hi Paul:
Good evening! My wife told me that I have 4 boxes waiting for me at home. Can't wait to open it and play with my new toys.
Thanks again for the training and enjoy your weekend!
Best regards.
Dear Paul and Amanda,
I just wanted to tell you thanks again for the training, the business is going well. My wife and I just wanted to say that every time we have needed something, we have simply had to turn to your manuals, and the answer was there.
Thanks.
Mike 
Dear Paul,
Thought I had better touch base with you and let you know all is well. We opened up the business on November 1 and by the 9th We started receiving calls for repairs and price checks. We have repaired Midwest, Star, and Kavo Highspeed handpieces everything went great. We also received 2 MW Shorties, took a little time but they turned out real good and ran smooth. I was so excited I had a hard time sleeping that night. I have had a lot of positive feedback about the business. I wanted to Thank You and Amanda for all your help and assistance in starting the new Business. My Wife and I are having a very good time with the new Adventure.
Have a Merry Christmas and a Happy New Year.
Mark & Cindy
----- Original Message -----
From: Tim
To: Orion Repair
Sent: Friday, January 28, 2011 2:04 PM
Subject: Pictures
Just a couple of pictures of the shop. It was good to talk to you.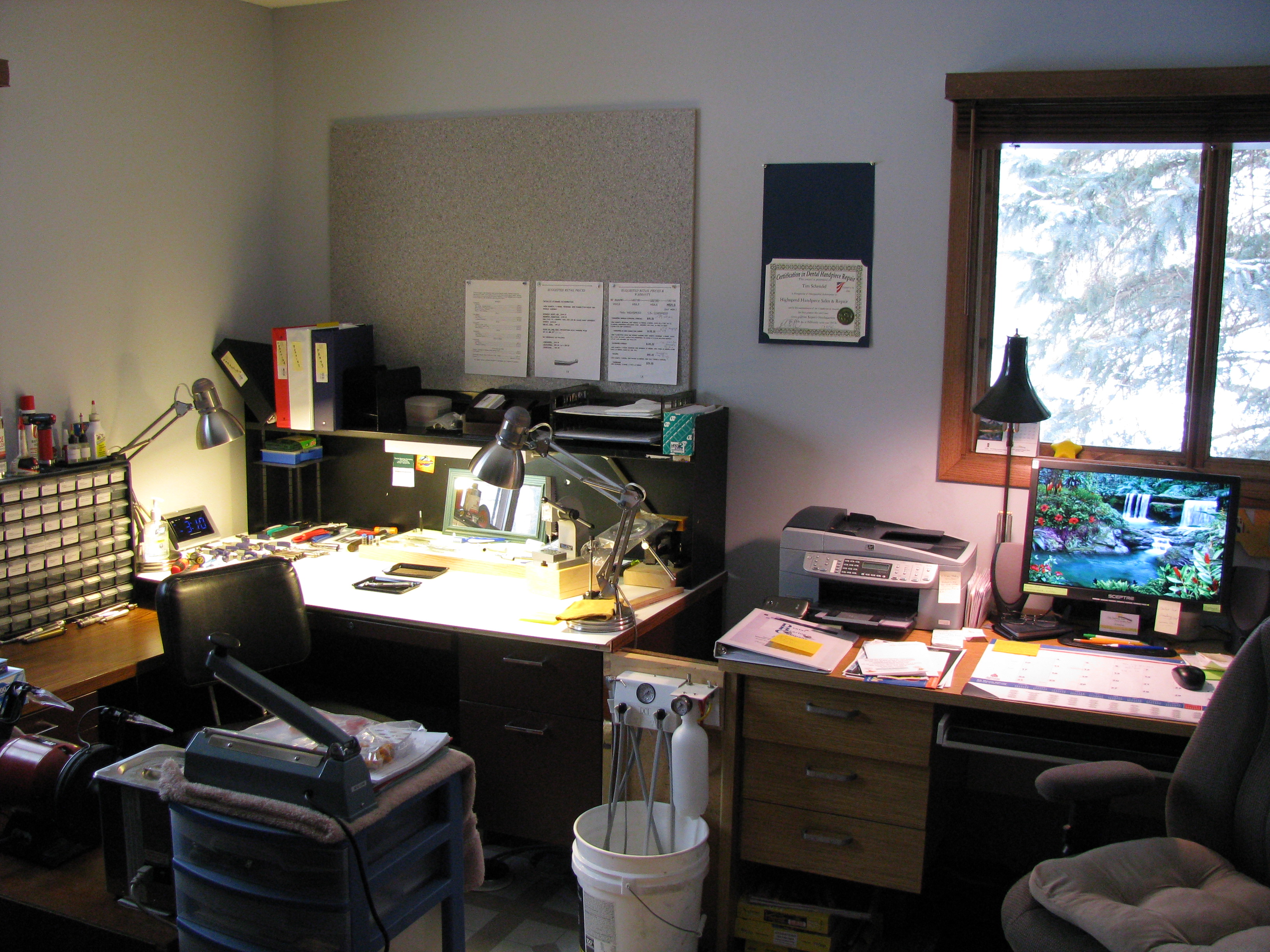 We welcome business from all countries of the world.
We Train You Seminar - Dental Handpiece Lab Practice