Visit with Author V.L. Burgess (New Date!)
Beacon Falls, CT
Bummer! Sales have ended.
Unfortunately, tickets for this event are no longer on sale.
Event Details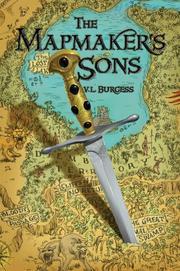 Beacon Falls Public Library is pleased to present a visit with V.L. Burgess, the author of THE MAPMAKER'S SONS which has been rescheduled!
It will be held on Saturday, January 12, 2013 at 10:30 AM in the Town Hall Assembly Room.
(Snow Date will be January 19th)
Burgess will be available for book signings immediately following the program. Books are available for purchase at Beacon Falls Pharmacy.
Seating is limited. Register as soon as possible and learn all about Tom Hawkins, the main character in this book which is chock full of adventure! Refreshments will be available courtesy of the Friends of Beacon Falls Library!
See below for info on the book from Kirkus Reviews:
"Thirteen-year-old Tom Hawkins must find the most powerful weapon ever created and save the world.
When a pirate with a wooden peg leg arrives at Thomas' school one stormy night, he delivers a mysterious map, a guide to the "Beyond"and the way to find the Sword of Five Kingdoms, which has been missing for 1,000 years. When its hilt has been reunited with five special stones, the rightful bearer of the sword can put an end to the reign of the evil ruler Keegan. Umbrey the pirate leads Tom through a window to a new world, where Tom meets up with a twin brother he never knew he had and with Mudge and Willa. Together they form a band of travelers on a quest to find the sword, with many a sword fight, swamp dog and dragon along the way. Freely borrowing from Treasure Island, Arthurian tales, The Lord of the Rings and other classic adventure and fantasy tales, Burgess reworks common themes of old maps, powerful wizards, evil rulers, dragons, a hidden sword and a boy king to fashion the first offering from a publisher out to create works that will appeal especially to boys.
Fantasy-loving boys (and girls) will be enthralled by this slim, action-packed tale—and the sequels likely to follow. (Fantasy. 9-13)"