Trey Maurice Street Photography Workshops - New Orleans Weekend Courses

Saturday, March 7, 2015 at 10:00 AM

-

Saturday, May 2, 2015 at 5:00 PM (CST)
Event Details
This is a fully hands-on designed workshop for both beginners and any other one's level of street photography. 
Are you a person who is afraid to get close or even just point your camera at a person in public? 

Have you ever been overly nervous of photographing a moment where you felt it could have been a great shot? 
If you love people and want to communicate to the world with images in the form of individual shots of stories or even a full series than you're in the right company.
On Saturday participants will receive a brief overview presentation of street photography followed by an adventurous instructional shooting on the streets. Sunday is followed by another day of shooting, but students will demonstrate the skills on their own from what they were taught the previous day. At the end, students can choose to either receive critiques and feedback from their photos in person, or have them sent in through email.
These are some of the things that we will accomplish during the course.
How to get pass the fear of shooting street photography in general.
Know how, when, where and why

 to shoot.

How to go 

unnoticed while shooting

.

How to react if people object to having their photo taken.

Become familiar with 

"street photography camera settings"

 for faster workflow.

How to 

"work the scene"

 while shooting in the streets for better results in editing.

The importance of 

constructive critiques and feedback.

Learn How to 

Effectively Time Your Shots.

Ultimately 

Identify Your Goal(s) 

as a Photographer.

How to Use 

Light & Reflections

 in The Streets.

Finding the 

Right Locations.

How to 

Structure & Present

 Your Best Photographs.
Schedule
Listed Below In Detail Are the Class Outlines of Each Designed Course Given.
2-Day Introduction Course:
First Day: Objective is overview followed by instructing with shooting on the street
(6-8 hours) *times are subject to change 
•10-11am: Greeting & overview of shooting day (Brief slideshow introduction lecture on what is street photography; sub-genres of street photography; learning beforehand why to keep and discard shots; approaching strangers & handling objection)
•11am-1pm: Begin street shooting in the designated area (All participants will be instructed together on approaching subjects; knowing how to react if they face objection)   
•1-2pm: Break & Lunch (meals are not included in fee)
•2-4:30pm: Group shooting (Participants make a second round of shooting as they're instructed on searching for light & how to use reflections; knowing how, when, where, and why to look for shots)
•4:30pm: Meet up at designated spot for next day briefing (brief re-cap of next day agenda)
•5pm: Ending first day and participants part ways
Second Day: Objectives are participants demonstrating their learned techniques alone from the previous day  
(6-8 hours) *times are subject to change
•10-11am: Overview on lesson type of shooting (brief overview of the day)
•11am-1pm: Begin shooting (participants will be divided into two separate groups; One group will shoot on their own for a period of time while I observe the other.
•1-2pm: Break & Lunch (meals are not included in fee)
•2-4pm: Continued shooting (The group swaps places and I now observe them, as the other shoots for a period on their own)
•4-5pm: Critique and Feedback (Participants will have their photos critiqued on their laptops, or they can choose to send their chosen photos through email for feedback and critique) 
•5pm: Conclusion of 2-day introduction weekend workshop. Participants can mingle and exchange connections before parting ways.
I've shot more on the streets than taught but I'm more than excited to instruct anyone who wants to learn from my experiences. I will cover just about everything that's needed within the time allotted so that you won't just be attending a paid lecture and photowalk tour. Have your chance to come out and meet with other like minds who you can stay in touch with later on. I believe learning any skill is always needed with talent and passion we're already born with, but skill will make us all complete in the end.
When & Where

New Orleans
100 N. Peters St.
New Orleans, LA 70130


Saturday, March 7, 2015 at 10:00 AM

-

Saturday, May 2, 2015 at 5:00 PM (CST)
Add to my calendar
Organizer
Trey Maurice Photography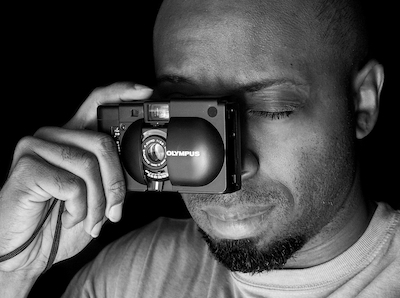 I'm Trey Maurice born Morris Brown III, a local active street photographer based in New Orleans, LA. The first time I took the experience was on a filmmaking open house visit to New York City in the summer of 2010. I leisurely just shot buildings but I couldn't help the obvious fact of so many people on the streets. People there were more interesting to shoot and it was then that I found the addiction.
In 2011, I took most of the year off to focus on my busy postal job at time before being laid off, and since then I have been shooting more consistently. My plans before then were to direct films and documentaries but with the high cost of film production, I chose to put it on hold for a while. I realized that telling stories with street photography is more cheaper, quicker and easier without completely abandoning my love for both arts.
Trey Maurice Street Photography Workshops - New Orleans Weekend Courses