Toronto Loves Vancouver: A Welcome Party for Tracks On Tracks
Toronto, Ontario
Bummer! Sales have ended.
Unfortunately, tickets for this event are no longer on sale.
Event Details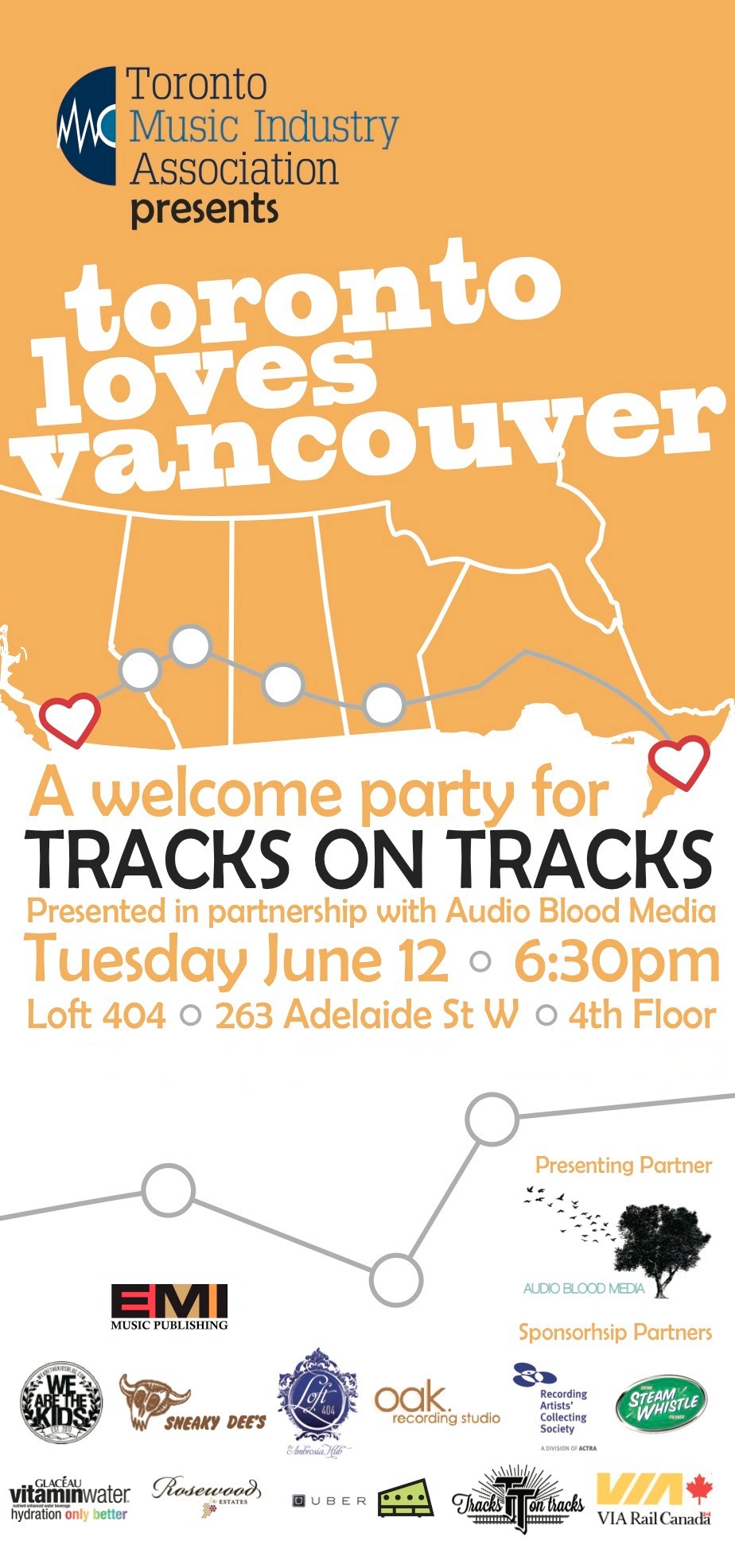 RSVP is a must. Subject to venue capacity. 
Hello friends,

On April 4th, Green Couch Productions & VIA Rail announced an event on CBC Radio called Tracks on Tracks. This 'Festival on Rails' will be sending 10 bands, a film crew, and other media across Canada on a VIA train from Vancouver to Toronto in time for the North By North East Festival.

The Toronto Music Industry Association has teamed up with host of great partners to welcome them to the City of Toronto the best way we know how: by throwing them a party!

Presented in partnership with our friends over at Audio Blood Media, 'Toronto Loves Vancouver' will take place at Loft 404, a hip, inspirational, and welcoming 4,000 square foot loft in the heart of Toronto's entertainment district.

A mixer to greet and meet, the event will take place Tuesday, June 12th, on the eve before the official NXNE showcases get under way. Of course, no party is complete without food, drink, and music.  We've partnered with SteamWhistle, Rosewood Wine, and Sneaky Dee's to provide delicious refreshments for all. And as for music? Well… let's just say we know a thing or two about making playlists.

We'd like to thank all of our sponsors for this event.  After all, without them, we couldn't be bringing you all of this love.  Shout outs to Audio Blood (of course), Steamwhistle, Sneaky Dee's, Loft 404, Oak Recording Studio, ACTRA RACS, Rosewood Wine, Vitamin Water, and Uber Toronto.
An extra shout out to Via Rail, Green Couch Productions, and CBC Radio 3 for making Tracks on Tracks a possibility.  We can't wait for you to get here!
*******Please RSVP by registering above. Event is subject to venue capacity.******** 
 
About the Toronto Music Industry Association:

The Toronto Music Industry Association is a new not-for-profit whose mission is to promote the music industry of Toronto while providing information, education, and resources to its members.  The organization exists to not only promote and connect the local music industry with each other, but to other markets both nationally and internationally. 

Media? email us at press@torontomusicindustry.com