Thick Girls Rock
New York, United States
Bummer! Sales have ended.
Unfortunately, tickets for this event are no longer on sale.
Event Details
ON SAT. JANUARY 26, 2013
F.R.M.T. &  EXOTIC SATURDAYS PRESENTS
"THICK GIRLS ROCK"
WITH  TOP 20'S OWN DJ KING KAUSO
Powered by SheSoThick Ent. & Star Studded Ent.
at 
U P T O W N   P E R K S
553 MANHATTAN AVE/123RD ST.
LADIES FREE TIL 12AM
DRESS CODE: STYLISH & SEXY
LADIES DRESSES PREFERRED. NO ATHLETIC WEAR FOR MEN
WOMEN WITH THE SEXIEST LEGS TAKE HOME FREE GIFTS!!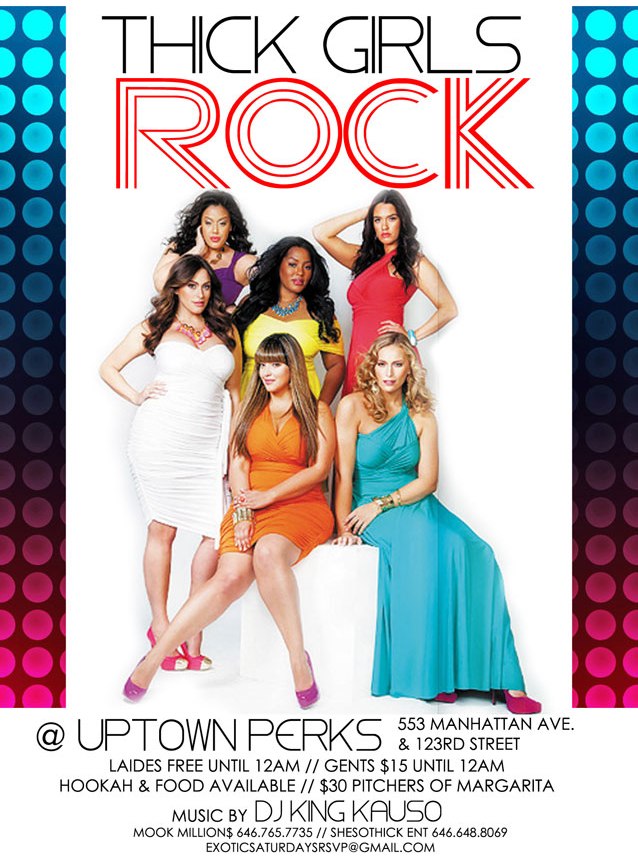 COME PARTY WITH THE SEXIEST THICK WOMEN AROUND! WE'LL HAVE THE
SLIM-THICK
MEDIUM - THICK
THICK - THICK
LOL, YOU NAME IT AND YOU'LL SEE IT!! AT #EXOTICSATURDAYS WITH #FRMT
HOOKAH, FOOD & $30 PITCHERS OF MARAGRITA AVAILABLE
RSVP - BIRTHDAYS - BOTTLE SERVICE - INQUIRIES
AMANDA FRAGOSA 646.648.8069  @SHESOTHICKENT
MOOK MILLION$ 646.765.7735 @MOOKMILLIONS
PLATINUM $500
GOLD
$400
SILVER $300
VIP SECTION                             VIP SECTION                       3 PITCHERS
ANY TWO BOTTLES                ONE BOTTLE(CIROC)       4 COMPS
EXPRESS ENTRY                     5 COMPS                              BALLOONS
7 COMPS                                    EXPRESS ENTRY               VIP SECTION
BIRTHDAY CAKE                      DJ SHOUT OUTS                HOOKAH
PERSONAL WEB FLYER        3 PITCHERS
BALLOONS                                 1 HOOKAH
DJ SHOUT OUTS