The Sweet Spot: Stone Fruit Tour in the San Joaquin Valley

Friday, June 15, 2012 from 9:00 AM to 6:00 PM (PDT)
Event Details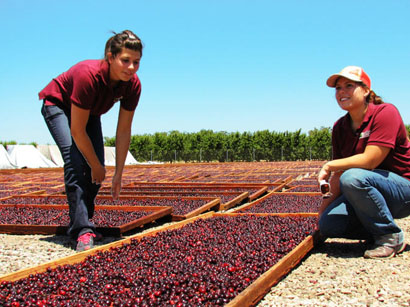 Join CUESA for a tour of unprecedented sweetness. Our first stop will be Bella Viva Orchards in Denair, where Victor Martino's family has been farming since the 1940s. It's cherry season, and the Martinos, known for both their dried and fresh fruit, will walk us through the entire cherry-drying process. The farm dries fruit at the peak of ripeness, retaining flavor that can be enjoyed throughout the year. We'll then get to tour the organic orchard, where Bella Viva's famed peaches and other stone fruit are grown. Attendees will eat lunch at the farm and stop by the farm store for dried goodies.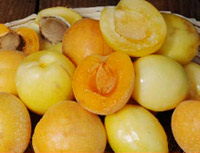 Next we'll head over to CandyCot Fruit Company for a visit with John Driver. John selected his apricots over many visits to Central Asia, where apricots are intensely flavored and sweet. While these sweet varieties are typically difficult to grow in the United States, John's CandyCots do well in the California climate and, at an average of 26 degrees on the Brix scale of sweetness, are twice as sweet as some of their grocery store counterparts. Attendees will get to tour the orchards and learn about CandyCot apricots as the farm gets ready for harvest.
The tour costs $25 and includes lunch made with farmers market ingredients. We'll leave from and return to the Ferry Building in a comfortable bus. 
There is no official minimum age, but the tour is geared toward adults and not recommended for young children.

Where to meet: In front of the Ferry Building (in the front, south side of the clocktower). Be there by 8:45; we leave at 9 am sharp. Please be prompt! We cannot wait for stragglers.

Allergen warning: Bella Viva uses sulphur dioxide to treat a portion of its dried fruit. It might be in the air during part of the tour, so those with sulphur allergies should exercise caution when deciding to come on the tour.

Heat warning: The weather could be very dry and hot (or it could be cool). The bus is air conditioned, but the tour could involve a fair amount of walking in the hot sun. The ground may be uneven and muddy, so be prepared with sturdy shoes that can get dirty.

What to bring: plenty of water, sun protection (sunscreen, hat, long sleeves), and layered clothing. Also consider bringing snacks, a camera, a book or other entertainment for the bus (it's going to be a long ride), and cash for farm store purchases.

We will do our best to return by 6:00 pm, but traffic conditions can be unpredictable and we can't guarantee punctual arrival.

This tour is organized by CUESA, the Center for Urban Education about Sustainable Agriculture, as part of our mission to cultivate a sustainable food system. CUESA organizes 5-6 tours each year to Ferry Plaza Farmers Market farms and artisan food businesses in order to give eaters a first-hand look at where their food comes from and how it is produced. For more information or to sign up for our weekly email newsletter, visit www.cuesa.org.

CUESA sincerely thanks:

our Farm Tour Sponsor

for providing a discount on the bus charter fee
When & Where

Ferry Plaza Building
One Ferry Building
200 The Embarcadero
San Francisco, CA 94102


Friday, June 15, 2012 from 9:00 AM to 6:00 PM (PDT)
Add to my calendar
Organizer
CUESA - Center for Urban Education About Sustainable Agriculture
The Sweet Spot: Stone Fruit Tour in the San Joaquin Valley