The Princess Within (Expo/Brunch/Workshop Series)

Saturday, October 8, 2016 from 10:00 AM to 4:00 PM (EDT)
Event Details
SELECT INDIVIDUAL OR GROUP OPTION & REGISTER HERE TODAY!
THE GROUP WITH MOST GUESTS AT THE GIRLS EXPO RECEIVE A SPECIAL GIFT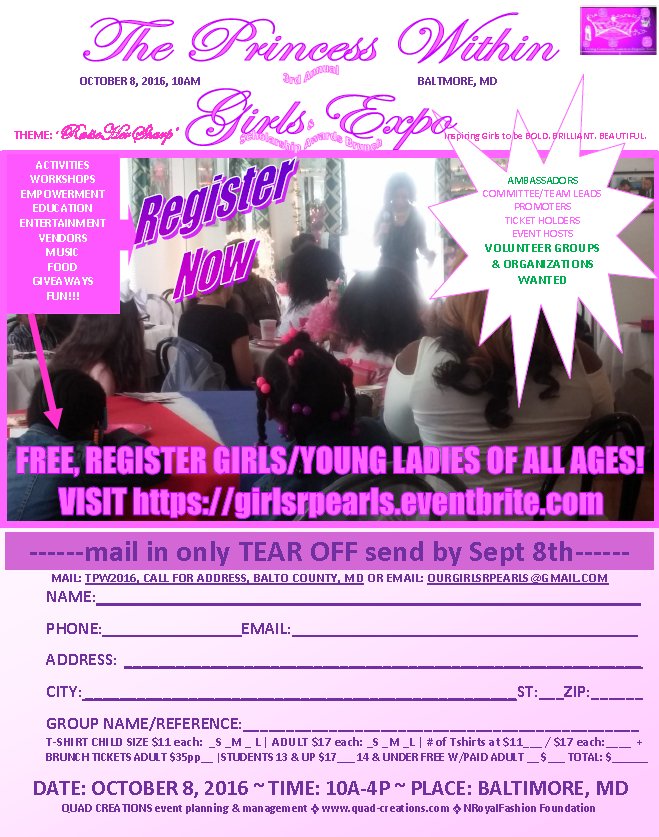 The Princess Within
hosts #TPW2016 3RD ANNUAL GIRLS EXPO
&
Scholarship Brunch'RaiseHerSharp' 
 TEACH HER TO BE BOLD. BRILLIANT. BEAUTIFUL.
 ESTHER 5:1-8 PREPARING & EMPOWERING GIRLS FOR LEADERSHIP
MISSTRESS OF CEREMONY & EVENT CO-HOST
DANICIA PENNAMON, LIFE COACH, LIFEWINGS, LLC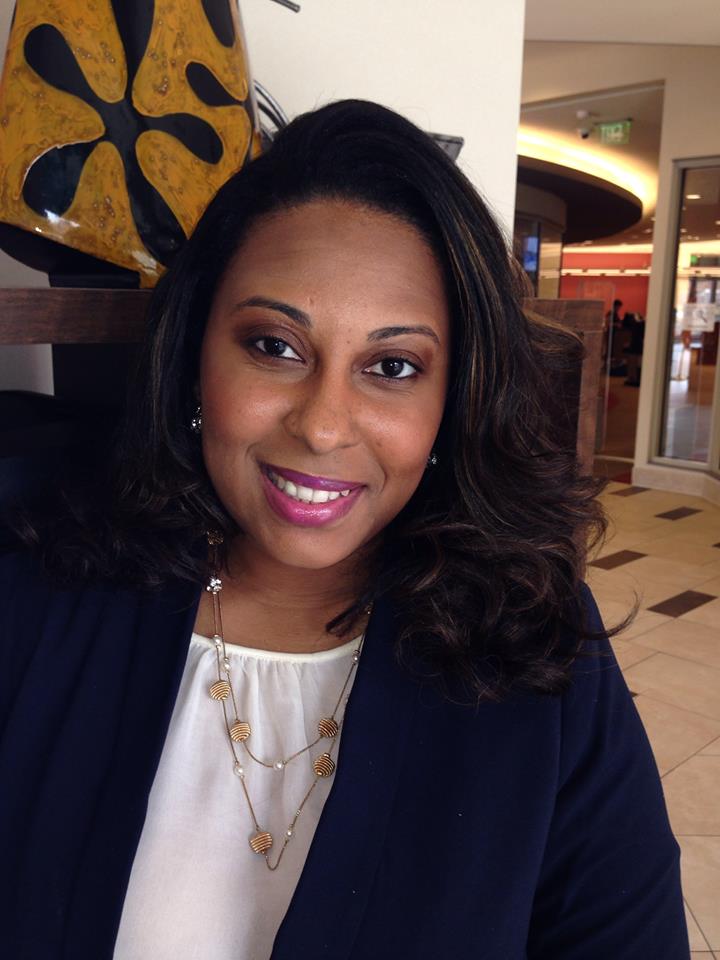 AND
MISSTRESS OF CEREMONY & WORKSHOP LEADER
HATTYE KNIGHT, AUTHOR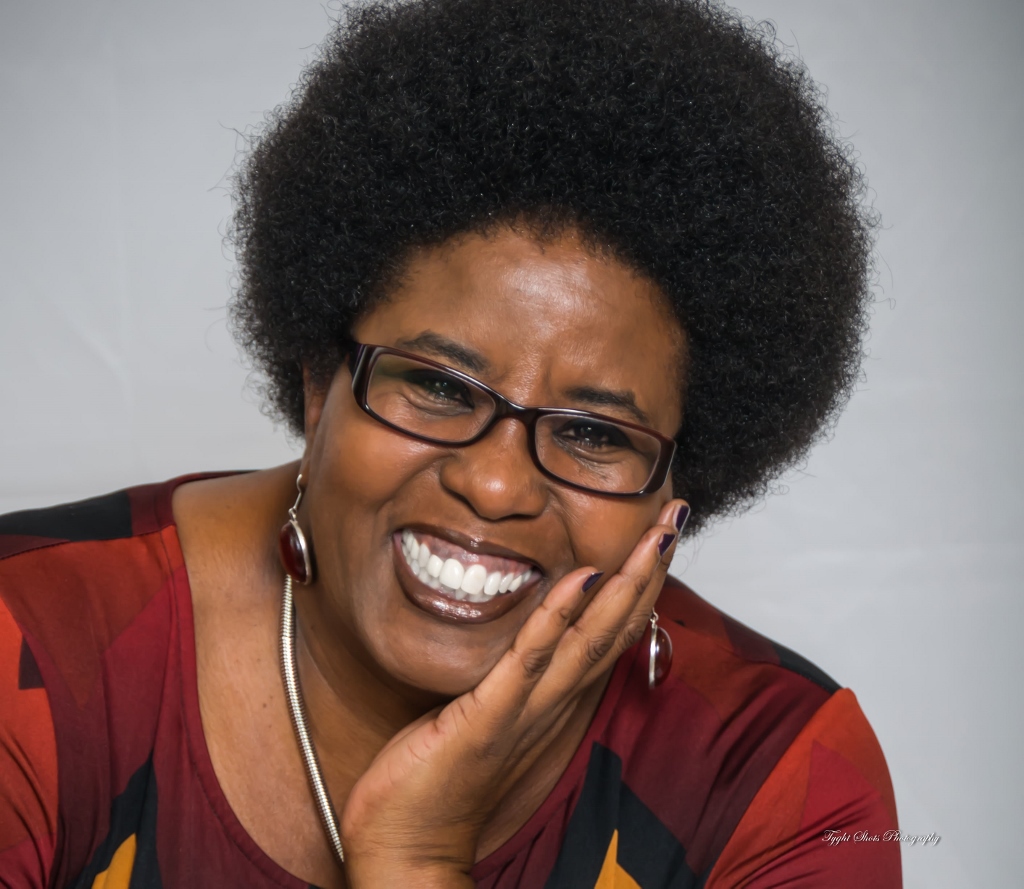 Saturday, October 8, 2016
10am to 4pm
Baltimore, MD
Funds Support Scholarships for Baltimore City College Students Majoring in Criminal Justice
and the NRoyalFashion Foundation 501(c)3 Girls Leadership & Empowerment Workshops
 **FREE Admission to Girls OF ALL AGES
**Brunch Tickets discounted 1/2 PRICE for College Students   
---
Nurturing their Spirit | Nourishing their Minds | iNspiring their Dreams
---
PROGRAMME
WELCOME

MUSIC & DANCE PERFORMANCES

BRUNCH | SPEAKER
ADVOCATES & SCHOLARSHIP AWARDS

WORKSHOPS

ACTIVITIES

PHOTO OPS | NETWORKING
EXHIBITS | VENDORS
enjoy...
Speaker, Entertainment, Panel, Vendors, Workshops
and... 
YOUTH ADVOCATE AWARD CATEGORIES:
COMMUNITY LEADERSHIP
NONPROFIT | BUSINESS
HEALTH| SPORTS | FITNESS
---
PHENOMENAL WORKSHOPS
 COUPONING SKILLS | ETIQUETTE | ENTREPRENEURSHIP | EDUCATION | FINANCE |(BANKING) | FITNESS | GRAPHIC DESIGN | JEWELRY DESIGN | PHOTOGRAPHY | RELATIONSHIP SOCIAL SKILLS/ DATING SAFETY | SAFETY | SKINCARE | TSHIRT MAKING | WRITING
FANTABULOUS ACTIVITIES
SCHOLARSHIP BRUNCH & AWARDS | COMMUNITY LEADERS YOUTH ADVOCATE AWARDS | MUSICAL PERFORMANCE | DANCE PERFORMANCE | DRAMA | MAKE-OVERS | GLAMOUR STUDIO | VISION BOARD DESIGN | ARTS & CRAFTS |ART OF THE CUPCAKE WARS | GIVEAWAYS      
 REGISTER GIRLS OF ALL AGES FREE TODAY HTTPS://GIRLSRPEARLS.EVENTBRITE.COM
PROMOTE YOUNG LADIES BEING SHAPED FOR THEIR INCREDIBLE DESTINY!
***SUMMER WORKSHOP SERIES FOR
GIRLS EMPOWERMENT AND LEADERSHIP***
PROMOTING LIFESTYLE ENRICHMENT
FOR YOUNG LADIES TO BE
"BOLD. BRILLIANT. BEAUTIFUL."
WE'RE COMING TO THE FOLLOWING MARYLAND COUNTY'S:
1. DORCHESTER                                     4. FREDERICK
2. QUEEN ANNE'S                                   5. GARRETT
3. CECIL                                                   6. ANNE ARUNDEL
Baltimore City & County dates to be included; Check back for updates on dates, times & locations at www.girlsrpearls.com

PROMOTING BEAUTY INSIDE & OUT FOR DELIGHTFUL DAUGHTERS OF DESTINY & INVESTING IN OUR FUTURE LEADERS!
 Like and follow event updates and details at www.facebook.com/DFMcDuffie
 INTERNS AND JUNIOR EVENT PLANNERS PLEASE CONNECT AT OURGIRLSRPEARLS@GMAIL.COM
CLICK HERE http://girlsrpearls.blogspot.com/2016/07/were-getting-ready-for-tpw2016.html
 TO FOLLOW UPDATES ON THE BLOG
------------------------------------------------------------------------------------------------
WELCOME TO OUR AWESOME VENDORS
Perfectly Posh
www.perfectlyposh.com/amberheinecke
 BagLady Handbags
LulaRoe
 www.facebook.com/groups/lovelularoewithlily
I Am Accessorized by Paparazzi
Designs by Camille
 www.somethingnewbbw.com
TEENPRENEUR SHOWCASE
Princess M Nail Polish www.princessmnailpolish.com
SCRUBS by Sanyia www.scrubsbysanyia.bigcartel.com 
Seneha Speaks www.facebook.com/Se'Henna
---
 WELCOME TO OUR AWESOME EXHIBITORS
Mt Washington Pediatric Hospital www.mwph.org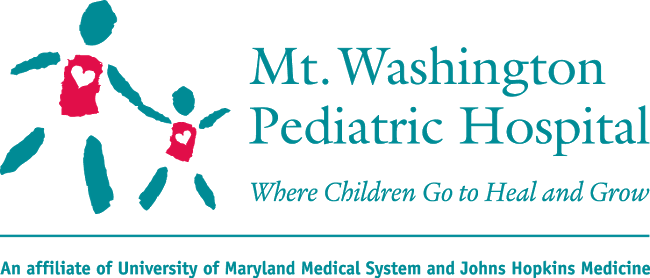 ---------------------------------------------------------------------------------------------------------------------------------------
WELCOME TO OUR AWESOME TEAM OF
VENDOR SERVICES
AUTHOR, WWW.HATTYEKNIGHT.COM
PHOTOGRAPHER, WWW.BLIVEPHOTOGRAPHY.COM
---------------------------------------------------------------------------------------------------------------------------------------
WELCOME TO OUR AWESOME TEAM OF
WORKSHOP LEADERS
THE TEACHING TEAM IS SOOOO READY TO CONDUCT THESE PHENOMENAL WORKSHOPS AS THEY POUR WISDOM & KNOWLEDGE INTO OUR YOUNG LADIES TO SHAPE THEM INTO FUTURE LEADERS!
COUPONING Hope Grace The Coupon Queen
ETIQUETTE Janet Hall www.janethallevents.com
ENTREPRENEURSHIP Trish Lawton, Iron 2 Iron 4 Women Iron Entrepreneurs
EDUCATION BLive Photography www.blivephotography.com
FINANCE BANKING CWM Success, Charles McDuffie
FITNESS Latoya Ferrell www.facebook.com/latoyaferrell
GRAPHIC DESIGN TECHNOLOGY (STEM) Designs by Camille Moore
JEWELRY DESIGN Mischell Hatcher, Charbrai Designs
PHOTOGRAPHY Linda Tucker Photography
RELATIONSHIPS Social Skills, Coach Cassandra Ferguson
RELATIONSHIPS Dating Safety, Duane Williams Jr. www.warriorsministries.org
SAFETY TECHNIQUES 
SKINCARE Ler'Den Sophistikit Sheila Daniels
WRITING, Author Hattye Nesbit Wynn Knight
VISION BOARD Kimberly, Youth Pastor 
 ---------------------------------------------------------------------------------------------------------------------------------------
Maximize your business exposure through 
 CHOOSE YOUR IDEAL PACKAGE
$35-$100 RUBY: Covers brunch for a princess (1 brunch ticket, TPW2016 keepsake) 
$150-$500 PEARL: Covers Brunch, Workshop & tshirt for 3 teens (3 workshop tickets, TPW2016 keepsake, giftbag insert) 
$550-$750 DIAMOND Covers Brunch, Workshops & tshirt for 5 teens (3 brunch tickets, giftbag insert, logo in program book, name listed on Poster at Workshop Entrance)
JEWELRY BOX: $25 (1 brunch ticket / business card in giftbag)
SET OF PEARLS: $25 (1 brunch ticket / business card in giftbag)
ROYALTY PASS - $75 Covers Brunch, Workshop for teen (logo in program book & on  websites) 
GENERAL SWAG/GIFT BAG INSERT $25 (for insert into every 50 bags)
EVENT IN-KIND /SMALL BUSINESS: $750-$1,000 Covers the following: jewelry boxes, pearls, materials, giftbags, video, photography, catering, transportation, honorariums, advertising/promotions, piping/drapes, group tshirts, and more (5 brunch tickets, Logo on sign/banner at event & on website(s), media mentions, social media)
CORPORATE: $1,000-$10,500 - Covers some of the following: jewelry boxes, pearls, giftbags, video, photography, catering, transportation, honorariums, advertising / promotions, printing, rentals, piping/drapes, group tshirts, and more (RECEIVE local to national media exposure, 

link & logo on multiple websites / social media posts, product/promo in giftbag, medium / large banner displayed at event, logo on event banner, program book 1/2 to full page ad)

*Customized partnerships/promotional opportunities contact

ourgirlsrpearls@gmail.com
DONATIONS ACCEPTED AT
 WWW.GOFUNDME.COM/GIRLSRPEARLS PLEASE DONATE TODAY!
REGISTRATION IS OPEN UNTIL DAY OF EVENT HERE OR AT EVENT SITE
Sign up 
your blossoming Princess for an environment of:
--spiritual virtue and values                  
--self-development, career skills
--self-esteem building                          -
-goal setting, education, vision board 
--fun & interactive activities                 
--fa
shion & design 
--financial empowerment                      -
-career, business, entrepreneurship
--safety, health, wellness, sports, fitness --etiquette, social issues, relationships
-1/2 day indoor/outdoor camp style conference for tweens to teens
Bring All Your Girls Out 

for nonstop fun 

GENERAL ADMISSION  TO OCTOBER 8, 2016 EXPO

 

IS FREE FREE FREE TO GIRLS OF ALL AGES
REGISTER YOUR GIRLS PROGRAM, CHURCH GROUP, GIRLS CLUBS, DANCE GROUPS, MODELING TROUPES, KARATE TEAMS, ATHLETES, DAUGHTERS, GRANDDAUGHTERS, GODDAUGHTERS, NEICES, GIRL SCOUTS, PAL CENTERS, STUDENTS!!!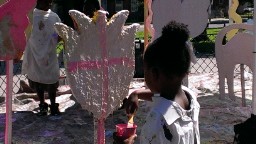 BALTIMORE AREA OCTOBER 8, 2016
Email ourgirlsrpearls@gmail.com or call 443.415.4777 
Workshop Speakers/Instructors/Presenters
---------------------------------------------------------------------------------------------------
THE SOCIAL CAUSES FOR WHICH WE ADVOCATE
Domestic Violence / Homelessness for Teen Moms/ Orphans
 /Foster Children / Supporting Freshman College Moms  through 'Blessings In a Box Campaign' /
Career Development for first time employment for shoe giveaways to low income single mothers "Step Into Success in Style" through 
Purchases from:
ENABLE US TO DONATE A % OF THE PROCEEDS TO THE
CAUSES ABOVE AS WELL AS TO THE NONPROFIT FOR
TEACHING WORKSHOPS & CONDUCTING WORKSHOPS
YEAR ROUND THROUGH THE NROYALFASHION FOUNDATION
(501c3 APPLICATION STARTED)
Save This Event
When & Where

FABULOUS HOTEL
FABULOUS HOTEL
5100 Falls Road
Baltimore, MD 21210


Saturday, October 8, 2016 from 10:00 AM to 4:00 PM (EDT)
Add to my calendar
Organizer
NRoyalFashion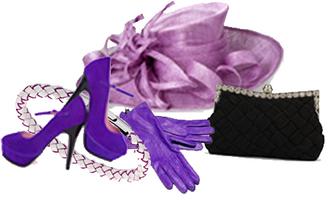 Creating specialty events for your personal or business special occasion or fundraising needs.
Founder of 'Chic Boutique' the indoor shopping affair and 'Golden Shopportunity' promoting small business, community, & economic growth and development. Sign up for one of our business building workshops today!
The Princess Within (Expo/Brunch/Workshop Series)