"The People want the fall of the Regime": The Arab Uprisings and the Future of Arab Politics (Day one)
Washington, DC
Bummer! Sales have ended.
Unfortunately, tickets for this event are no longer on sale.
Event Details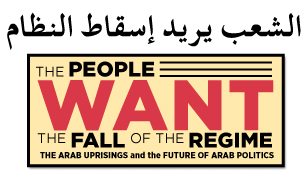 Agenda for Thursday, March 22, 2012
Conference Venue
Lohrfink Auditorium, Rafik B. Hariri Building
Georgetown University
8:30-9:00am
Registration, coffee, and light breakfast
9:00-9:15am
Welcoming Remarks: Osama Abi-Mershed, Georgetown University
Opening Remarks: Samer S. Shehata, Georgetown University
9:15-11:00am
Panel 1: Authoritarian Politics in the Arab World: Explaining Regime Durability, Breakdown, and Protest
Lisa Wedeen (University of Chicago)
"Syria's Uprising and Generational Change: Class, Ideology, and the Importance of Social Theory"
Eva Bellin (Brandeis University)
"Reconsidering the Robustness of Arab Authoritarianism in the Middle East: Lessons from the Arab Spring"
Joseph Sassoon (Georgetown/Oxford University)
"Durability of Authoritarian Regimes: the Role of Security Services and Informants"
Discussant: Steven Heydeman (USIP)
11:00-11:15am
Break
11:15am-12:45pm
Panel 2: Revolutions, Rebellion, Uprisings or Authoritarian Survival? Understanding Political Change in the Arab World
Mohammed Bamyeh (University of Pittsburgh)
"From Old Nationalism to New Patriotism: A Preliminary
Sketch of the Ideology of the Arab Revolutions"
Asli Bali (UCLA)
"Uprisings and Intervention in the Arab World after 2011"
12:45-2pm
Lunch
2:00-3:30pm
Panel 3: Economics, Youth and Technology in the "Arab Spring"
Joel Beinin (Stanford University)
"What have workers gained from Egypt's January 25 'Revolution'?"
Adel Iskandar (Georgetown University)
"Are we all Khaled Said? Social Media, Dissidence, and Participatory Governance in Egypt"
Marwan M. Kraidy (Univ. of Pennsylvania/American Univ. in Beirut)
"Plato's Digital Cave: The Hypermediation of the Arab Uprisings"
3:30-3:45pm
Break
3:45-5:15pm
Panel 4: Civil-Military Relations in the Arab Uprisings
Noureddine Jebnoun (Georgetown University)
"In the Shadow of Power: Civil-Military Relations and the Tunisian Popular Revolution"
Robert Springborg (Naval Postgraduate School)
"Civil-Military Relations in the Wake of the Arab Uprisings: Arab Exceptionalism Redux"
Discussant: Holger Albrecht (American University in Cairo/Georgetown University)
Contact:
Marina Krikorian
Public Affairs Coordinator
phone: 202-687-6215
email: ccasevents@georgetown.edu